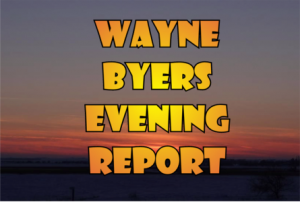 CSi Weather…
.TONIGHT…Partly cloudy. Lows 15 to 20. West winds around 5 mph.
.FRIDAY…Sunny. Highs in the lower 40s. Southwest winds 5 to
10 mph.
.FRIDAY NIGHT…Mostly cloudy. A 20 percent chance of rain after
midnight. Not as cold. Lows in the mid 30s. Southwest winds 10 to
15 mph.
.SATURDAY…Partly sunny, a 20 percent chance of light rain
and snow in the Valley City area.
Highs around 40. Northwest winds 15 to 25 mph.
.SATURDAY NIGHT…Mostly cloudy with a 20 percent chance of snow in the Jamestown area.
Lows in the mid 20s. Northwest winds 15 to 25 mph.
.SUNDAY…Partly sunny. Highs in the mid 30s.
.SUNDAY NIGHT…Partly cloudy. Lows in the lower 20s.
.MONDAY…Sunny. Highs in the mid 40s.
.MONDAY NIGHT…Mostly cloudy. Lows in the lower 30s.
.TUESDAY…Mostly sunny. Highs in the mid 40s.
.TUESDAY NIGHT…Partly cloudy. Lows in the lower 30s.
.WEDNESDAY…Sunny. Highs in the mid 50s.
.WEDNESDAY NIGHT…Mostly clear. Lows in the upper 30s.
.THURSDAY…Sunny. Highs in the upper 50s.
A warm up to potentially above normal temperatures is possible by mid to late next week with high temperatures in the upper 50s and lower 60s forecast.
Valley City  (CSi)  The Susan Milender-Toppens Lecture at the Barnes County Museum scheduled for 7PM Thursday night, 11th, has been rescheduled to January 17, 2019.
Jamestown  (CSi)  The Jamestown Tourism City Promotion, Capital Construction Funds request were heard by the Tourism Grant/Executive Board, on Thursday at The CSi Technology Center, at Historic Franklin School.
Members present: President Matt Woods, Taylor Barnes, and Tena Lawrence.
Also present:  Tourism Director Searle Swedlund, Jamestown City Administrator, Sarah Helleckson, and Ex Officio Members: Pam Phillips Jamestown City Council, Pam Fosse Civic Center Manager, and Corry Shevlin, JSDC.
Goals and objectives of the Capital Construction Fund were outlined.
Request were made by:
National Buffalo Museum, for remodeling projects.
National Buffalo Museum, for the Bison Puzzle Interactive Exhibit.
Jack Brown Stadium, for Batting Cages.
Frontier Village, for roofing projects.
Frontier Village, for Stagecoach Restoration.
Frontier Village, for Midland Continental Railroad Caboose.
Additionally a  request was made for the Grant/Executive Board to hear a request for Tourism Funds from the Five Star Bucking Bulls event, directed form Jamestown Tourism Grant Funds.
Representing The National Buffalo Museum was Director, Ilana Xios.
Requested was $30,000 for two museum remodeling  projects which will complete the renovation of the museum's space.
The project will start in November this year, and completed no later than February, 2019.
The Tourism Board approved, $17, 500.
Next the National Buffalo Museum  requested $40,000 for a Bison Puzzle Interactive Exhibit, created by kidZib!ts.  Through physical interaction with life-sized reproduction of bison bones and organs, visitors will learn more about bison anatomy and physiology. The exhibit is created using a taxidermy form and an actual bison hide.  The application states that interactive exhibits enrich visitor experience, and increases the amount of time in the museum and in Jamestown.  The actual cost is $48,200.
The Tourism board, approved,  $10,000.
Next the Board heard the request  of  and a power point presentation by Jeff Gould from Jamestown Parks and Recreation Foundation  for batting cages at Jack Brown Stadium.
The application  says the current batting cages are 23 years old, and in disrepair.
The new batting cages will increase the number from three to four and be safer when repositioned.  Youth programs will then be able to attract or  host tournaments, such as  Babe Ruth and Youth Baseball, and for daily use.
$72,000 has been raised so far with just of $19,000 to be raised.
The amount requested was $9,000.
The amount funded was  $5,000.
For the Roofing projects Frontier Village requested $15,805 to stop further damage and protect the artifacts inside.
The board approved funding for the specific projects of the small caboose, the post office building and the dentist office building at a total of $3,500.
Not funded were:
The Frontier Village Board requested $1,851 for stagecoach restoration.  The application states that the Frontier Village currently had no money for that project.
The Frontier Village request for $11, 588 for the restoration of the Midland Continental Railway Caboose.  The project would start in the spring of 2019, with completion  by the end of 2019.,
The Grant/Executive Board acting separately heard a request from Five Star Bucking Bulls/Jamestown Civic Center, for funds amounting to $5,000, directed from the Jamestown Tourism Grant Funds.
The organization was asked to come back to this meeting with additional information.
Justin Stringer said, the dollars would be used for Duel in the Dirt bull riding final promotion and advertising and to grow bull riding for children 9-14 years old.
The event will be November 16, 17, this year at the Jamestown Civic Center.
Sponsor fees are expected to generate $35,000, and rider entries $7,000.
The economic impact is estimated at between $252,500 and $333,750.
The Board voted to, approve $5,000, and requested that any additional funding requests including attendance tracking relative to where the attendees are from, with specific zip code, along with paid and unpaid tickets.  Searle Swedlund said the information will help determine the way out of town attendance impacts tourism to the Jamestown community.
Jamestown (JRMC)   — The community can count on Jamestown Regional Medical Center.JRMC is hosting a Jamestown Area Chamber of Commerce, Business After Hours: "A JRMC Community Update," on Wednesday, October 24 at 4:30 p.m. to 6:30 p.m. The hospital will provide a brief update on leadership, the facility and the JRMC Cancer Center. Drinks and appetizers will be provided.
JRMC Chief Nursing Officer and Interim President & CEO, Trisha Jungles, says,  "We're grateful to the community for its support. From 1929 to 2018, the community is what makes JRMC possible. It's an honor to care for all of you."
Some highlights of 2018 include:
Receiving a Top 100 Critical Access Hospital award from iVantage Health Analytics for the fifth year in a row.
Receiving a Top 150 Best Places to Work in Healthcare award from Becker's Healthcare.
Receiving a Best Places to Work award from Modern Healthcare two years in a row.
Receiving a 50 Best Places to Work award from Prairie Business Magazine.
The start of construction on the JRMC Cancer Center, slated to be completed by summer 2019.
Adding new EEG equipment for JRMC.
Welcoming four new providers: Dr. Kent Diehl, emergency medicine; Dr. Steve Inglish, emergency medicine; Crystal Krapp, APRN, DNP-C; Dr. Kayla Emter, podiatry.
The meeting will be in the JRMC Apple Basket Café. All members of the public are welcome. Admission is free.
About Jamestown Regional Medical Center
Jamestown Regional Medical Center is located at 2422 20th St. SW, Jamestown, N.D. and serves approximately 55,000 people in nine counties. In 2018, it was named a "Top 100 Critical Access Hospital" as well as a "Best Places to Work in Healthcare." For more information, visit www.jrmcnd.com or call (701) 952-1050.
NEW SALEM, N.D. (AP) — A 79-year-old New Salem man is dead after a crash on Interstate 94 in Morton County.The Highway Patrol says the pickup truck the man was driving was rear-ended by a sport utility vehicle east of New Salem when the truck slowed for an unknown reason.The pickup went into the ditch and came to rest on its roof. The driver was pronounced dead at the scene. He wasn't immediately identified.
BISMARCK, N.D. (AP) — Authorities have identified a body found at a Bismarck motel, but they're still investigating how the man died.Twenty-nine-year-old Stephen Claymore, of Bismarck, was found dead in a room at the Bismarck Motor Hotel on Sunday afternoon.The cause of death isn't yet known, but police say they don't suspect foul play.
FARGO, N.D. (AP) — The federal prosecutor's office in North Dakota has been honored for its investigation into an international fentanyl-trafficking operation.The International Association of Chiefs of Police presented the award for preventing transnational crime to U.S. Attorney Chris Myers at its annual conference in Orlando, Florida.The case is dubbed Operation Denial. It has resulted in charges against 32 defendants, including two men from China accused of separately running chemical labs that produced fentanyl and other illegal opioids that were sold to Americans.

The investigation began after an overdose death of a North Dakota man in January 2015.

Myers says a team of agents and prosecutors have been working on the case for more than three years.
BISMARCK, N.D. (AP) — The high school graduation rate for Native Americans in North Dakota is rising, but a significant disparity persists when compared to the overall student population.
Data recently released by the state's Department of Public Instruction show that the 2017 graduation rate for Native American students was 67.3 percent, up from 65.2 percent in 2016. Findings also show that dropout rates have decreased for Native American students, which represent about 10 percent of the K-12 student population in North Dakota.
But the report identified a 23 percent gap in 2017 graduation rates between Native American students and their white counterparts, the Bismarck Tribune reported.
State Superintendent Kirsten Baesler called the Native American graduation rate increase a "good start," but said that there's "a lot of work ahead of us."
North Dakota education officials identified the need to improve Native American graduations rates a few years ago, Baesler said. The state analyzed how instruction could be provided differently to Native American students both on and off the reservation, adding a cultural component to the K-12 curriculum called Native American Essential Understandings.
In world and national news…
PANAMA CITY, Fla. (AP) — A Florida hurricane expert says officials need to study why so many people refuse to evacuate ahead of a deadly storm such as Hurricane Michael.
Craig Fugate is former director of the Federal Emergency Management Agency and a former emergency management chief for the state of Florida.
Fugate is skeptical of reports that 285 people refused to obey mandatory evacuation orders, though he did not doubt that many people in the Panhandle felt like they could not afford to evacuate or thought the storm would not hit so hard.
He said, "Why people didn't evacuate is something we should be studying … Is there more the government can do? But we ask that every time."
He also said preventing more devastation in future hurricanes depends on people abandoning arguments that stringent building codes make homes too costly or difficult to build.
He called that "the realistic future Florida must face." He added, "We have to build better, more resilient homes so hurricanes aren't so devastating. It's not that we don't know how to build them."
WASHINGTON (AP) — President Donald Trump says he's "open-minded" about stop-and-frisk policing.
He made the comment as he met with rapper and producer Kanye West at the White House.
Trump earlier this week called on Chicago to adopt the strategy, in which large numbers of people are temporarily detained, questioned and sometimes searched for drugs and weapons.
Trump had said that "stop-and-frisk works."
But West, who's from Chicago, tells Trump that this strategy is detrimental. Here's what West said: "We feel stop-and-frisk does not help relationships in the city."
Trump says he'd been willing to "look at it," and says, "They have to do something."
Stop-and-frisk was used extensively in New York City until it was deemed unconstitutional because of its impact on minority residents. Chicago reached an agreement with the American Civil Liberties Union of Illinois in 2015 to curb the practice.
NEW YORK (AP) — The New York Police Department says it is investigating allegations that a detective improperly coached a witness during the Harvey Weinstein investigation.
Prosecutors dropped part of the sexual assault case against Weinstein on Thursday after a witness said Detective Nicholas DiGaudio had coached her to stay silent about evidence partially contradicting the account one of the film producer's accusers.
Chief of Detectives Dermot Shea says an internal probe of the detective's conduct began a week ago.
He says that as of now, DiGaudio has "no active role" in the Weinstein investigation but remains on duty.
A message left on a phone used by the detective in the past wasn't returned.
e
NEW YORK (AP) — A new study estimates that about 60 percent of the U.S. population with European heritage may be identifiable from their DNA by searching consumer websites, even if they've never made their own genetic information available.
That number is expected to grow as more and more people upload their DNA profiles to websites that use genetic analysis to find relatives.
The estimate was reported in Thursday's issue of the journal Science. Researchers arrived at it by doing searches within a website database containing 1.28 million people.
Website searches made headlines earlier this year, when investigators linked crime-scene DNA to a man they then accused of being a serial murderer and rapist known as the Golden State Killer.
WASHINGTON (AP) — Tens of millions of Social Security beneficiaries and other retirees can expect an increase in benefits next year as inflation edges higher.
The government announced a cost-of-living adjustment of 2.8 percent on Thursday. That would mean an extra $39 a month for the average retired worker.
Seniors count on the money to help keep pace with rising prices for health care and housing. The Social Security Administration will formally announce details later on Thursday.
By law, the annual cost-of-living adjustment, or COLA, is based on a broad official measure of consumer prices. Advocates for seniors claim the inflation index doesn't accurately capture costs faced by seniors, especially health care.
The COLA affects benefits for more than 70 million Americans, including Social Security recipients, disabled veterans and federal retirees.