Valley City  (Greg Vanney) – The VCSU Alumni Association will celebrate Homecoming Oct 12 and 13.  Activities will begin on Fri Oct 12, with lunch in the Student Center Cafeteria.
This is also an opportunity for alumni to visit with our current students. Starting at 2:30 p.m., we will host our annual Welcome Back Ice Cream Social in the Allen Pedersen Gazebo located on the campus green near Graichen Gym.
On Saturday morning, the Alumni Honors Breakfast will be held at the VCSU Student Center beginning at 8:30 a.m. The Honors Breakfast provides the VCSU Alumni Association with an opportunity to present fellow alumni with Certificate of Merit, Young Alumni Achievement, Alumni Service, and Distinguished Alumni awards.
Seven alumni will be honored with the Certificate of Merit award. The Certificate of Merit award was adopted by the VCSU Alumni Association to recognize alumni for accomplishments, service or other noteworthy honors.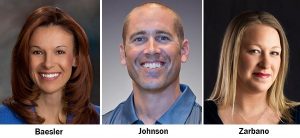 This year's recipients include Peder Gjovik '77, Mark R. Hanson '86, Joan (Leichtman) Heckaman '67, Marcia (Knutson) Pritchert '91, Clark Williams '64, Heather L. (Schmit) Woods '03, M.Ed. '12, and Sheila (Lindeman) Zinke '80. Megan R. (Schmidt) Zarbano '08 and Matthew C. Johnson '01 will each receive the Young Alumni Achievement Award.
The Young Alumni Achievement Award was established in 2012 to recognize VCSU's more recent outstanding alumni as they embark on their chosen paths and strive for greatness. The award is presented to recognize leaders under the age of 40 based on achievements in their chosen career, demonstrated leadership, and service to others.
The Distinguished Alumni Award was adopted by the VCSU Alumni Association to recognize alumni/alumnae who have achieved prominence in their chosen field of endeavor. The nominee must have received national or international recognition and must have been identified as an expert in the individual's chosen field.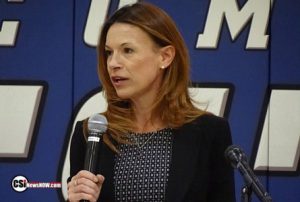 This year Kirsten Baesler M.Ed. '10 will be recognized as the 60th recipient of the Distinguished Alumni Award.
Tickets are $10 each and may be reserved by calling the VCSU Alumni Office at 701-845-7403 or email kim.hesch@vcsu.edu.
Other activities on Saturday include alumni games for both VCSU baseball and softball starting at 10:00 a.m., the homecoming parade at 10:30 a.m., the football game at 2:00 p.m. against Waldorf, and a post-game social at the Valley City Eagles Club at 5:00 p.m.
Contact the VCSU Foundation and Alumni Office at 701-845-7403 for more information.