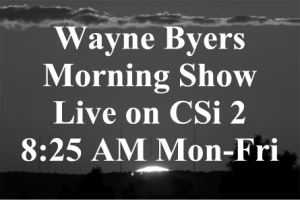 CSi Weather…
.REST OF TODAY…Sunny. Highs in the mid 40s. Northwest winds around 5 mph shifting to the southwest in the afternoon.
.TONIGHT…Mostly clear. Lows in the mid 30s. South winds 5 to
15 mph.
.THURSDAY…Sunny. Highs in the mid 60s. Southwest winds 10 to
20 mph.
.THURSDAY NIGHT…Mostly clear. Lows 40 to 45.
.FRIDAY…Sunny, windy. Highs in the mid 50s.
.FRIDAY NIGHT…Partly cloudy. Lows in the mid 30s.
.SATURDAY…Sunny. Highs 40 to 45.
.SATURDAY NIGHT…Mostly clear. Lows 25 to 30.
.SUNDAY…Sunny. Highs 50 to 55.
.SUNDAY NIGHT…Mostly clear. Lows in the mid 30s.
.MONDAY…Sunny. Highs 45 to 50.
.MONDAY NIGHT…Mostly clear. Lows 25 to 30.
.TUESDAY…Sunny. Highs in the mid 40s.
A very quiet and dry weather pattern will continue through
the long term.
Thursday looks to be the warmest day of the week, bringing afternoon
highs in the 60s with a few low 70s even possible.
The warm temperatures will be short lived as a
cold front associated with a Clipper dips south from
Canada on Friday.
Friday will see some gusty winds behind the cold front
Behind the front, highs will drop back down into
the 40s and 50s through Saturday before another brief warmup on
Sunday.
Valley City  (CSi)  The Valley City Commission met in Regular Session Tuesday evening at City Hall.  Commissioner Magnuson conducted the meeting at the outset, until Mayor Carlsrud arrived.
APPROVAL OF CONSENT AGENDA ITEMS:
A Raffle Permit for Valley City Area Chamber of Commerce, Shine
A  Parade Application for Valley City Area Chamber of Commerce (Parade of Lights) on Thursday, November 29 at 6:00 PM on Central Avenue
A Special Alcohol Beverage Event Permit for Rotary Wine Tasting at the Barnes County Museum on October 30, 2018 for Dakota Silver & The Liquor Locker
PUBLIC COMMENTS:
Mary Lee Nielson spoke, giving a report on her attendance at the Lake Agassiz Water meeting.
She said Devils Lake is requesting joining the organization, and pay for its engineering fees.
The organization was formed to bring water from Lake Sakakawea to the eastern part of the state including the Valley City area.  Devils Lake officials want one cfs of water to the area from the lake.
ORDINANCES:
Approved the first reading of  an Ordinance Repealing and Reenacting Title 10, Stormwater Management. City Attorney Schoenack said no major changes in the Ordinance, under recodification.   
RESOLUTION
Approved a Resolution Creating Paving Improvement District No. 118.
Approved a Resolution Amending Rates & Fees for Solid Waste Services.
City Administrator Schelkoph said the rate will go from $20 per ton to zero, for the commercial tree dumps within the city limits.
NEW BUSINESS
Commissioners received 2018 Annual Foresters Report from City Forester Wagar.
He said 71 elm trees were removed in the city, stemming from Dutch Elm Disease, compared to 100 in 2017.  He added there is a preventative treatment against the elm bark beetle, that needs to be repeated every four years.  He said the cost is about $1-thousand per tree, and is available from Jerry's Tree Service in Jamestown.
He added ash tree wood and wood piles in the city is being inspected for the Emerald Ash Borer, that is infecting and killing ash trees, in many areas.
Commissioners considered  Decision Items for (Project No. SU-2-990(059)) – 5th Avenue  Northwest Reconstruction.  KLJ reported that at recent public meeting, the majority of residents were not in favor of widening the roadway to 40 feet.
Two options were presented:
Have the roadway one lane at the present width with no parking.
Have the roadway at 34 feet, with parking, on both sides of the roadway with minimum impact on tree removal.
At Tuesday's meeting, Commissioners voted for the second option, with Commissioner Magnuson voting in opposition.
CITY ADMINISTRATOR'S REPORT
David Schelkoph said the remaining smaller tree branches brought down by ice forming on trees last week, will be picked up.  The pick up is planned for October 25, and 26.
Anything larger than four inches in diameter will not be picked up by the city, and need to be brought to the Transfer Station, by the property owner.
CITY UPDATES & COMMISSION REPORTS
Police Chief Hatcher, said the Battle of the Badges blood drive at Stoudt-Ross Ford continues on Wednesday from 11:30-a.m., to 6-p.m.  The friendly competition is between the police and fire departments with donors indicating which they want to designate, when they give blood.
KLJ reported some project delays in road work due to last week's snow storm.
Funding for addition permanent flood control work was approved by state officials.
Commissioner Magnuson thanked residents for their patience in dealing with the street projects.
Mayor Carlsrud reported on his participation in the State Water Commission meeting, along with city crews picking up storm related damages last week.
The meeting was shown live on CSi Cable 68, followed by replays.
Valley City  (CSi)  Barnes County Highway Department informs motorists that due to a culvert installation on a section of Barnes County Highway 32 between 112th Avenue Southeast, and North Dakota Highway One, the road will be closed for one day.
No Detour will be provided, motorists need to seek alternate routes.
The closure begins on Wednesday, October 17th, 2018 at 8:30 AM. Work is expected to be completed by 4:00 PM that day.
For more information call the Barnes County Highway Department  at 701-845-8508.
Jamestown  (CSi)  At the Spiritwood Energy Park Association Board of Directors meeting, Monday, the board voted to  decline  authorizing a transfer of land owned by the Jamestown/Stutsman Development Corporation (JSDC) to SEPA ownership in exchange for JSDC increasing ithe current ownership stake of 75 percent in the SEPA industrial park.
The JSDC land is south of the SEPA railroad loop, and is the planned location for the North Dakota Soybean Processors operated plant, currently in a fundraising campaign to move the project forward.
The Spiritwood Energy Park Association (SEPA) is a Great River Energy and Jamestown/Stutsman Development Corporation partnership operating the rail loop used by Dakota Spirit AgEnergy.
SEPA continues in its efforts to locate other businesses in the SEPA business park.
An agreement is in place to transfer the land from JSDC to SEPA at a time when North Dakota Soybean Processors is ready to construct its facility.  The SEPA has board voted to indicate  that the soybean plant is not at that point.
JSDC and SEPA Chief Operating Officer, Connie Ova, passed along information at the SEPA board meeting  from Minnesota Soybean Processors, CEO, Scott Autin that "The plant is progressing, and there seems to be renewed interest by large investors because of the direction the market is going. Basically the market believes soy oil will increase in value over the next two years because of the new demand for renewable diesel."
Minnesota Soybean Processors is the parent company of North Dakota Soybean Processors,
It was announced in September this year,  that construction of the plant is projected to begin in the first quarter of 2019 and the  company close its equity drive by the end of 2018.
In other business, the SEPA board moved to authorized its attorney to update language the operating agreement in  North Dakota law.
JSDC Business Development Director, Corry Shevlin told the board that no new information has been received from New Energy Blue about the planned plant processing wheat straw and corn stalks into ethanol.
New Energy Blue's announcement of its plans in September, included locating the plant on land next to Dakota Spirit AgEnergy.
Fargo  (Farmers Union Insurance)   – FirstLink, which maintains the National Suicide Prevention Lifeline for the state of North Dakota, announced today that Farmers Union Insurance (FUI) has donated $20,000 to help the nonprofit continue its services to North Dakotans who are at risk of suicide.
Cindy Miller, executive director of FirstLink, says,  "Research has shown that our services prevent suicide.    Because of the increased volume of calls we're receiving, we need additional staff to support a second phone line and funding to maintain a callback service to at-risk callers. This donation is really a lifeline of sorts for us."
Miller says calls to their 2-1-1 suicide helpline and national lifeline have increased dramatically in recent years. Suicide related calls in 2016 were 2,512 compared to 6,533 in 2017, and follow-up calls increased from 1,150 in 2016 to 4,810 last year.
Kevin Ressler, FUI chief sales, marketing & branding officer adds, "There aren't a lot of people who haven't been affected by suicide, whether it's a family member or someone in their community.  There is a lot of stress right now in farm country. This donation melds the mission of our company and our farm organization. Both are focused on community support. FirstLink is local people helping local people."
To reach the National Suicide Prevention Lifeline, dial 1-800-273-TALK. Along with providing 24-hour crisis intervention, a FirstLink staff member can direct callers to community resources for emergency safe shelters, support groups, addictions, food assistance, financial housing and utility assistance, disaster assistance, counseling and mental health support.
(CSi)  The North Dakota Highway Patrol reports, a crash near New Rockford has claimed the life of a Sheyenne man, on Tuesday about 11:13 p.m., eight miles west of New Rockford.
A Chevrolet pickup was struck on the driver's side by an eastbound BNSF train at the crossing. The driver was pronounced dead at the scene.
The name of the victim has not been released.
No train personnel were injured.
The accident remains under investigation by the Highway Patrol.
MANDAN, N.D. (AP) — Mandan police say they aren't releasing the name of a man injured in an officer-involved shooting because they're unsure whether he'll try to invoke his crime-victim rights under the North Dakota Constitution. Mandan police tell the Bismarck Tribune that an officer shot the man after police were trying to arrest him on warrants on Oct. 9. The police department says it doesn't want to overstep Marsy's Law, which expands the privacy rights of crime victims.
MINOT, N.D. (AP) — A Minot man has admitted sexually assaulting a baby and a toddler and will be sentenced next month.
Thirty-two-year-old Timothy Sprenger changed his pleas to guilty in North Central District Court on Tuesday. Sprenger admits sexually abusing a 6-month-old baby on one occasion and a different child between the age of one and three about 30 times.
KXMB-TV reports the crimes happened more than a decade ago and were detailed in a journal he kept which was discovered by his brother last year. The prosecution is seeking a 20-year prison sentence with an additional 20-year suspended sentence.
BISMARCK, N.D. (AP) — Sen. Heidi Heitkamp says she is reaching out to women she mistakenly identified in a campaign ad as victims of domestic violence, sexual abuse and rape. Heitkamp says she recently learned that several of the women named in the newspaper ad either hadn't authorized it or are not survivors of abuse. Heitkamp told conservative blogger Rob Port on a radio show Tuesday that she is investigating how her campaign obtained the names.
BISMARCK, N.D. (AP) — North Dakota's State Historical Society has agreed to repair a hole in a sandstone wall that caused an uproar in the tourist town of Medora. The society in April had a small second entrance cut in the wall surrounding a downtown public park. Opponents said the hole damaged the historical integrity of the park in the town built with a distinct Old West atmosphere, and the city threatened a lawsuit. The society board has now decided to restore the wall.
In sports…
High School Volleyball…
Beulah def. Killdeer, 25-17, 26-28, 25-22, 25-20
Bismarck Century def. Mandan, 25-21, 25-21, 25-15
Bismarck Legacy def. Minot, 25-20, 25-10, 25-20
Bismarck St. Mary's def. Turtle Mountain, 3-0
Carrington def. Napoleon, 25-17, 25-20, 25-20
Central Cass def. Sargent Central, 3-0
Devils Lake def. Grand Forks Red River, 25-22, 23-25, 25-17, 25-17
Edgeley-Kulm-Montpelier def. Ellendale, 25-27, 25-14, 25-13, 20-25, 15-7
Fargo Davies def. Fargo South, 3-0
Four Winds/Minnewaukan def. Dunseith, 25-8, 17-25, 25-21, 25-22
Garrison-Max def. New Salem-Almont, 21-25, 25-18, 25-15, 21-25, 15-5
Hankinson def. Milnor-North Sargent, 25-18, 25-21, 25-17
Kenmare def. Bishop Ryan, 14-25, 25-23, 25-18, 25-19
Kindred def. Enderlin, 25-22, 25-14, 25-15
Langdon-Edmore-Munich def. New Rockford-Sheyenne, 25-15, 25-13, 25-11
Mohall-Lansford-Sherwood def. Stanley, 25-17, 25-22, 27-29, 25-20
North Star def. Harvey-Wells County, 26-24, 25-13, 25-20
Oakes def. Medina-Pingree-Buchanan, 25-17, 25-19, 23-25, 25-10
Powers Lake def. Parshall, 25-11, 25-13, 25-19
Ray def. Tioga, 25-19, 25-13, 25-13
Rolla def. Dakota Prairie, 25-19, 26-24, 25-22
Rugby def. Surrey, 25-5, 25-13, 25-21
Sheyenne def. Fargo North, 25-19, 25-14, 25-13
Shiloh Christian def. Washburn, 3-0
South Prairie def. Drake/Anamoose, 25-19, 25-16, 19-25, 25-14
Thompson def. Hatton-Northwood, 3-1
Tri-State def. Lisbon, 25-20, 25-21, 25-16
Velva/Sawyer def. Glenburn, 25-12, 25-16, 22-25, 25-22
West Fargo def. Grand Forks Central, 25-12, 25-15, 25-23
Wilton-Wing def. Grant County, 25-14, 25-12, 20-25, 25-18
MLB-NLCSDodgers knot seriesLOS ANGELES (AP) — The National League Championship Series is tied at two games apiece after the Los Angeles Dodgers won a marathon against the Milwaukee Brewers.Cody Bellinger singled home Manny Machado from second with two out in the bottom of the 13th to give the Dodgers a 2-1 triumph over the Brewers. Machado hit a one-out single and moved to second on a wild pitch by losing pitcher Junior Guerra (GEHR'-ah) before Bellinger delivered his second hit after coming off the bench. It was the first run since Domingo Santana's RBI double tied the game for the Brewers in the fifth inning.Julio Urias worked a hitless inning to pick up the win.The two teams go back at it today in Los Angeles, 14 ½ hours after this one ended. Wade Miley is the Brewers' scheduled starter against Clayton Kershaw.MLB-ALCSBosox take 2-1 lead in rout of Astros

HOUSTON (AP) — The Boston Red Sox have gained control of the American League Championship Series by hitting two big homers to win Game 3.

Steve Pearce belted a tiebreaking, solo shot and Jackie Bradley Jr. added a grand slam that capped the scoring in the Red Sox's 8-2 victory over the Astros in Houston.

The Bosox blew an early 2-0 lead before Pearce launched a sixth-inning blast off loser Joe Smith, one inning after Alex Bregman tied the game with an RBI double. Bradley's home run completed a five-run eighth, one batter after pinch-hitter Mitch Moreland was hit by a pitch with the bases loaded.

Winning pitcher Nathan Eovaldi (eh-VAHL'-dee) allowed two runs and six hits over six innings before four relievers finished the combined seven-hitter.

Dallas Keuchel (KY'-kul) kept the Astros close by holding Boston to a pair of runs and four hits over five frames of the 3-hour, 52-minute marathon.

Game 4 is Wednesday at Houston. Charlie Morton will start for the Astros against Rick Porcello.

MLB-ASTROS-VIDEO

MLB looking into complaint against Astros

CLEVELAND (AP) — A person familiar with the situation says the Cleveland Indians have filed a complaint with Major League Baseball about a man associated with the Houston Astros attempting to film in their dugout during Game 3 of the AL Division Series.

MLB also says it is aware of a report by Metro Boston that a man claiming to be an Astros employee was removed from a credentialed area near the Red Sox dugout during the AL Championship Series opener at Fenway Park.

MLB said in a statement Tuesday night the matter "will be handled internally."

NBA-SCHEDULE

Warriors, Celtics take NBA season openers

UNDATED (AP) — The NBA's 73rd season has gotten underway with victories by the defending-champion Golden State Warriors and the Boston Celtics.

The Warriors received their championship rings before Stephen Curry and Kevin Durant led a 108-100 victory over the Oklahoma City Thunder. Curry shot 5-for-9 from 3-point range and finished with 32 points, nine assists and eight rebounds. Durant provided 27 points, eight boards and six assists for the Warriors, who blew a 10-point halftime lead before winning.

Dennis Schroder (SHROO'-dur) had 21 points and six rebounds for the Thunder.

Jayson Tatum poured in a team-high 23 points and the Celtics overcame a poor shooting night by Kyrie Irving to beat the Philadelphia 76ers, 105-87 in Boston. Tatum also had nine rebounds, while Marcus Morris chipped in 16 points and 10 boards off the bench to help Boston win despite shooting 43 percent.

Irving shot just 2-for-14 but had a team-high seven assists for the Celtics, who outscored the Sixers by 18 after the opening quarter.

Gordon Hayward scored 10 points on 4 of 12 shooting in his first game since breaking his left leg and dislocating an ankle during last year's season opener against the Cavaliers. Hayward received a huge ovation when he was announced before the game.

Ben Simmons came within two assists of a triple-double, finishing with 19 points and a team-high 15 rebounds. Joel Embiid (joh-EHL' ehm-BEED') led Philadelphia with 23 points.

NBA-NEWS

Butler with Wolves, but for how long?

UNDATED (AP) — Jimmy Butler was with the Minnesota Timberwolves when the team traveled to San Antonio for its NBA season opener.

Butler has only participated in four days of on-court workouts with the team while hoping his trade request will be granted. Timberwolves head coach Tom Thibodeau says he's planning to play him Wednesday if Butler feels up to it.

Elsewhere in the NBA:

— The Lakers have exercised their contract options on Brandon Ingram, Lonzo Ball, Kyle Kuzma and Josh Hart for next season. Ingram averaged 16 points last season, Kuzma made the NBA all-rookie first team last season and Ball averaged 10.2 points, 7.2 assists and 6.9 rebounds in 52 games as a rookie.

— WNBA All-Star Kristi Toliver will be an assistant coach for player development for the NBA's Washington Wizards this season. Toliver played for the Washington Mystics and helped them reach the WNBA Finals this year, when she also assisted the Wizards' coaching staff during the NBA Summer League and training game.

NHL…

UNDATED (AP) — The Wild topped the Coyotes, 2-1 as Eric Staal furnished the game-winner with 13:42 remaining and Devan Dubnyk (DOOB'-nihk) stopped 27 shots. Mikael Grandlund also scored against Darcy Kuemper (KEHM'-pur), who was facing his old team for the first time.

Lightning double up Hurricanes

Tampa Bay took the NHL's bad-weather matchup Tuesday night as Tyler Johnson and Louis Domingue (doh-MIHNG') led the Lightning to their third win in four games.

Domingue turned back 38 shots and Johnson completed a hat trick by scoring into an empty net to secure the Lightning's 4-2 triumph over the Hurricanes. Domingue was making his season debut after Andrei Vasilevskiy (va-sih-LEHF'-skee) started Tampa Bay's first three games.

Johnson scored in each period, but the Lightning didn't take the lead for good until Yanni Gourde (YAH'-nee gohrd) beat Petr Mrazek (muh-RA'-zehk) with 12:58 to play.

Elsewhere on NHL ice:

— The Canucks pulled out a 3-2 win at Pittsburgh on Brock Boeser's (BEH'-surz) goal 34 seconds into overtime. Ben Hutton and Brandon Sutter also scored and Anders Nilsson stopped 26 shots in Vancouver's third consecutive victory.

— Wayne Simmonds and Claude Giroux (juh-ROO') each scored twice before Jakub Voracek (VOHR'-uh-chehk) and Jordan Weal added shootout tallies to close out the Flyers' 6-5 win against the Panthers. Aleksander Barkov and Frank Vatrano notched two goals apiece for Florida.

— Kyle Palmieri ran his season-opening goal streak to four games by netting his seventh in the Devils' 3-0 shutout of Dallas. Keith Kincaid stopped 24 shots for his second shutout and Jean-Sebastien Dea (dee) tallied for the third straight game to help New Jersey improve to 4-0 for the first time in 23 years.

— Mats Zuccarello (zoo-kah-REH'-loh) and Kevin Shattenkirk provided the Rangers' shootout goals in a 3-2 verdict over the Avalanche. Colorado forward Nathan MacKinnon's season-opening goal streak is at six games after he provided the equalizer with 13 seconds left in the second period.

— Jonathan Marchessault (MAHR'-cheh-soh) scored the first and last goals in the Golden Knights' 4-1 victory against the Sabres. Marc-Andrew Fleury handled 26 shots and blanked Buffalo until Vlidimir Sobotka scored with 37 seconds left.

— Connor McDavid had two goals and four points, but the Oilers needed an overtime goal by Darnell Nurse to beat the Jets, 5-4 at Winnipeg. The Jets carried a 4-1 lead into the third period before McDavid collected a goal and two assists.

NFL-NEWS

Niners get another QB

UNDATED — The San Francisco 49ers have acquired another backup for quarterback C.J. Beathard (BETH'-urd), signing free-agent Tom Savage.

The Niners have been seeking a productive offense since QB Jimmy Garoppolo went down with a season-ending knee injury last month.

Savage was taken by the Texans in the fourth round of the 2014 draft and is 2-7 as an NFL starter, including a 1-6 mark for Houston last year. He has completed 57.5 percent of his passes for exactly 2,000 yards, five touchdowns and six interceptions in 13 games.

In other NFL news:

— The Chiefs have waived safety Leon McQuay and brought back offensive lineman Jeff Allen. The 28-year-old Allen was a second-round pick of the Chiefs in the 2012 draft and spent four productive seasons with the team before signing a four-year package with the Texans two years ago.

— The Giants have signed former Broncos receiver Bennie Fowler and placed linebacker Ray-Ray Armstrong and wide receiver Cody Latimer on injured reserve.

— The Redskins have cut veteran defensive lineman Ziggy Hood following the emergence of defensive linemen Daron Payne, Jonathan Allen, Matt Ioannidis and Tim Settle. Hood dressed but didn't play in Sunday's win over Carolina.

— The Raiders are releasing linebacker Derrick Johnson, who has lost playing time to Marquel Lee. Coach Jon Gruden says linebacker Jason Cabinda will be promoted from the practice squad to take Johnson's spot on the roster.

— NFL football operations chief Troy Vincent would like players to stop worrying about getting flagged or fined for tackles, saying "You gotta play." Kansas City rookie linebacker Breeland Speaks said he didn't take Tom Brady down because he was concerned about a roughing-the-passer penalty in the fourth quarter of the Chiefs' 43-40 loss at New England on Sunday night. Roughing-the-passer calls are down since the competition committee clarified to game officials last month the techniques used in such hits.

COLLEGE FOOTBALL-OHIO STATE-BOSA

Injured Bosa to prep for pro career

COLUMBUS, Ohio (AP) — Ohio State defensive end Nick Bosa's college football career is over.

The injured All-American intends to withdraw from school to spend time rehabilitating and training for an NFL career. He is expected to be a first-round draft pick.

No. 2 Ohio State made the announcement on Tuesday.

Bosa was considered one of the top players in college football before he suffered a core muscle injury against TCU on Sept. 15. He had surgery five days later, with no timetable set for a return.

GYMNASTICS-BONO

Bono out after 96 hours

UNDATED (AP) — Mary Bono lasted just four days as interim president at USA Gymnastics.

The former California Congresswoman has stepped down, citing personal attacks she received following a social media post concerning Nike and former San Francisco 49ers quarterback Colin Kaepernick (KAP'-ur-nik).

The post drew scrutiny from Olympic gold medalist Simone Biles and others after USA Gymnastics announced her hiring last Friday.

Bono is the third person to step down from the position in the last 18 months since the Larry Nassar sexual abuse scandal broke.

TYSON GAY-DAUGHTER KILLED

Guilty verdicts in death of sprinter's daughter

LEXINGTON, Ky. (AP) — Four men have been found guilty in connection with the fatal shooting of 15-year-old Trinity Gay, daughter of Olympic track star Tyson Gay.

News outlets report a jury returned verdicts Monday after deliberating nearly five hours.

Authorities said Gay was an innocent bystander, shot in the neck during a parking lot shootout in 2016.

Tyson Gay says he's glad his daughter got some justice.
In world and national news…
ANKARA, Turkey (AP) — U.S. Secretary of State Mike Pompeo has met Turkey's president and foreign minister over the disappearance and alleged slaying of Saudi writer Jamal Khashoggi. No details were immediately released about the talks Wednesday between Pompeo and President Recep Tayyip Erdogan and Foreign Minister Mevlut Cavusoglu.
WASHINGTON (AP) — President Donald Trump says he senses voter optimism rivaling 2016 going into the midterm elections. In a wide-ranging AP interview, Trump argues his campaigning has helped GOP candidates, but says he doesn't take the blame if Republicans lose control of the House. Trump also spoke on other topics, including defending Saudi Arabia from growing condemnation over the case of a missing journalist.
TORONTO (AP) — Canada is pardoning anyone convicted of possessing 30 grams or less of marijuana now that the country has a legal national marijuana marketplace. Canada has had legal medical marijuana since 2001 and Prime Minister Justin Trudeau's government has spent two years working toward expanding that to include recreational marijuana.
MOSCOW (AP) — The Kremlin says the blast at a college in Crimea that killed at least 10 people could have been a terror attack. Authorities say that at least ten people have been killed and more than 50 injured as a result of the explosion at a vocational college in the Black Sea city of Kerch.
PANAMA CITY, Fla. (AP) — Authorities say they're arresting about 10 suspected looters every night in an area of the Florida Panhandle left in the dark since Hurricane Michael hit a week ago. Bay County Sheriff's Maj. Jimmy Stanford tells the News Herald looters have targeted homes and businesses and they're almost always armed. Victoria Smith says thieves entered her powerless townhome while she and her four children were sleeping with the front door open and snatched her purse