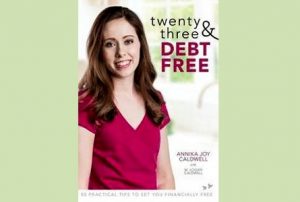 Jamestown  (CSi)  Join author Annika Caldwell,  in Valley City and Jamestown  celebrating the release of her book 'Twenty Three and Debt Free: 50 Practical Tips to Set You Financially Free.'
On Thursday's Wayne Byers Show on CSi Cable 2 by phone from Grand Forks, Annika said that she will be at The Vault Coffee Shop in Valley City on Tuesday November 13, from 11-a.m., to 1-p.m., and at the Plantation Coffee Bar in Jamestown, on Wednesday November 14, from 9-a.m., to 11:30-a.m., selling and signing copies of her book, also available for purchase at Amazon Prime, and Barnes & Noble.
The first 10 people to buy a book at the Valley City and Jamestown book signings  will receive a FREE COFFEE.
Her "Live Life Financially Free," presentation will be on November 13 at Trinity Lutheran Church in Jamestown from 6-p.m., to 7:30-p.m.
Each participant will be provided with a zero-based budgeting template, resources for paying off debt and cutting costs, and the opportunity to win two awesome prizes including the book 'Twenty Three and Debt Free' and a Financial Peace University lifetime membership.
**FREE CHILDCARE will be provided by Stepping Stones. If you will be using this free childcare, please send an email to annika@23anddebtfree.com with the first name and age of each of your children.
Annika explained that she and her husband had encountered enormous debt, of $97,000 and the experience led her to publish the book "Twenty Three and Debt Free: 50 Practical Tips to Set You Financially Free."
Twenty three was her age when she started her journey to become debt free, which she did, by following a budget and plan to pay off debtors.
From making a budget that works for you to cutting costs for your family and paying off debt, this event will equip you with the tools to live life financially free.
With money touching so many points in our lives, Annika is especially passionate about educating people about budgeting, cutting costs, college planning, and avoiding consumer debt. Age and income status don't matter here.   She said that everyone needs the tools to take control of their own finances and achieve financial freedom.
.