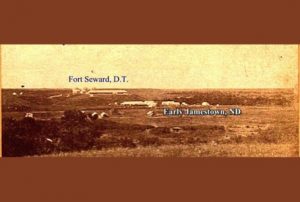 This Day In History, Nov 27, 1872 – Camp Sykes is established over the town of Jamestown. *** from the 125th Anniversary Calendar of Jamestown History  &  Frohne's Historic Military.***
Camp Sykes established by Joseph S. Stanfford of the U.S. Army Infantry. Camp was for  the protection of the railroad workers and engineers.
Camp Sykes (Fort Seward):
Located on the right bank of the James River a little above the present day town of Jamestown North Dakota. Established to protect the construction of the Northern Pacific Railroad, and located at the point where the railroad crossed the James River. Established by Captain John C. Bates, 20th U.S. Infantry. The post was first called Camp Sykes, for Colonel George Sykes, 20th U.S. Infantry. It was designated Fort Cross on September 7, 1872. The name was changed to Fort Seward in 1873 in honor of former Secretary of State Wlliam H. Seward who died on October 10, 1872. Fort Seward was abandoned as a military post on September 30, 1877. The military reservation was transferred to the Interior Department on July 14, 1880.