(WDAY) – Lilie Schoenack, a candidate for Barnes County State's Attorney said she is shocked and angry after opening a package mailed to her home that was filled with feces.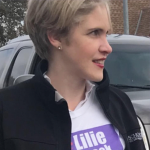 Lilie Schoenack tracked the package, an found it came through a legitimate website, that allows individuals to send  feces filled packages to people. The site makes senders promise it's just a "gag gift" and not being used to harass or threaten anyone.
But with the election just five days away, this candidate isn't laughing, she said she felt both harassed and threatened.
Schoenack tells WDAY, "There's no reason whatsoever to believe it's anything but that, so it's just troubling to me that people are capable of this.  It's just sort of a metaphor or symbol of the way this whole election has gone."
She'll consider pursuing legal action with a U.S. state attorney.
Schoenack is being opposed in the State's Attorney's race by Tonya Duffy.