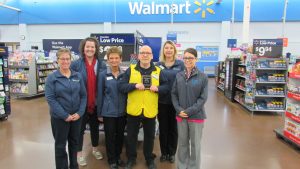 (Chamber)  Clyde Rueb of Walmart received the Customer Service Award for November for his outstanding customer service.  It was presented by Members of the Chamber of Commerce Ambassador Committee and the Young Professionals of Jamestown.   The chamber honors individuals who demonstrate a consistent commitment to delivering products or services that satisfy customers by exceeding their requirements or expectations.
Clyde's letter of nomination stated, "Every time I walk into Walmart and Clyde is working, he's got a huge smile on his face! He's always to kind and talkative and very helpful when needed. Even when I've had a crazy day and have to go into Walmart and it's crazy busy, I know that if I get to see Clyde my day will be made. I think he truly encompasses all the qualities of someone with exceptional customer service!"
Congratulations to Clyde, who along with all the other monthly winners, will be recognized at the Chamber's annual banquet in January 2019.  Customer Service Award nomination forms are available at the Chamber office and on their website at www.jamestownchamber.com or call 701-252-4830.