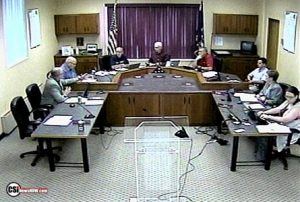 Valley City  (CSi)  The Valley City Commission met in Regular Session, Tuesday evening at City Hall.  All members were present.
APPROVAL OF CONSENT AGENDA ITEMS INCLUDED:
Monthly Reports from the Fire Chief, Building Inspector, Auditor, Municipal Judge and Public Works Accountant.
Monthly Bills for the City and Public Works in the Amount of $2,596,672.11
Approved Blocking off the Street Request for Valley City Chamber of Commerce on November 29, 2018 after Parade of Lights Event on Central Avenue
Approved a Raffle Permit for American Fisheries Society – Student Subunit, ND Hereford Association
Approved Raffle Permit for Valley City High School Art Club.
PUBLIC COMMENTS:
Lloyd Nelson asked why citizens were not able to vote on the StreetScape project.
Commissioner Powell said the issue was too complicated to be put on a ballot.
Commission Bishop  also stated that the item is an infrastructure issue, and the StreetScape project to be voted on would set a precedence.
He asked why Public Comments are limited.   Mayor  Carlsrud said the public comment time allows adequate time.
Gary pointed out veterans observance set in Valley City.
Attorney General's "A Citizen's Guide to North Dakota Open Records & Open Meetings Laws" *A member of the public does not have the right to speak to the governing body at an open meeting. The public is only entitled to see and hear what happens at a meeting, and to record or broadcast those observations.
No personal attacks to persons present or not
No inflammatory language used during time that you have the platform
5 minute maximum or as directed by the chair
Thank you for participating in City Government.
ORDINANCE
City Commissioners approved the  second and final reading of an Ordinance Repealing Title 15.1 and Reenacting Title 10, Stormwater Management. City Attorney Schoenack pointed out minor changes.
RESOLUTIONS
Approved a Resolution Amending the Master Fee Schedule to add fee for a Class G, Microbrewry amending the fee schedule.
Approved a Resolution Awarding Bids for Paving Improvement District No. 116 Central Avenue, Project UGP-SU-2-990(057)  including curb and gutter, lighting improvements among other times.
Commissioner Bishop questioned the costs, as Mayor Carlsrud pointed out added funds went into the project, such as from economic development, and the Municipal Utilities Fund, and the Image Enhancement program.
From the audience Lloyd Nelson suggested tabling the issue, and put it to a vote of the people.
Gary Schlagel was opposed.
George Dutton a business owner is in favor of the project.
An unidentified business owner was also in favor of the project.
The vote was 4-1 to approve with Commission Erickson voting in opposition.
Approved a Resolution No. 2164, a resolution creating Paving Improvement District No. 119 (7th Avenue NW & 4th Street NW)
NEW BUSINESS
The City Commission approved the appointment of Scott Magnuson as Fire Chief of  the Valley City Fire Department effective January 1, 2019.  City Administrator Schelkoph said nine applications were received.
He pointed out Magnuson's experience, qualifications and dedication to the Fire Department over the years,plus the backing of his fellow firefighters.
Commissioner Duane Maguson recused himself from the vote.
Approved the Valley City-Barnes County Development Corporation request of up to $35,000 to assist with implementation of Streetscape project from City Sales Tax Funds.  Commissioner Erickson was opposed.
Approved Valley City-Barnes County Development Corporation request of $150,000 for the Regional Technology Center from the City Sales Tax Fund.  Jennifer Feist said the dollars will be used in part to pay back a loan, and return a portion to the city.
Approved the annual NDDOT Maintenance Certification for Urban Federal Aid Projects.
Approved an Amendment to Owner-Engineer Agreement to include Final Design of PFP Phase 2A – Bettin Pump Station and Floodwalls in an amount not to exceed $20,000.
City Commissioners approved the Preliminary Engineering Agreement for Two Permanent Flood Protection Erosion Sites (Riverview Drive & Woodland Park) with KLJ in amount of $45,500.
Approved a Change Order Request for Sanitary Sewer Improvement District No. 62 (NE Quarter& Central Avenue) in the amount of $56,237.
CITY ADMINISTRATOR SCHELKOPH'S REPORT:
He said the Public Works Department budget is nearing completion, with a public hearing on the budget coming later.
Winter hours are now in effect at the landfill, transfer station.  He added th 24 hour drop off site is working well, including for trees and will be open through the winter.
CITY UPDATES & COMMISSION REPORTS
City Attorney Schoenack said the recodification process is nearing completion.
City Fire Chief Retterath pointed out the annual dance will be held the night after Thanksgiving on the 23rd.
City Police Chief  Hatcher recognized two officers who are veterans, and thanked them for their service.
Commissioner Erickson thanked those on the fire chief search committee.
Commissioner Powell said those involved with the StreetScape project did their due diligence in the planning process.
Mayor Carlsrud thanked employees, and thanked veterans for their service.
The meeting was shown live on CSi Cable 68, followed by replays.