Jamestown (CSi)  A small gathering of local residents stood silently in the chilly morning Sunday, November 11.  They came for the commemoration of the end of WW1.  Church bells in the distance tolled twenty-one times at 11am, the time the Armistice had been signed, 100 hundred years ago.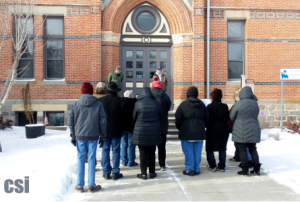 On the steps of the 1883 Stutsman County Courthouse, Veterans Service Officer, David Bratton, read the names of 46 Stutsman County military personnel who were killed in action or died as a result of injury or disease during their service in WWI.
The University of Jamestown unveiled  a plaque at Hansen Center,  to honor University of Jamestown World War 1 veterans. A permanent memorial is planned as part of a renovation of the Hansen Center.
More than 1,400 North Dakotans were among the more than 116,000 Americans who gave their lives in World War I.    A total of 4.7 million American men and women served during WWI, including more than 28,000 from North Dakota.
7 minute Video from the WW1 Centennial Commission
They Deserve Their Own Memorial – 7 Minute version from WW1centennial on Vimeo.