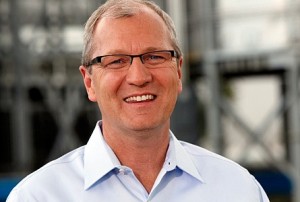 Bismarck  (Rep. Cramer's Office) Rep. Kevin Cramer soundly defeated incumbent Sen. Heidi Heitkamp in a widely contested race that drew national attention due to its significance in retaining a Republican majority in the Senate.  In total, Cramer claimed 55 percent of the vote compared to 44 percent for Heitkamp and the win helped cement the majority in the Senate.
At an election night watch party, Cramer and his extended family took to the stage to offer thanks.  "You have given me the honor of my life to serve these last six years as North Dakota's only member of the 'People's House,'" Cramer said. "You have taught me the value of hard work and common sense. You have helped me be the most accessible member of Congress and I want to make this promise to you whether you voted for me or you did not.  As your Senator, I will continue to be the most accessible member of the U.S. Congress through every means possible because without you, I'm nothing, and with you, I'm everything."
In his acceptance speech, Cramer paid tribute to his wife, Kris, for her role in the campaign along with all of his extended family and his official staff in Washington many of whom have been with him since he was first elected to Congress in 2012.  "The best politics is good policy and these folks have been taking care of business by taking care of people and policy since the day we got there and I am honored that this victory belongs to them as much as it belongs to anybody."
Cramer also provided praise to all the volunteers that helped the campaign along with his campaign staff. "Imagine this," Cramer said.  "We were outspent five-to-one but let me tell you; good old-fashioned hard work will beat piles of out-of-state money every single time."
In a news conference the day after the election, Cramer outlined transition plans saying they have begun the process.  He announced that Mark Gruman will continue as his chief of staff and Lisa Gibbons as state director.  Both Gruman and Gibbons served in those roles in Cramer's official office in the U.S. House of Representatives.  Cramer also invited anyone interested in working in his Senate office should contact his transition team at transition@kevincramer.org.