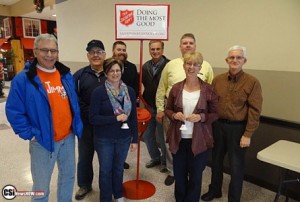 Jamestown  (CSi)  The Jamestown Salvation Army Kettle Campaign kicks off on Thursday November 15.  This year's goal has been upped to $168,000.
Major, Tim Nauta says, last year's goal was nearly $160,000, with the extra dollars in this year's goal will go toward the reopening the Salvation Army's game room, providing a safe place for school-age kids to go, in addition the increased needs in services provided to the community, all year long, which outpaces funding.
The Salvation Army strives to fight against homelessness in the area, and to make sure heating bills are paid and other necessities are provided for in homes.
Six kettle locations will be set up this year.
Major Nauta says the bell ringers will be stationed at a kettle in two hour shifts. Register to be a bell ringer by calling at 701-252-0290, or online at www.registertoring.com.