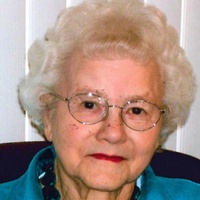 Evelyn Florence Moyer, 91, Jamestown, ND passed away Thursday, November 8, 2018 at Bethany Care Center, Fargo, North Dakota.
Evelyn Kunde was born June 16, 1927, the daughter of Henry and Clara (Vietzke) Kunde of Parshall, ND.  She was raised and attended a rural school in the Parshall area.  She graduated from Parshall High School in 1945.  She worked at the Peoples State Bank in Parshall and did office work for the Parshall School.
Evelyn married Kenneth Charles Moyer on October 19, 1947.  They moved to Cleveland, ND in 1948 and then to Jamestown in 1952.  Besides raising 4 children, she worked at various jobs, including Home Delivered Meals for the Senior Citizens Center.
She was a member of Immanuel Lutheran Church and served as LCW President and Altar Guild for several years.  She also taught Bible School.
She enjoyed cooking, gardening, reading, doing needle work and watching sports.  She was very caring and genuinely interested in the lives of others.
She is survived by son, Darrell (Deb), Alexandria, MN; two daughters, Eunice (Tom) Posz, Concord, CA; and Rhonda (Troy) Lindberg, Groton, SD; two sisters Elaine (John) Brostuen, Aurora, CO and Florence Weil, Grand Junction, CO; one brother Robert (Bonnie) Kunde, Aurora, CO; six grandchildren Nathan Moyer, Kelsey Moyer, Matt Posz, Julia Posz, Haley (Wilson) Cooper and Cody Wilson; two great-grandchildren Brody Moyer and Hayden Cooper; brother-in-law John Brostuen, sister-in-law Bonnie Kunde and 17 nieces and nephews.
Evelyn was preceded in death by her parents, son Greg, husband Kenneth, two sisters Irma Olson and Bernice Anderson, brothers-in-law James Olson, William Weil, Carl Anderson, niece Brandi Kunde and great-granddaughter Sophia Cooper.
Visitation will be: 1:00 PM to 2:00 PM, Tuesday, November 13, 2018
Funeral Service: 2:00 PM, Tuesday, November 13, 2018
Burial: Sunset Memorial Gardens
Online guest book: www.eddyfuneralhome.com