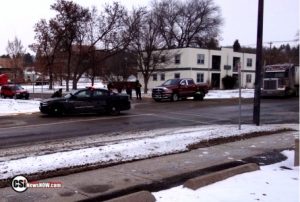 (CSi)  The Jamestown Police continue with its investigation into a young girl being struck by a vehicle on Thursday afternoon about 3:15 at the intersection of 4th Avenue and 4th Street Northeast.
Major Justin Blinsky reports that   41 year old  driver of a pickup, from Eldridge was operating the 2015 Ram west on 4th Street, approaching the intersection where another vehicle was in the lane to turn.
The 11-year-old  girl ran across 4th Street in the crosswalk and was struck by the pickup.
The girl was taken to Jamestown Regional Medical Center, by Jamestown Area Ambulance Service, with serious injuries. She was later life-flighted to a Fargo hospital.
Jamestown Police Department continue the investigation assisted by the North Dakota Highway Patrol.
WDAY/InForum reports, A GoFundMe page has been set up for the girl, who is identified in the GoFundMe information as Isabella Sandstrom.
The posting on GoFundMe states that Sandstrom suffered severe injuries, including a fractured skull, other broken bones and internal injuries.
A GoFundMe page has been set up for the girl, you can donate here.
Previously…
(CSi) – Police cordoned off the corner of 4th Ave NE and 4th Street NE, due to a child being hit by a truck.
The Jamestown Ambulance transported the individual to the hospital.
Traffic was diverted around the intersection of 4th Ave NE and 4th St NE (Hwy 20).
More information to come.