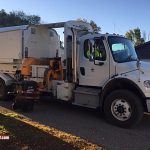 Jamestown (CSi) Jamestown Public Works informs residents, that due to the Thanksgiving Day Holiday, there will be
NO garbage pick-up on Thurs Nov 22 – Thurs route will be picked up a day early on Weds. 
All other pickups will be on the regularly scheduled day. All pickup routes begin at 7:00 a.m.
The Baling Facility will be CLOSED on Thursday & Friday, November 22 – 23, 2018.
The Baling Facility will be OPEN on Saturday, November 24, 2018 during regular business hours.