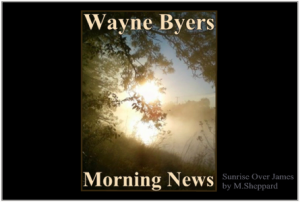 CSi Weather…
WINTER WEATHER ADVISORY…CANCELLED FRIDAY AFTERNOON…
Still, plan on slippery road conditions. Patchy blowing snow could significantly reduce visibility.
The hazardous conditions could impact the  evening commute.
Forecast…
.LATE THIS AFTERNOON…Snow possibly mixed with rain and freezing
rain. Little or no new snow accumulation in the Jamestown area, up to 1 inch in the Valley City area. North winds 20 to 25 mph.
.TONIGHT…Cloudy.  A 50 percent chance of light snow in
the evening. Patchy blowing and drifting snow in the evening.
Colder. Lows 5 to 10 above. North winds 15 to 25 mph decreasing to 10 to 15 mph after midnight.
.SATURDAY…Partly sunny in the morning then clearing. Colder.
Highs around 20. West winds 5 to 10 mph.
.SATURDAY NIGHT…Mostly clear. Lows around 15. Southwest winds
10 to 15 mph.
.SUNDAY…Increasing clouds. Not as cold. Highs in the upper 30s.
West winds 10 to 15 mph.
.SUNDAY NIGHT…Mostly cloudy. A 20 percent chance of snow after
midnight. Lows in the mid 20s. West winds 10 to 15 mph.
.MONDAY…Mostly cloudy. Highs in the upper 30s.
.MONDAY NIGHT…Mostly cloudy. Lows in the mid 20s.
.TUESDAY…Sunny. Highs in the upper 40s.
.TUESDAY NIGHT…Mostly clear. Lows in the mid 20s.
.WEDNESDAY…Sunny. Highs in the upper 40s.
.WEDNESDAY NIGHT…Mostly clear. Lows in the mid 20s.
.THANKSGIVING DAY…Mostly sunny. Highs in the upper 40s.
.THURSDAY NIGHT…Partly cloudy. Lows in the mid 20s.
.FRIDAY…Mostly sunny. Highs in the mid 40s.
Much colder air will return Saturday and Sunday. This period will also be dry.
Another weak clipper system will track light snow across the north on Monday.
This will be followed by a slow warming trend Tuesday through Thursday
Thanksgiving looks dry with highs mainly in the 30s central
and lower to mid 40s southwest.
Authorities Friday morning remind motorists that  intersections are ice covered and slippery, along with side streets, and hills.
Slow down and allow extra distance for breaking.
Jamestown  (CSi)  Jamestown Public Works informs residents that city crews will begin the full snow removal program throughout the City beginning approximately at 5:00 a.m., Saturday, November 17, 2018. Removal will continue during the night with the downtown district removal beginning at 11:00 pm, November 17, 2018.
Downtown merchants and all public/private schools are asked to have their sidewalks shoveled by 9 p.m. Saturday, November 17, 2018.
PLEASE NOTE:  Due to late delivery of two new motor graders, the snow gates have not been installed.
PLEASE NOTE:
The above schedule is contingent upon changing weather conditions and snow accumulation totals.
Jamestown (CSi)  The North Dakota Aeronautics Commission reports for the month of Ocotober this year, Jamestown Regional Airport had 804 boardings, compared to 1.042 in October 2017,down about 22 percent.
For this year, through October 10,050 passengers were recorded, compared to 10,890 through October of 2017, off about seven and a half percent.
Jamestown  (CSi)  The Jamestown Arts Center announces that the Christmas Concert will be on Saturday December 8, at 7-p.m., at the Arts Center.
Tickets for the Greg Hager Concert available in advance or at the door.
On Thursday's Wayne Byers Show on CSi Cable 2, Arts Center, Education Coordinator, Myra Olson added that Dorreen Eckman of Jamestown awarded the People's Choice Award, in the recent 2018 Jamestown Fine Arts Association 54th Annual Art Show.
Now showing for the exhibit is "Figments," by Robert Matz, a North Dakota based artist, who considers himself a prairie realist painter, capturing moments in time.
On December 8 at noon there will be a luncheon at the Arts Center at noon, to meet the artist.
Tickets are $5 at the door.
On November 29 at 7:30-p.m., its Open Mic Night hosted by Steve Kuykendahl.
A sign up sheet will be at the door.
Also entries will be taken to win a guitar, to be drawn for at the December Open Mic Night.
On our show, Myra also listed classes for adults and teens, along with upcoming Arts After School activities, and the Second Saturday of each month activities.
More information on line at jamestownarts.com  or call 701-251-2496.
For adults and teens:
*"Kombucha Brewing" – Charlene Nelson leads the class from 10 a.m. to noon Saturday, Nov. 17, at the Arts Center. This class explores the history of kombucha and the health benefits of drinking it. The class will include discussing the equipment needed to brew your own and how to choose the ingredients to brew it. A batch will be started in class.
*"Hand Stamped Jewelry" – Diane Hochhalter teaches this class from 10 a.m. to 3 p.m. Saturday, Dec. 8, in the Hansen Arts studio. Participants will receive a starter kit, will create their own stamped pendant that will be fashioned into a wearable art creation. Learn basic jewelry creation skills and ways to repurpose existing jewelry into custom made pieces of wearable art.
Arts After School for children is open to grades 3-6. After school snack and busing in town are included. Scholarships are available. Registration can be done online.
Classes are children are:
Nov. 19-30: Card Making/Stamping/Origami. Classes will learn about card making and stamping, making four themed cards, and later will learn about and use origami to complete projects. Classes won't be held Nov. 22-23.
Dec. 3-14: Mini Monet. Students will learn about Impressionism and Claude Monet in this acrylic painting class. Students will create their own Impressionistic painting.
Dec. 17-21: Creative Journaling. Students will make their own daily journal in this class.
Jan. 14-25: Arts & Cooking. For the first half of each daily class, the students will create an art project, and the second half will be creating a culinary creation.
2nd Saturday for children:
On the second Saturday of each month, from 10:30 a.m. to noon, children in grades 3-6 can enjoy a fun time with Linda Roesch, resident artist for the Arts Center. Students will learn how contour line drawings can be used to create quick sketches. Students will practice drawing fast portraits, then refine sketches to create cartoon characters of themselves and their friends. Students will use a variety of mediums to create a project for each class. Each class is $15 or $10 for others.
Preregistration is required for the classes. To preregister and for cost information, go to www.jamestownarts.com.
Jamestown  (CSi)  The Duel in the Dirt Bull Riding Finale is set for Friday and Saturday November 16, and 17 at the Jamestown Civic Center.
The bull riding competition will be at 7-p.m., each evening.
The event feature about 50 bull rider both evenings.
Justin Stringer says, 5 Star Bucking Bulls will have  the  top 12 riders getting an additional ride to close the competition on Saturday night.
The riders will compete for $12,000 in purse money.
The event differs from a rodeo in that this is a bull riding event only, as riders come to Jamestown from the upper Midwest, Montana, New Mexico, Canada, and Mexico.
Tickets for this week's event are $15 for adults, $10 for youth ages 7 to 10 and free for children age 6 and under. (Tickets are $5 off if purchased by Nov. 15,) at the Civic Center Box Office  or call 252-4835.
Valley City  (CSi)  The Barnes County Election Canvassing Board has certified the November 6, 2018 election results.
Barnes County Auditor Beth Didier says, 5,116 election ballots were counted.
On election day, 2,078 voters cast ballots at the polls.
3,038 mail-in ballots were received along with set asides.
During the 2016 Presidential General Election, there were a total of 5,451 ballots cast, including 2,266 votes in person on election day, and 3,185 mail-in ballots.
STANLEY, N.D. (AP) — Authorities have identified a 26-year-old Parshall man who died after the pickup he was driving rear-ended a semitrailer in Mountrail County.The Highway Patrol says David Sopher died at the scene on U.S. Highway 2 in Stanley on Tuesday night.The semi driver wasn't hurt. 
BISMARCK, N.D. (AP) — Authorities have seized a load of marijuana from a pickup pulled over on Interstate 94 in North Dakota.
A Highway Patrol trooper stopped the pickup traveling east on the interstate Wednesday for exceeding the speed limit and illegally tinted windows.
During the stop, the trooper smelled marijuana coming from the pickup. A search of the vehicle found 30 pounds (14 kilograms) of marijuana, a small amount of hashish and $1,100 in cash.
Authorities say the two suspects were traveling from Portland, Oregon, to Pittsburgh. The suspects face charges of possession of marijuana with intent to distribute, possession of hashish and possession of drug paraphernalia.
MINOT, N.D. (AP) — Trial has been scheduled in late February for a Minot woman accused of helping a man hold their roommate against his will in a dispute over unpaid rent.
The Minot Daily News reports that prosecutors have dropped felony robbery and accomplice counts against 21-year-old T'Anna Beede, but she still faces a misdemeanor unlawful imprisonment charge.
Authorities allege Taylor Laducer, of Williston, and Beede on May 18 drove the roommate into the country, where Laducer assaulted him with a bat and brass knuckles. They then allegedly left him by the side of the road in the middle of the night.
Laducer pleaded guilty in August to reduced misdemeanor charges of unlawful imprisonment and assault. He was sentenced to the three months he had already served behind bars and 1 ½ years of probation.
MINOT, N.D. (AP) — A $21 million bridge replacement project in Minot is complete.
The Minot Daily News reports that officials held a ribbon-cutting ceremony Thursday for the new Broadway Bridge.
The bridge is on the main north-south artery through the city, spanning two railroads and the Souris River. About 30,000 vehicles use it each day.
It includes new LED lighting to match the downtown and an enhanced walkway for pedestrians and bikes. Mayor Shaun Sipma called the new bridge a "monumental milestone."
BISMARCK, N.D. (AP) — North Dakota oil industry leaders are pushing to loosen the state's oil conditioning regulations, but an environmental group is arguing to tighten rules.
The North Dakota Industrial Commission is considering changing regulations adopted nearly four years ago to make Bakken crude oil safer for rail transportation after fiery train derailments, the Bismarck Tribune reported. Under the regulations, companies must remove the most volatile gases from Bakken crude oil to ensure vapor pressure doesn't exceed 13.7 pounds per square inch.
Companies must report vapor pressure tests to regulators quarterly.
About 60,000 vapor pressure tests have been submitted, and of those, about one in 1,000 exceeded the threshold, according to North Dakota Department of Mineral Resources Director Lynn Helms.
The commission is looking into reducing how often companies have to submit vapor pressure tests to regulators.
The North Dakota Petroleum Council urged the commission at a hearing Tuesday to change the rules so that tests should be submitted annually, instead of quarterly.
OMAHA, Neb. (AP) — For the first time this year, a monthly survey of bankers in parts of 10 Plains and Western states indicates the regional rural economy is shrinking.
The overall index of the Rural Mainstreet survey for November sank to 49.9, the first time it's dipped below 50 since January and down from October's 54.3. Any score above 50 suggests a growing economy in the months ahead, while a score below 50 indicates a shrinking economy.
Creighton University economist Ernie Goss says the farm sector continues to be weakened by tariffs and low commodity prices.
Jeffrey Gerhart, CEO of the Bank of Newman Grove in northeastern Nebraska, says the tariffs are affecting farmers' income and are "bad policy from the White House."
Bankers from Colorado, Illinois, Iowa, Kansas, Minnesota, Missouri, Nebraska, North Dakota, South Dakota and Wyoming were surveyed.
BISMARCK, N.D. (AP) — North Dakota's Health Department has selected companies to open medical marijuana dispensaries in Grand Forks and Williston.The companies were chosen by a review panel. They'll now be invited to move forward with the registration process.It's the latest development in the state's ongoing efforts to set up a system for medical marijuana, which voters approved two years ago.Companies have now been named to open dispensaries in Bismarck, Fargo, Grand Forks and Williston. Applications are to open in January for dispensaries in Devils Lake, Dickinson, Jamestown and Minot. All eight dispensaries are expected to be operating by next July.North Dakota law allows the use of medical marijuana for 17 medical conditions, along with terminal illnesses. The state began accepting applications last month from residents for medical marijuana cards. 
In sports…
High School  Class A & B State Volleyball tournament…
West Fargo def Jamestown 25-20, 22-25, 25-10, 22-25, 15-13
With the loss, the Blue Jays go to the consolation round to take on Fargo Shanley on Friday at 3-p.m.
Bismarck Century def. Sheyenne, 30-28, 25-21, 25-19
Fargo Davies def. Bismarck High, 25-20, 20-25, 25-16, 25-18
Mandan def. Fargo Shanley, 19-25, 20-25, 25-12, 25-22, 15-2
Other games today…
G5: West Fargo Sheyenne (23-12) vs. Bismarck High (24-11), 1 p.m.G7: Bismarck Century (30-5) vs. Fargo Davies (31-3), 5 p.m.G8: West Fargo (23-13) vs. Mandan (27-8), 7 p.m.
Class B State Tournament
Quarterfinal
Langdon-Edmore-Munich def. Kenmare, 25-14, 25-8, 25-17
Northern Cass def. Our Redeemer's, 25-22, 28-26, 25-18
Oakes def. Dickinson Trinity, 25-11, 25-17, 25-12
Thompson def. Center-Stanton, 25-15, 25-21, 25-10
Today…
G5: Center-Stanton (19-6-2) vs. Our Redeemer's (32-10-3), 1 p.m.
G6: Kenmare (15-8-1) vs. Dickinson Trinity (36-6-3), 3 p.m.
G7: No. 2 Thompson (37-1-1) vs. No. 3 Northern Cass (26-0-1), 5 p.m.
G8: No. 1 Langdon-Edmore-Munich (27-2) vs. No. 4 Oakes (32-7), 7 p.m.
College Women's Basketball….
MOORHEAD, MINN.  (VCSU)  – Valley City State withstood a late rally by Concordia College on Thursday night, hanging on for a 74-69 women's basketball victory in Moorhead.
The Vikings led by as many as 19 points in the third quarter before the Cobbers pulled to within two points in the final minute. Kate Williams made a free throw to put VCSU up 72-69 with 14 seconds left, and then Alli Vandal created a steal off the ensuing inbounds and scored on a breakaway layup to ice the victory.
VCSU improves to 3-4 overall this season. Concordia drops to 1-2.
Valley City State held Concordia College to just five second-quarter points as the Vikings built a 12-point halftime lead and led the rest of the way. The Vikings led just 23-21 after a high-paced first quarter, but VCSU outscored the Cobbers 15-5 in the second quarter to open up a 38-26 halftime lead. VCSU shot 58 percent in the first half, including a 7-for-11 performance from 3-point range that buoyed the Viking offense.
The Vikings led by as many as 19 points at 49-30 after opening the second half on an 11-4 run. VCSU maintained its double-digit lead throughout the third quarter, but the Cobbers nailed a 3-pointer to beat the third-quarter buzzer and then opened the fourth on an 8-2 run to pull within 58-52 with 7:55 remaining.
Out of a timeout, Alexis Bentz knocked down a 13-foot jumper for the Vikings to stem the tide, and VCSU pushed the lead up to 10 points again. Concordia's Amber Lingen responded with back-to-back 3-pointers late in the game as Concordia inched back to within four points at 71-67. Mira Ellefson scored on a breakaway layup with 27 seconds left to close to within 71-69, but the Vikings hung on for the win thanks to Vandal's late steal and layup.
Mackenzie Huber had 17 points and seven rebounds to lead three Vikings in double figures. Kate Williams led the team with 10 first-half points and finished with 16 points, six assists and three steals. Vandal posted 12 points and seven rebounds. Five other Vikings finished with at least five points in the game.
Valley City shot 52 percent from the field (26-50), 42 percent from 3-point range (8-19) and 74 percent at the line (14-19). Williams made three 3-pointers for the Vikings, while Dierra Diegel and Hannah Schlecht each knocked down two 3's. Concordia finished at 43 percent overall (23-54), 39 percent on 3's (11-28) and was a perfect 12-for-12 at the free throw line.
Mira Ellefson and Amber Lingen both poured in 22 points to lead the Cobbers. Lingen went 6-for-9 on 3-pointers, helping to pull the Cobbers close in the final seconds.
Thursday night's game was VCSU's seventh straight road contest. The start of the game was delayed about 45 minutes after an afternoon snowstorm led to slick roads and slowed VCSU's travel. Valley City State's original charter bus went in the ditch on its way to pick up the team in Valley City, delaying the team's departure from Valley City and causing the later start time.
The Vikings will be back home Tuesday night when they host Bemidji State University.
Up next: Valley City State hosts Bemidji State University on Tuesday, Nov. 20. Tip off is set for 6 p.m. at The Bubble. Valley City State University will be conducting a food drive for the local food bank that night. Every donation of a non-perishable food item is good for $1 off your admission.
Jamestown  (uj) The National Association of Intercollegiate Athletics (NAIA), in partnership with University of Jamestown and Haskell Indian Nations University, will be hosting a free youth volleyball clinic Saturday, November 17,  9:30- a.m. to 10:30- a.m. at Harold Newman Arena.
The youth clinic will be held in conjunction with Saturday's NAIA national volleyball tournament opening-round match between University of Jamestown and Haskell Indian Nations scheduled for 1:30 p.m. and is free to all elementary and middle school girls.
Registration begins at 9 a.m. on Saturday at the door, and each attendee will receive a pass to attend the national tournament match between Jamestown and Haskell.
Questions can be directed to Jake Fulsom via email at Jacob.fulsom@uj.edu.
NFL….SEATTLE (AP) — The Seattle Seahawks were able to win a matchup of desperate NFL teams on Thursday.Russell Wilson hit Ed Dickson for a 15-yard touchdown with 5:08 to send the Seahawks past the visiting Green Bay Packers, 27-24. Wilson threw for 225 yards and two touchdowns while helping Seattle overcome a 14-3 deficit.The Seahawks' defense stiffened in the second half, holding the Packers to 114 total yards. Half of that came on Aaron Rodgers' 57-yard strike to Davante Adams.Rodgers was 21 of 30 passing for 332 yards and two scores, while Adams had 166 yards on 10 receptions.The Seahawks are 5-5 after ending a two-game skid. The Packers are 4-5-1.NFL-CHARGERS-BOSABosa unsure about SundayCOSTA MESA, Calif. (AP) — Los Angeles Chargers defensive end Joey Bosa isn't sure if he will make his long-awaited season debut on Sunday against the Broncos.The third-year pro has practiced the last two days as he works his way back from a foot injury that caused him to miss the first 10 games. He acknowledged before Thursday's practice that it will likely be a game-time decision if he plays this week.NBA…UNDATED (AP) — The Houston Rockets had no trouble beating the team that stopped them from reaching the NBA Finals last spring.James Harden poured in 27 points and the Rockets opened the fourth quarter on a 12-2 run to take an 88-65 lead in a 107-86 rout of the Warriors. James Ennis III had 19 points on 7 of 11 shooting for Houston, which reached the .500 mark at 7-7 despite a 1-4 start.Kevin Durant had 20 points for the Warriors on a night they were just 4 of 18 on 3-pointers.Golden State is 2-2 since Stephen Curry suffered a groin injury. Curry is expected to miss the last two games of the Warriors' three-game trek through Texas.Checking out the rest of Thursday's NBA slate:— Lou Williams hit a go-ahead 3-pointer with 40 seconds remaining as the Clippers downed the Spurs, 116-111 for their season-high third straight win. Williams had a team-high 23 points off the bench for Los Angeles, which is 7-1 at home.— The Nuggets ended their four-game losing streak by getting a season-high 25 points from Juancho Hernangomez in a 138-93 dismantling of the Hawks. Paul Millsap and Gary Harris added 18 points apiece for the Nuggets, who outscored Atlanta 36-16 in the third quarter.

NBA-NEWS

Rockets dropping Anthony

UNDATED (AP) — Carmelo Anthony's stint with the Houston Rockets has lasted just 10 games.

Rockets general manager Daryl Morey has released a statement saying the team is "parting ways" with the 10-time All-Star forward and "working toward a resolution." Morey added that Anthony had a tremendous approach while with the Rockets and accepted every role head coach Mike D'Antonio gave him, but the fit they envisioned never materialized.

Anthony signed a one-year, $2.4 million deal during the offseason after being traded by the Thunder to Atlanta before his contract was bought out by the Hawks. He averaged 13.4 points and 5.4 rebounds for Houston.

Anthony is third among active NBA players with 25,551 points, and 19th in league history.

Also around the NBA:

— Lakers guard Rajon Rondo (RAH'-zhahn RAHN'-doh) is expected to undergo surgery this week on his broken right hand, keeping him out of the lineup for at least a few weeks. Coach Luke Walton says Rondo was injured in the fourth quarter of the Lakers' fourth straight win, 126-117 over Portland on Wednesday. Rondo is averaging 8.5 points, 6.5 assists, 4.5 rebounds and 1.2 steals in his first season with Los Angeles.

— Ashley Moyer-Gleich and Natalie Sago are among five officials who have been promoted by the NBA to full-time status, making them the fourth and fifth women in league history to have that designation.

T25 COLLEGE BASKETBALL-SCHEDULE

Tech, Purdue win at Charleston Classic

UNDATED (AP) —  There were a couple of top-25 upsets in the 2K Classic in New York.

Jalen Adams and Alterique Gilbert scored 16 points each to lead Connecticut's 83-76 triumph over No. 15 Syracuse. Tarin Smith added 14 points off the bench as the Huskies improved to 3-0 under first-year coach Dan Hurley.

Iowa pulled off the other stunner as Jordan Bohannon scored 16 points to lead the Hawkeyes past 13th-ranked Oregon, 77-69. Luka Garza added 12 and Ryan Kriener finished with 11 as Iowa earned the right to take on Connecticut on Friday.

— Gonzaga was a 94-71 winner against Texas A&M behind Zach Norvell's 22 points. Brandon Clark delivered 14 points and 11 rebounds in the rout, while Rui Hachimura (ROO'-ee ha-chee-MOOR'-ah) chipped in 18 points and seven boards.

Virginia Tech and Purdue have advanced to the Charleston Classic semifinals by winning on Thursday.

Nickeil Alexander-Walker scored 21 points for the 16th-ranked Hokies in a 73-64 victory over Ball State. Tech watched a 16-point lead slip to 49-44 midway through the second half before going on a 14-4 run to take control and wrap up a spot in the semis against Northeastern.

Carsen Edwards scored 17 of his 25 points in the first half of the Boilermakers' 92-70 rout of Appalachian State. Edwards and Ryan Cline each hit four of Purdue's 13 3-pointers, with Cline finishing with 21 points.

Also on Thursday's top-25 schedule:

— Desmond Bane scored 23 points on 10-of-15 shooting, including the go-ahead 3-pointer in No. 21 TCU's 77-69 win over Fresno State.

COLLEGE BASKETBALL-MEMPHIS-AZAB

Memphis player dies at 22

MEMPHIS, Tenn. (AP) — Memphis basketball player Karim Sameh Azab died Thursday, seven months after announcing he had leukemia. He was 22.

School officials said Azab experienced shoulder discomfort as Memphis prepared for last season's American Athletic Conference tournament. That led to a diagnosis of leukemia lymphoma.

MLB-MVPs

Yelich, Betts take MVP honors

NEW YORK (AP) — Milwaukee's Christian Yelich (YEH'-lihch) and Boston's Mookie Betts are both 26-year-old outfielders. They are also their league's reigning most valuable players.

Yelich (YEH'-lihch) is the National League MVP after hitting .326 with 36 home runs and 110 RBIs for the NL Central champions. He won in a landslide, receiving 29 of 30 first-place votes and 415 points from the Baseball Writers' Association of America compared to 250 points for Cubs infielder and runner-up Javier Baez.

Rockies third baseman Nolan Arenado (ar-eh-NAH'-doh) finished third and Braves first baseman Freddie Freeman was fourth. Cy Young Award winner Jacob deGrom of the Mets picked up the other first-place vote to finish fifth.

Betts is the runaway winner of the American League MVP, picking up 28 of 30 first-place votes from the BBWAA. He hit a major league-leading .346 with 32 homers, 80 RBIs and 30 stolen bases as the leadoff hitter for the World Series-champion Red Sox.

Two-time MVP Mike Trout of the Angels was second in the voting, ahead of Indians third baseman Jose Ramirez and Red Sox designated hitter J.D. Martinez. Trout and Martinez each picked up one first-place vote.

MLB-NEWS

Manfred, Fox deals extended

ATLANTA (AP) — Baseball owners have extended the contract of Commissioner Rob Manfred through the end of the 2024 regular season.

Manfred took over for Bud Selig (SEE'-lihg) in 2015 to become the 10th commissioner in MLB history. He has worked in the commissioner's office since 1998 after serving as outside counsel for owners during the 1994-95 baseball strike.

Owners also signed a new television deal with Fox, which has been airing MLB games since 1996. The seven-year extension runs through 2028 and will continue to include the World Series, All-Star game and various LDS and LCS games.

NHL…

UNDATED (AP) — Mikko Koivu (MEE'-koh KOY'-voo) had a goal and two assists in the Wild's 11th victory in 14 games, 6-2 against the Canucks. Eric Staal scored once and had an assist as Minnesota topped its season high for goals.

The Tampa Bay Lightning earned a rare win in Pittsburgh by taking advantage of the slumping Penguins.

Brayden Point scored three straight power-play goals in a 91-second span of the second period to lead the Lightning past the Pens, 4-3. It was the sixth-fastest three goals by a single player in NHL history, and the second-fastest since the 1967 expansion.

Yanni Gourde (YAH'-nee gohrd) also had a power-play goal, Nikita Kucherov (KOO'-cheh-rahv) picked up added three assists and backup goalie Louis Domingue (doh-MIHNG') made 28 saves to help the Lightning win for the fifth time in seven games.

Tampa Bay had been 1-11-1 in its last 13 visits to Pittsburgh.

The Penguins have dropped seven of eight since sweeping a four-game road trip.

Penguins captain Sidney Crosby sat out the game due to an upper-body injury. Coach Mike Sullivan declined to offer specifics on the nature of Crosby's issue but said it's not concussion-related.

Elsewhere on NHL ice:

— Kasperi Kapanen's (kas-PEHR'-ee KAP'-uh-nehnz) second goal of the night was a short-handed tally that lifted the Maple Leafs over the Sharks, 5-3. John Tavares had a goal to extend his scoring streak to seven games and help Toronto win for the eighth time in nine road games this season.

— Darcy Kuemper (KEHM'-pur) turned back a career-high 44 shots as the Coyotes handed the Predators their third consecutive loss, 2-1. Michael Grabner and Jason Demers did the scoring in Arizona's second victory in six games.

— Columbus is 4-0-2 in its last six after Joonas Korpisalo (kohr-pih-SAH'-loh) turned back 38 shots in the Blue Jackets' 7-3 rout of the Panthers. Anthony Duclair, Pierre Luc-Dubois, Cam Atkinson, Brandon Dubinsky and Boone Jenner each had a goal and an assist as the Jackets ended Florida's five-game winning streak.

— Anthony Beauvilier (boh-VIHL'-ee-ay) broke out of his season-long scoring slump by registering his first career hat trick and adding an assist in the Islanders' 12th victory in their last 13 meetings with the Rangers, 7-5. Leo Komarov (KAHM'-ah-rahv) added a goal and an assist in the Isles' seventh win in 10 games overall.

— The Devils earned a 3-0 win at Philadelphia as Keith Kinkaid turned back 29 shots in his third shutout of the season and seventh of his career. Joey Anderson notched his first NHL goal by scoring 3:45 into the first period of New Jersey's second straight win.

— Drake Batherson scored in his NHL debut to snap a 1-1 tie in the second period of the Senators' 2-1 victory against the Red Wings. Craig Anderson preserved the lead by stopping two penalty shots in the final period.

— Third-period goals by Jonathan Drouin (DROO'-an) and Artturi Lehkonen (ahr-TOOR'-ee LEH'-koh-nehn) lifted the Canadiens past the Flames. 3-2. Tomas Tatar (tah-TAHR') also scored and Carey Price stopped 43 shots, blanking Calgary after Matthew Tkachuk (kah-CHUHK') scored twice in the second period.

NHL-NEWS

Arvidsson out up to 8 weeks, Subban on IR

UNDATED (AP) — The Nashville Predators have a couple of major holes in their lineup.

The Predators say forward Viktor Arvidsson will miss between up to eight weeks with a broken thumb suffered in last weekend's win at Dallas. Arvidsson had just returned off injured reserve after sitting out three games with a lower-body injury.

The Predators have also placed defenseman P.K. Subban (SOO'-ban) on injured reserve and activated blueliner Dan Hamhuis (HAM'-hyoos). Subban has an upper-body injury.

In other NHL news:

— Jets defenseman Josh Morrissey has been fined almost $8,500 but was not suspended for unsportsmanlike conduct against Capitals forward T.J. Oshie (OH'-shee) in Wednesday's 3-1 win over the defending champs. Morrissey threw Oshie to the ice late in the game.

NCAA-LSU-MILES BUYOUT

Miles, LSU work out buyout

BATON ROUGE, La. (AP) — LSU and Les Miles have completed a $1.5 million lump-sum settlement that relieves the university of paying its former football coach an additional $5 million through 2023.

Miles was fired four games into the 2016 season, but was due a buyout of around $12.9 million at the time. LSU was able to pay Miles' buyout in installments over about eight years, but the settlement saves LSU money while removing any disincentives for Miles to pursue another college coaching job immediately.

PGA-RSM CLASSIC

Howell on top through 18

ST. SIMONS ISLAND, Ga. (AP) — Charles Howell played a bogey-free round in an 8-under 64 that gives him a two-shot lead through one round of the PGA's RSM Classic.

Howell played the Plantation course at Sea Island Resort. He is seeking his first victory in 333 starts since his Riviera victory in February 2007.

Defending champion Austin Cook and J.J. Spaun each shot 66s while also navigating the Plantation course. Tournament host Davis Love III had two bogeys and still managed a 67.

LPGA-CME GROUP TOUR CHAMPIONSHIP

Olson leads LPGA finale

NAPLES, Fla. (AP) — Amy Olson shot a 9-under 63 to take a one-shot lead over Brittany Lincicome (LIHN'-sih-kuhm) and Nasa Hataoka through first-round play at the LPGA's season-ending CME Group Tour Championship.

Olson had two separate streaks of four consecutive birdies, finished with nine overall and never dropped a shot.

Lincicome started with five straight birdies on her way to a 64.
In world and national news…
PARADISE, Calif. (AP) — The residents of Paradise, California, are struggling to make sense of what's left after fire ripped through their town last week. Nearly 9,000 homes and hundreds of shops and other buildings are gone. The more than 170-year-old town of 27,000 people took just hours to go up in flames. Yet 67-year-old Tom Hurst isn't giving up. Hurst says when talking about Paradise, "Don't use the word 'was,' use the word 'is,' because we ain't done, we're just getting restarted."
CHICO, Calif. (AP) — Fire officials in Northern California say the list of 631 people missing in the nation's deadliest wildfire in a century probably includes people who fled the blaze and don't know they're being sought. Butte County Sheriff Kory Honea says he's making that list public so that people can let authorities know they're safe. Meanwhile, 63 people are confirmed dead and some 52,000 are displaced in shelters, motels and the homes of friends and relatives.
ATLANTA (AP) — Democrat Stacey Abrams is considering an unprecedented legal challenge in the unresolved Georgia governor's race that could leave the state's Supreme Court deciding whether to force another round of voting. Her longshot strategy is being discussed as Georgia elections officials appear to be on the cusp of certifying Republican Brian Kemp as the winner of a bitterly fought campaign.
WASHINGTON (AP) — A U.S. court filing is raising questions about whether the Justice Department has prepared charges under seal against WikiLeaks founder Julian Assange. Assange's name appears in an August court filing from a federal prosecutor in Virginia, who was attempting to keep sealed a separate case. Any charges against Assange could help illuminate the question of whether Russia coordinated with the Trump campaign to sway the 2016 presidential election.
SEOUL, South Korea (AP) — North Korea said Friday that it will deport an American citizen it detained for illegally entering the country recently, as the country's state media said leader Kim Jong Un supervised a test of a newly developed high-tech weapon in an apparent bid to pressure Washington and Seoul. The conflicting announcements suggest North Korea wants to maintain the mood for dialogue with the United States as it struggles to win concessions amid stalled nuclear diplomacy.