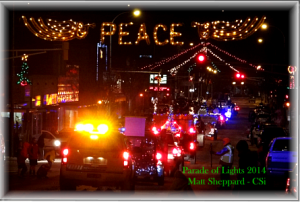 Valley City  (VC Chamber)  Christmas in the Valley is underway in Valley City.
On Friday's Wayne Byers Show on CSi Cable 2, Valley City Area Chamber of Commerce Executive, Kay Vinje said now through November 29, the Tour of Snowmen is at participating Chamber businesses. The game Board is available posted in the Valley City Times Record November 16 and November 19, and participating businesses, at the Chamber Office, or go line to valleycitychamber.com
Then, visit each business on the board to see their snowmen and do some Christmas shopping.
Once the game board is stamped by 70 percent of the businesses, it allows you to vote for your favorited snowman, and hand it in at the last business you visit, or the Chamber Office, to be entered to win $100 in Valley City Chamber Bucks.
Share your holiday spirit all season long by wearing a Christmas in the Valley button.  Each year the artwork is created by a fifth grade Valley City student.
Receive a button when you buy a ticket for $5 or a booklet for $20 at participating businesses and be entered in to win a variety of prizes, which will be drawn for on Fridays in December.
Thursday November 29, at 6-p.m., it's the Parade of Lights on Central Avenue in Valley City.
Santa will lead the parade.  After the parade the floats will be on display parked on Central Avenue, next to Urban Couture.
Vote for your favorite float.
Visit stores that are open late that evening to browse and enjoy holiday goodies.