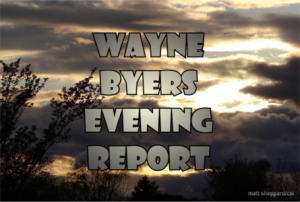 CSi Weather…
WINTER WEATHER ADVISORY…CANCELLED FRIDAY AFTERNOON…
Still, plan on slippery road conditions. Patchy blowing snow could significantly reduce visibility.
The hazardous conditions could impact the evening commute.
City street crews  in Jamestown on Friday, were spreading sand at intersections and other locations, as city police patrols requested.
Forecast…
.TONIGHT…Cloudy.  A 40 percent chance of light snow in the evening in the Jamestown area, 50 percent in the Valley City area. Patchy blowing and drifting snow in the evening.
Colder. Lows 5 to 10 above. North winds 15 to 25 mph decreasing to 10 to 15 mph after midnight.
.SATURDAY…Partly sunny in the morning then clearing. Colder.
Highs around 20. West winds 5 to 10 mph.
.SATURDAY NIGHT…Mostly clear. Lows around 15. Southwest winds
10 to 15 mph.
.SUNDAY…Increasing clouds. Not as cold. Highs in the upper 30s.
West winds 10 to 15 mph.
.SUNDAY NIGHT…Mostly cloudy. A 20 percent chance of snow after
midnight. Lows in the mid 20s. West winds 10 to 15 mph.
.MONDAY…Mostly cloudy. Highs in the upper 30s.
.MONDAY NIGHT…Mostly cloudy. Lows in the mid 20s.
.TUESDAY…Sunny. Highs in the upper 40s.
.TUESDAY NIGHT…Mostly clear. Lows in the mid 20s.
.WEDNESDAY…Sunny. Highs in the upper 40s.
.WEDNESDAY NIGHT…Mostly clear. Lows in the mid 20s.
.THANKSGIVING DAY…Mostly sunny. Highs in the upper 40s.
.THURSDAY NIGHT…Partly cloudy. Lows in the mid 20s.
.FRIDAY…Mostly sunny. Highs in the mid 40s.
Much colder air will return Saturday and Sunday. This period will also be dry.
Another weak clipper system will track light snow across the north on Monday.
This will be followed by a slow warming trend Tuesday through Thursday
Thanksgiving looks dry with highs mainly in the 30s central
and lower to mid 40s southwest.
Jamestown  (CSi) Top Designers Salon and Spa in Jamestown, is no longer in business , according to the sign posted on Friday at the store's entrance,  which read, "Officially closed and out of business.  We are sorry for the inconvenience. Stylists and massage therapists can be found at other locations in Jamestown."
On their Face Book page, the business posted:  "We want to thank all of you and the community for your loyalty and business all of these years. We truly appreciated the opportunity to enjoy your friendships while we provided our services to you.
Those individuals will be contacting clients with further information.
Valley City  (VC Chamber)  Christmas in the Valley is underway in Valley City.
On Friday's Wayne Byers Show on CSi Cable 2, Valley City Area Chamber of Commerce Executive, Kay Vinje said now through November 29, the Tour of Snowmen is at participating Chamber businesses. The game Board is available posted in the Valley City Times Record November 16 and November 19, participating businesses and the Chamber Office, or go line to valleycitychamber.com
Then, visit each business on the board to see their snowmen and do some Christmas shopping.
Once the game board is stamped by 70 percent of the businesses, it allows you to vote for your favorited snowman, and hand it in at the last business you visit, or the Chamber Office, to be entered to win $100 in Valley City Chamber Bucks.
Share your holiday spirit all season long by wearing a Christmas in the Valley button.  Each year the artwork is created by a fifth grade Valley City student.
Receive a button when you buy a ticket for $5 or a booklet for $20 at participating businesses and be entered in to win a variety of prizes, which will be drawn for on Fridays in December.
Thursday November 29, at 6-p.m., it's the Parade of Lights on Central Avenue in Valley City.
Santa will lead the parade.  After the parade the floats will be on display parked on Central Avenue, next to Urban Couture.
Vote for your favorite float.
Visit stores that are open late that evening to browse and enjoy holiday goodies.
FARGO, N.D. (AP) — A man convicted in 2012 of stealing the identifies of 38,000 people as part of a massive credit card scheme is facing more prison time after a federal jury in North Dakota found him guilty of lying about his own identity.Michael Adeyemo was charged with obstruction of justice. Prosecutors say Adeyemo created a fictional version of himself and used that to successfully argue for a lesser sentence at his original trial. He was ordered to serve 18 years in prison.Jurors signed a verdict form Thursday stating that Adeyemo lied about his name, date of birth and his time living in the U.S., among other things. Adeyemo faces an additional 10 years behind bars.

The original case wound up in North Dakota because U.S. Bank, one of the victims, is based in Fargo.
BISMARCK, N.D. (AP) — Bismarck police say a drug bust netted a large amount of methamphetamine, 20 pounds of marijuana, $100,000 in cash and two guns.Officers conducted a search warrant of the residence Thursday after receiving multiple complaints from neighbors about possible drug activity.Three people were arrested on drug and child neglect charges. Formal charges were pending. 
DEVILS LAKE, N.D. (AP) — North Dakota prosecutors say they will not charge a Devils Lake police officer who shot and killed a man earlier this summer.Detective Brandon Potts killed 26-year-old Daniel Fuller on July 5 after officers responded to a call about a suspicious person. Investigators say Fuller died after Potts' gun went off during a struggle.Ramsey County State's Attorney Kari Agotness said in a report issued Friday that Potts had probable cause to believe the use of deadly force was necessary. Agotness cited reports by two independent investigators who said Pott's actions were reasonable based upon evidence from a dashcam video and witnesses.Potts, a 10-year veteran of the force, has been on paid administrative leave since the shooting. 
MINOT, N.D. (AP) — Two men are accused in separate incidents of trying to smuggle Mexican citizens into the United States at the border between Canada and North Dakota.
The Minot Daily News reports that both incidents happened on Nov. 3. U.S. Customs and Border Protection officers arrested a 50-year-old man at the port of entry in Dunseith and a 41-year-old man at the border crossing in Pembina.
Authorities say the suspect in Dunseith was hiding a 39-year-old Mexican man in the trunk of his car. The man arrested in Pembina allegedly helped two Mexican citizens cross the border without inspection.
MINOT, N.D. (AP) — A judge has dismissed a lawsuit filed by a practicing Rastafarian after her baby daughter was born in Minot with traces of marijuana in her system.
North Central Human Services put Shanika Lister's name on a child abuse registry after the 2015 birth. Lister argued putting her name on the registry was illegal after a judge later ruled her use of marijuana during pregnancy was a protected religious practice.
Lister also said she experienced emotional distress from having her daughter briefly taken into foster care.
The Minot Daily News reports Judge Todd Cresap dismissed the case because Lister's name has already been removed from the registry. He also said the defendants had a duty to investigate reports of child neglect and were immune from being sued.
BISMARCK, N.D. (AP) — North Dakota regulators are seeking up to $2 million in fines from a North Carolina company that handled security for the developer of the heavily protested Dakota Access oil pipeline.
The figure is in an Oct. 30 complaint that the Private Investigative and Security Board filed against TigerSwan through the administrative process. The board is also appealing to the North Dakota Supreme Court its recent loss in a civil case it brought against the company in which it sought an unspecified amount in fines.
The board sued TigerSwan in June 2017, alleging that the company illegally operated in North Dakota without a state license in 2016 and 2017, when thousands of people who fear environmental harm from the pipeline flocked to the state to protest the project that is now moving North Dakota oil to Illinois.
TigerSwan maintained that it provided consulting services to Texas-based pipeline developer Energy Transfer Partners that don't require a North Dakota license and that any investigative work occurred in North Carolina, outside of the board's jurisdiction.
A state district judge this year dismissed the board's civil complaint , refusing to ban TigerSwan from the state and concluding that any decision on whether the company should be fined should be made administratively. That led to the appeal.
In world and national news..
WASHINGTON, D.C. (AP) — A U.S. official says an American citizen detained last month by North Korea has been deported and is on a flight back to the United States.
The official was not authorized to discuss the matter publicly and spoke on condition of anonymity. He declined to provide any additional details.
North Korea's state-run Korean Central News Agency has named the American citizen as Bruce Byron Lowrance. KCNA said Friday that the man was detained on Oct. 16 for illegally entering the country from China and that he would be deported.
In the past, North Korea has held arrested American citizens for an extended period before high-profile U.S. figures travelled to Pyongyang to secure their freedom.
FORT LAUDERDALE, Fla. (AP) — Volunteers gathered around folding tables Friday to begin a painstaking hand recount in Florida's acrimonious U.S. Senate contest, with a goal of determining the intent of about 93,000 voters whose ballots for Republican Gov. Rick Scott or Democratic Sen. Bill Nelson could not be counted by machine.
The hand recount is required by state law whenever candidates are separated by 0.25 percentage points or less. Unofficial results showed Scott ahead of Nelson by 0.15 percentage points, or fewer than 13,000 votes out of more than 8 million cast.
In Broward County, officials relied on a color-coded system to tally some of the last ballots by hand.
Ballots with clear votes for Republican Gov. Rick Scott went into a bin with a red tag. Clear votes for Democratic Sen. Bill Nelson went into one with a blue tag. Blank ballots went into a bin with a yellow tag. Anything that needed further examination by the canvassing board was dropped into one with a green tag.
Dozens of volunteers sitting behind the bins stacked on folding tables in a Broward County warehouse cheered loudly when they finished their hand recount Friday morning. Results were not immediately announced.
At the election supervisor's office in Tampa, volunteers were joined by observers from both political parties at 12 tables as the recount started.
(AP)  Academics, civil rights lawyers and journalists worry that an attempt by the United States to put WikiLeaks founder Julian Assange behind bars could damage the free speech protections provided by the First Amendment.The prospect of such a prosecution became a lot more concrete when Assange's name accidentally surfaced in an unrelated legal filing, suggesting he is a Justice Department target.Observers said Friday that charges against Assange could have repercussions for every news organization that covers national security in the United States.WikiLeaks' recently appointed editor-in-chief, Kristinn Hrafnsson, called it "a very black day for journalism." 
WASHINGTON (AP) — North Korea on Friday deported an American citizen it says it detained for illegal entry, a U.S. official said, an apparent concession that came even as the reclusive nation announced the test of a newly developed but unspecified "ultramodern" weapon that will be seen as a pressuring tactic by Washington.
The two whiplash announcements, which seemed aimed at both appeasing and annoying Washington, suggest North Korea wants to keep alive dialogue with the United States, even as it struggles to express its frustration at stalled nuclear diplomacy.
North Korea in the past has held arrested American citizens for an extended period before high-profile U.S. figures travelled to Pyongyang to secure their freedom. Last year, American university student Otto Warmbier died days after he was released in a coma from North Korea after 17 months in captivity.
On Friday, the Korean Central News Agency said American national Bruce Byron Lowrance was detained on Oct. 16 for illegally entering the country from China. It said he told investigators that he was under the "manipulation" of the U.S. Central Intelligence Agency. It was not clear if the North's spelling of the man's name was correct, and past reports from Pyongyang have contained incorrect spellings.
Secretary of State Mike Pompeo on Friday expressed appreciation for the cooperation of North Korea and the embassy of Sweden — which handles consular issues for U.S. citizens in North Korea — "in facilitating the release of an American citizen." His brief statement provided no further details.