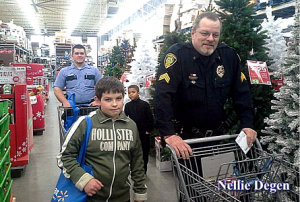 Jamestown  (CSi)  The Fraternal Order of Police  Lodge Number four is presents the Annual Cops N' Kids program in Jamestown, December 8, with  participating  children in the event meeting at the Stutsman County Law Enforcement Center, being paired up with a law enforcement officer.
The children are then escorted by bus to Wal-Mart  with their officer, and have their gifts wrapped, then returning to the Law Enforcement Center to be picked up by a parent or guardian.
Jamestown Police says with the  local Law Enforcement Agencies, "The Cops N Kids program allows children the opportunity to go shopping with a local Law Enforcement Officer. The program is aimed for children who have had a difficult year for various reasons or hardships and may not have much this holiday season because of it.  The selection process is very difficult and unfortunately, not all children nominated can go. The number of children selected is based on the amount of donations received, which comes directly from the public."
Children can be nominated for the program by Wednesday, November 21. Those wanting to donate to the event or sponsor a child,  can make a donation at the Jamestown Police Department, or mail a check to P.O. Box 1851, Jamestown, ND 58402, and made to the attention of  Officer Jason Prochnow and Officer Andrew Staska.  Call 701-252-1000 for more information.