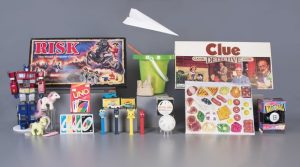 Jamestown  (CSi)  U.S. Marines Toys for Tots program Jamestown distribution event on Saturday saw 50 more young people from infant to 17 years old receive toys, this year, over last year, at 496
Jamestown Coordinator, Sheila Ova says, the numbers represent near 200 families, within a 50 mile radius of Jamestown.
The distribution was 100 more than in 2016.
Previously…
Jamestown  (CSi) Those wishing to contribute to the the U.S. Marines Toys for Tots program, may do so by donating new, unwrapped toys to distribute as Christmas gifts for children of families in hardship, and registering children to receive toys.
Requests have come in from families in Valley City, Oakes, Kensal plus other communities within a 50-mile radius of Jamestown.
Jamestown coordinator Toys for Tots Sheila Ova, adds that she will take names until December 21, by contacting her at 952-3603 after 5:30 p.m. or leave a message.
Cash donations can be made on line at toysfortots.org.
Checks can be made out to, U.S. Marine Toys for Tots, and mailed to Sheila Ova, 216 9th Avenue, Northeast in Jamestown. 58401.
The appropriate gift value is around $25.   Stocking stuffers are also welcome for children through age 17.  Toys that look like real weapons, guns or knives cannot be distributed.
Referral forms are available at Stutsman County Social Services, South Central Human Service Center, Head Start in Jamestown, SAFE Shelter, Community Action Region VI in Jamestown and at Jamestown and Valley City schools.
25 toy drop-off box locations are in Jamestown and one in Valley City at Family Dollar.
Other locations include financial institutions, grocery stores, department stores, auto and implement dealerships, furniture outlets, the Buffalo Mall, Walmart and Menards in Jamestown.
Several area businesses have also set up boxes for their own employees.
The toys distribution to parents is by appointment on Saturday, December 15, at the Anne Carlsen Center's gym. U.S. Marine Corps Reserve member, Norberto Rivera, of Valley City will be on hand in uniform during the distribution.
Parents who miss the distribution date can contact Ova for toys through December, 21.