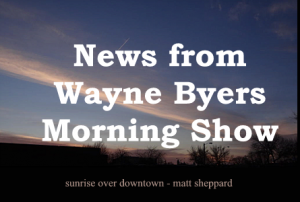 CSi Weather…
REST OF TODAY…Mostly sunny. Highs around 15. West winds 5 to 10 mph.
.TONIGHT…Mostly cloudy in the evening then clearing. Lows 5 to 10 above. Southwest winds around 5 mph.
.FRIDAY…Sunny. Highs in the lower 20s. West winds 5 to 10 mph.
.FRIDAY NIGHT…Clear. Lows 5 to 10 above. Southwest winds around
5 mph.
.SATURDAY…Mostly sunny. Highs in the mid 20s. South winds 5 to
10 mph.
.SATURDAY NIGHT…Partly cloudy. Lows around 10.
.SUNDAY…Sunny. Highs in the lower 20s.
.SUNDAY NIGHT…Mostly clear. Lows around 10.
.MONDAY…Sunny. Highs around 30.
.MONDAY NIGHT…Partly cloudy. Lows 10 to 15.
.TUESDAY…Partly sunny. Highs in the upper 20s.
.TUESDAY NIGHT…Mostly cloudy. Lows 15 to 20.
.WEDNESDAY…Partly sunny. Highs around 30.
Quiet weather with a gradual warming trend is expected to end this
week and start the upcoming week.
A few snow chances start to show up towards the
middle of next week, but even that remains a bit questionable at
this time.
BISMARCK, N.D. (AP) — North Dakota Gov. Doug Burgum has unveiled a $14.3 billion budget that raises state spending 5 percent and seeks to replenish reserves that were used to balance previous budgets. His two-year blueprint presented to the Legislature Wednesday offers state employee pay raises, and spending increases on education, human services and infrastructure projects.
The budget calls for $35 million from Legacy Fund earnings to replace the aging State Hospital in Jamestown and eventually repurpose it as a minimum-custody correctional facility for men, which in turn would allow the state to relocate women's prison services from New England to the Missouri River Correctional Center south of Bismarck.
Together, these changes will allow for consolidation of facilities and more efficient operations that will provide long-term savings of at least $7 million per biennium.
Prairie Public Radio reports, Democratic Senator Kathy Hogan says  Burgum's recommendation that a new State Hospital and Clinic be built in Jamestown means lawmakers will have to look closely at the details of that proposal.
Hogan says she thinks the idea of consolidating the corrections activities on the facility grounds in Jamestown makes sense.
Jamestown  (CSi)  The City of Jamestown is currently accepting applications for the following:
3 open positions on the Board of Adjustments—3 year terms to January 2022.
Anyone interested in serving on the above committees/boards should complete an "Application for Appointment". The application may be obtained in person at City Hall, 102 3rd Ave SE, Jamestown, ND, by calling 701-252-5900 or online at jamestownnd.org and select government tab/city committees to download the form.
The application should be returned by December 31, 2018, to:
City of Jamestown
Attn: Appointments
102 3rd Avenue SE
Jamestown, ND 58401-4205
Jamestown  (UJ)  The annual Dine and Bid Dinner and Auction has grown from modest beginnings over thirty years ago to be the University's single largest fundraiser, and a much anticipated and enjoyed community event each spring.  This year's Dine and Bid, themed "Monopoly: Knight Edition," will take place on Saturday evening, April 13, in the beautiful Harold Newman Arena.
Last year Dine and Bid grossed $180,000 in support of student scholarships!  A significant share of those funds come from businesses, personal sponsorships and cash donations.  Even though Dine and Bid is still several months away, the Sponsorship Committee is now beginning to reach out to past and prospective sponsors.
Here you can visit the sponsorship opportunities and register online. The link also includes a printable form to postal mail or email to UJ.
*Individual ticket invitations will be sent closer to the event date.
Go Jimmies!
Dan Hornung                                                                  Kelsey Deragisch
Co-Chair, Sponsorship Committee                                Co-Chair, Sponsorship Committee
701-252-3467, ext. 5401                                                701-252-3467, ext. 5638
dahornun@uj.edu                                                            kderagis@uj.edu
Jamestown  (CSi)  The Jamestown All Vets Club will host the Vietnam era veterans Christmas social starting at 5:30 p.m. Friday, Dec.  7. A dinner will follow at 6 p.m. All era veterans and guests are encouraged to attend this annual event.
For more information, contact the club at 252-8994.
GRAND FORKS —Prairie Business magazine has announced  its annual 40 Under 40 list, featuring 40 of the top business professionals under the age of 40 in the northern Plains.
These inspiring and dedicated professionals come from a wide range of industries and have made significant impacts in their chosen professions, industries and communities. They are entrepreneurs, industry experts, executives and nonprofit leaders; they are business owners, government officers, environmental advocates and regional trendsetters.
The selected 40 are featured in the December issue, which is available here. The feature begins on Page 24.
From this area, selected were:
■  Stephanie Roelfsema — Director for Residence Life, Valley City State University, Valley City, N.D.
■  Greg Ross — Vice President for Finance and Business Affairs, University of Jamestown, Jamestown, N.D.
See the complete list in this story on line at csinewsnow. com
Valley City  (JRMC) – Miles of travel after a sprain or strain is like adding insult to an already painful injury.
The burden of travel can add expense, stress and anxiety to the life of a person who should focus on healing. That's why JRMC Orthopedic Surgeon, Dr. Timothy Volk, will see patients in Valley City in addition to his clinic in Jamestown.
"As a rural hospital, we know outcomes improve when people have access state-of-the-art care close to home," said Trisha Jungels, JRMC Chief Nursing Officer and Interim President & CEO. "Our vision is to be the best rural hospital in the country. Offering specialty services in this area is one way to do that."
Bismarck native, Dr. Volk joined JRMC in 2016. Dr. Volk completed his training in osteopathic medicine and his orthopedic residency in Pennsylvania. The father of three enjoys hunting, fishing and cheering for the Minnesota Vikings when he is not at work.
"No matter where a person lives, they should have access to high-quality healthcare," said Dr. Volk. "At JRMC, we strive to be THE difference in healthcare. This is one way we can do that."
Dr. Volk will see patients on the second Monday of each month at CHI Mercy Health, 570 Chautauqua Blvd. in Valley City beginning Dec. 10. Schedule direct at (701) 952-4878.
FARGO, N.D. (AP) — A quick response to a fire at a Fargo restaurant has kept damage to a minimum.
Battalion Chief Bruce Anderson tells KFGO police officers responding to an alarm arrived at Doolittles Woodfire Grill about 2:30 a.m. Thursday and could see the restaurant filled with smoke. Firefighters broke down the door to get inside and found a fire in one of the kitchen ovens. They were able to quickly extinguish the flames.
Damage was confined to the one large oven and there was smoke odor throughout the building.
MINOT, N.D. (AP) — The North Dakota Highway Patrol has identified the driver killed after crashing his pickup truck on an icy gravel road in Renville County.The Highway Patrol says 53-year-old Edward Miller, of Glenburn, lost control of his truck about 4:45 p.m. Monday and it spun into the ditch, where it came to rest on its top.The crash happened about 3 miles northwest of Minot Air Force Base.
Tioga  (NDHP)  The North Dakota Highway Patrol released the name of the passenger who died in a single-vehicle rollover crash on Nov. 29.29 year old Draik Anthony Jessen, of Tioga, was a passenger in a 1969 Ford F250 pickup truck that was "driving recklessly" in a field before rolling onto the passenger side, according to a press release. Jessen died at the scene.The crash is under investigation and no charges have been filed, the release said. Authorities have not identified the driver.The crash occurred one mile southeast of Tioga.Aberdeen  SD – Shopko is closing 39 stores in 14 states, including several in the four-state region.The Aberdeen American News reports that, liquidation sales are set to begin Friday, and the stores will close at the end of February, according to a variety of media reports.All of the closures are Shopko Hometown stores except the one in Nebraska, according to a list that has been published online.In Minnesota, stores in Mahnomen and Paynesville are set to close. North Dakota store closings include Oakes, Stanley, Lisbon and Mayville. Four South Dakota stores to close are in Redfield, Wagner, Webster and Dell Rapids. The Mauston, Wis., store is also on the list.

The company has confirmed the closures.

BISMARCK, N.D. (AP) — Planning commissioners have denied a permit for a controversial wind farm near Bismarck.

More than 500 citizens attended a four-hour meeting Wednesday when the Burleigh County Planning and Zoning Commission heard passionate testimony from both sides.

Chicago-based Pure New Energy USA wants to construct about 70 turbines in southern Burleigh County. The 250-megawatt Burleigh-Emmons Wind Farm, which would be located about 15 miles southeast of Bismarck.

The Bismarck Tribune says opponents raised questions about the turbines' impact on wildlife, health and property values. Supporters of the project emphasized the new jobs it would create and other economic benefits to the community.

Telfer Township and Emmons County must also decide whether or not to issue special use permits for the wind farm.
STANLEY, N.D. (AP) — North Dakota wildlife officials expect that some areas along the state's northern border with Canada will be added to a ban on baiting deer aimed at limiting the potential spread of chronic wasting disease.
The fatal disease is slowly growing among the state's population of white-tailed deer, mule deer, elk and moose, according to Casey Anderson, wildlife division assistant chief for the state's Game and Fish Department. Anderson on Monday spoke to the Game and Fish Advisory Board about outlawing the use of bait for deer hunting in certain areas because bait piles are closely linked to the spread of the disease, the Minot Daily News reported.
Chronic wasting disease is transmitted by contact with an infected animal's saliva, blood, urine and other fluids or tissues. It attacks animals' nervous system, leading to death. There's no current treatment or vaccine to combat the disease.
"It affects big bucks the most," Anderson said. "It's almost like a slow growing cancer in the population. We're hoping to hold it back until there's a reasonable solution."
The disease has been discovered in Sioux and Grant counties along the South Dakota border. It's been found in South Dakota, Montana and in Saskatchewan, Canada, within six miles of the state border.
In sports…
UJ Basketball…
Jamestown  (uj.edu)  Four players scored 21 or more points for the University of Jamestown men's basketball team in their 113-94 victory over Northwestern (Iowa) College Wednesday night at Harold Newman Arena.
THE BASICS
FINAL SCORE: Jamestown 113, Northwestern 94
LOCATION: Harold Newman Arena, Jamestown, ND
RECORDS: Jamestown 11-2 (5-2 Great Plains Athletic Conference), Northwestern 7-5 (2-3 GPAC)
HOW IT HAPPENED
*The Jimmies shot 60 percent (12 of 20) from both three-point range and inside the arc on the way to a 63-42 lead at halftime.
*Northwestern led 10-6 just under five minutes into the game, but Jamestown scored the next 14 points over a 2:35 span and went ahead 20-10.
*Isaiah Dobson (JR/Stillwater, MN) knocked down a three-pointer with 6:42 left in the half to give UJ its biggest lead to that point, 42-27.
*Jamestown's last nine field goals of the first half were all three-pointers.
*The Raiders outscored the Jimmies 52-50 in the second half, making 16 of 27 shots overall and 7 of 13 three-point attempts.
*UJ led by 23 at the 18:50 mark of the half, only to see Northwestern cut the deficit to 10 just 2:46 later.
*Nineteen NWC fouls and 12 turnovers helped Jamestown keep their lead between 11 and 19 the rest of the half.
FOR UJ
*Jon Purintun (SR/Linton, ND) led the Jimmies with 26 points and seven assists. He also pulled down six rebounds.
*Kevin Oberweiser (SR/Drummond, MT) (24), Dobson (21), and Terrell Alfred (JR/Orlando, FL) (21) also had 20+ point games.
*Brady Birch (SO/Melrose, MN) had 10 points and seven boards off the bench.
*The Jimmies finished 14 of 30 from three-point range.
*UJ had a 31-22 advanrage in bench scoring.
FOR NWC
*Steven Kragt led the Red Raiders with 21 points. Trent Hilbrands added 18, Jay Small 15, Parker Mulder 12, and Grant Rohrer 10.
*Isaac Heyer had seven rebounds to go along with his six points.
*NWC shot 55.9% (33 of 59) in the game.
*The Red Raiders were outrebounded 33-30 and turned the ball over 22 times, to just nine times for Jamestown.
UP NEXT
*Jamestown travels to Sioux City, Iowa, to face No. 2 Morningside College. Tipoff is scheduled for 4 p.m.
Wednesday…
Jamestown  (uj.edu)  In a Great Plains Athletic Conference matchup of two top-20 teams, it was No. 5 Northwestern (Iowa) College coming away with a 73-71 win over the 20th-ranked University of Jamestown women's basketball team.
THE BASICS
FINAL SCORE: (5) Northwestern 73, (20) Jamestown 71
LOCATION: Harold Newman Arena, Jamestown, ND
RECORDS: Northwestern 9-1 (5-1 GPAC), Jamestown 5-6 (2-5 GPAC)
HOW IT HAPPENED
*Jamestown trailed by 11 points with 2:23 left in the first half, but closed with a 9-1 run to make it a 33-30 Northwestern lead at the half.
*The Jimmies shot 5-for-14 from both three-point range and inside the arc in the first 20 minutes.
*Northwestern was just 2 of 9 on three-pointers, but scored nearly half of their points (16) inside the paint.
*In the third quarter, neither team managed more than a three-point lead.
*Noelle Josephson (FR/Ramsey, MN) gave UJ a 67-65 lead on a three-pointer with 2:41 remaining. Northwestern retook the lead with a three of their own by Sammy Blum, then got an insurance bucket by Hailey Birks to make it 70-67.
FOR UJ
*Josephson made her second straight start and finished with a career high 19 points and tied career highs with seven rebounds and five steals.
* Emma Stoehr (SO/Woodbury, MN) added 15 points and dished out eight assists, a new career high.
*Jenna Doyle (SR/Princeton, MN) was also in double figures with 12 points.
*Jamestown shot 40.6% (26 of 64) in the game.
*UJ turned 18 Red Raider turnovers into 19 points.
FOR NWC
*Three players–Birks (26), Darbi Gustafson (20), and Kassidy De Jong (20) accounted for 66 of the Red Raiders' 73 points.
*Gustafson pulled down a game-high 11 rebounds and added three steals.
*NWC was just 3 of 11 from three-point range.
*The Raiders had a 38-28 edge in points in the paint and a narrow 13-12 advantage in second-chance points.
UP NEXT
*Jamestown travels to Sioux City, Iowa, Saturday for a GPAC matchup against Morningside (Iowa). Tipoff is set for 2 p.m.
UND Men's Basketball…
EDINBURG, Texas (AP) — Javon Levi scored 15 points and made a career-high six steals to lead four Vaqueros in double-digit scoring and UT Rio Grande Valley got 21 steals and forced 30 turnovers to beat North Dakota 70-56 on Wednesday night for the Fighting Hawks' fourth straight loss.
Jordan Jackson scored 13 points with three steals, Terry Winn II had 12 and Greg Bowie II added 10 for the Vaqueros (7-4), who shot 36 percent and made 20 of 25 free throws. Johnny Crnogorac blocked three shots.
Class A Basketball Polls
Boys
Team Rec. Pts.
1. Davies (15) 2-0 84
2. Jamestown (2) 1-0 70
3. W.F. Sheyenne (1) 2-0 55
4. Minot 1-0 24
5. Century 1-1 21
Others receiving votes: Mandan (1-1), Legacy (1-0), Bismarck High (1-1).
Girls
Team Rec. Pts.
1. Century (18) 2-0 90
2. Mandan 1-0 71
3. Devils Lake 1-0 47
4. Bismarck 1-0 31
5. Shanley 2-0 22
Others receiving votes: Legacy (1-0), Jamestown (1-0), W.F. Sheyenne (1-1), Fargo Davies (1-1).
NBA…
UNDATED (AP) — Karl-Anthony Towns helped the Timberwolves earn their sixth win in seven games by contributing 35 points, 12 rebounds and six blocks to a 121-104 decision over the Hornets. Andrew Wiggins chipped in a season-best 26 points and helped Minnesota limit Charlotte to 31.3 percent shooting in the second half.
— The Raptors improved their league-best record to 21-5 as Kawhi (kah-WY') Leonard shot 13 of 24 while providing 36 points to Toronto's 113-102 victory against the 76ers. Serge Ibaka added 18 points as the Raptors bounced back from Monday's loss to Denver to beat the Sixers for the 13th straight time in Canada.
— LeBron James scored 20 of his 42 points in the fourth quarter of the Lakers' fourth straight win, 121-113 over the Spurs. Kyle Kuzma had 22 points and nine rebounds for the Lakers, and Josh Hart hit a pair of big 3-pointers over the final 3:04.
 Stephen Curry was his old self on Wednesday in his third game since missing 11 straight with a strained groin.Curry nailed nine 3-pointers and poured in 42 points as the Golden State Warriors won a rematch of last season's NBA Finals, 129-105 at Cleveland. The two-time MVP put the game out of reach by scoring nine points in less than a minute midway through the fourth quarter. He also finished with nine rebounds and seven assists.Curry is averaging 33 points since his return, going 18-for-33 from 3-point range.Kevin Durant added 25 points, 10 boards and nine assists in the Warriors' first visit to Cleveland since completing a four-game sweep of LeBron James and the Cavaliers in June.Checking out Wednesday's other NBA action:— The Nuggets won their seventh in a row as Jamal Murray's 31 points led a 124-118 victory in overtime at Orlando. Paul Millsap added 18 points for Denver, which opened the extra session on a 9-2 run.— Eric Bledsoe matched his season high with 27 points and the Bucks opened the second half on a 19-4 run to take a 75-49 lead in a 115-92 rout of the Pistons. Giannis Antetokounmpo (YAH'-nihs an-teh-toh-KOOM'-poh) added 15 points and a team-high eight boards as Milwaukee improved to 12-2 at home.— Julius Randle had 27 points and 18 rebounds in the Pelicans' 132-106 blowout over the Mavericks. Pelicans forward Anthony Davis had 27 points, a career-high nine assists and five blocks despite twisting his ankle and briefly leaving the court for treatment.— Memphis was a 96-86 winner over the Clippers as Mike Conley scored 22 points and JaMychal Green furnished 19 with 11 rebounds. The Grizzlies held Los Angeles to a season low for points, allowing just 34 percent shooting and forcing 19 turnovers.— The Thunder have a four-game winning streak after Paul George scored 25 of his 47 points in the fourth quarter, including a 3-pointer with 3.1 seconds left in a 114-112 triumph over the Nets. Russell Westbrook recorded his 108th career triple-double with 21 points, 17 assists and 15 rebounds, but George carried the Oklahoma City offense after Brooklyn carried an 18-point advantage into the final period.— Bradley Beal pumped in a season-high 36 points and the Wizards won their third in a row by whipping the Hawks, 131-117 in Atlanta. Otto Porter Jr. had 20 points and 11 rebounds for Washington, which finished with a season-best 35 assists despite playing without guard John Wall for personal reasons.

T25 BASKETBALL-SCHEDULE

UNDATED (AP) — Unranked Washington almost knocked off the nation's No. 1 men's basketball team.

It took a Rui Hachimura (ROO'-ee hach-ih-MOOR'-uh) jumper with a half-second left to send Gonzaga past the Huskies, 81-79 at Spokane. Jaylen Nowell hit two free throws with 9.4 seconds left to tie it, but the Zags managed to improve to 9-0 this season and beat Washington for the 12th time in their last 13 meetings.

Hachimura finished with 26 points for the Bulldogs. Nowell had a team-high 26 for the Huskies.

In other top-25 finals:

— RJ Barrett poured in 27 points and grabbed a season-high 15 rebounds as third-ranked Duke hammered Hartford, 84-54. Zion Williamson delivered 18 points and 12 boards for Duke, which shot 62 percent in the second half and improved to 8-1.

— Jarrett Culver scored 13 points and 13th-ranked Texas Tech moved to 8-0 by silencing Arkansas-Pine Bluff, 65-47. The Red Raiders held the Lions to 32.6 percent shooting after entering the game as the nation's top team in field goal defense.

— Cameron Johnson's 21 points were among North Carolina's highlights in a 97-69 thumping of UNC-Wilmington. Freshman forward Nassir Little added 14 points in the 14th-ranked Tar Heels' first game since losing at No. 5 Michigan last week.

— Justin Robinson nailed three 3-pointers and contributed 18 points as 15th-rated Virginia Tech dumped VMI, 89-68. Alexander-Walker finished with 15 points and the Hokies hit 11 treys while shooting 51.7 overall from the field.

— No. 17 Buffalo rolled to an 89-55 win over Division I LeMoyne behind CJ Massinburg's 13 points, 12 rebounds and 10 assists. Dontay Caruthers scored 20 points, backup Nick Perkins had 18 and Massinburg became just the second player in Bulls history to record a triple-double.

— Keyshawn Woods scored 12 of his 18 points in the second half to help No. 19 Ohio State turn a 38-34 halftime deficit into a 77-67 win against Illinois. Kaleb Wesson finished with 13 points and Musa Jallow added 11 with nine rebounds as the 8-1 Buckeyes improved to 2-0 in the Big Ten.

— Jermaine Samuels hit three 3-pointers in the second half and finished with a career-high 15 points as 21st-rated Villanova knocked off Temple, 69-59. The Wildcats have won 24 straight against Philadelphia's Big 5 teams since Dec. 5, 2012.

— Amir Coffey scored a career-best 32 points and Minnesota trailed by as many as 13 before pulling out an 85-78 win over No. 24 Nebraska. Jordan Murphy went 4-for-4 from the line in the final minute and finished with 18 points and 13 rebounds.

COLLEGE BASKETBALL NEWS

Emmert: No speedy resolution in basketball corruption cases

NEW YORK (AP) — NCAA President Mark Emmert says new rules that allow the organization to use information from legal proceedings will help its investigation of the FBI's college basketball corruption case.

Emmert says federal prosecutors are still at work and the NCAA needs to be "very respectful" of that. He also says the inquiry is unlikely to be completed before the upcoming NCAA men's basketball tournament.

The first federal trial in the case in New York in October resulted in the conviction of three men for wire fraud and testimony that implicated Louisville, Arizona, Kansas and others of being involved in payments to high school players.

MLB NEWS

Cardinals strike gold, get Goldschmidt from Diamondbacks

PHOENIX (AP) — The St. Louis Cardinals have added one of the National League's most dangerous hitters to their lineup.

The Arizona Diamondbacks have shipped six-time All-Star first baseman Paul Goldschmidt to the Redbirds for pitcher Luke Weaver, catcher Carson Kelly, minor league infielder Andy Young and a 2019 draft pick. The 31-year-old Goldschmidt is in the final year of his contract after hitting .290 with 33 home runs and 83 RBIs this year. That could be considered an off-year for the three-time Gold Glove recipient, who batted a career-best .321 in 2015 to finish as the MVP runner-up for the second time in his career.

In other MLB news:

— Chris Owings has agreed to a $3 million, one-year contract with the Royals, five days after the utilityman was cut loose by Arizona. The 27-year-old Owings hit .206 in 106 games this year.

— Former Mariners pitching coach Mel Stottlemyre Jr. has been hired in the same capacity by the Marlins.

NHL…

Oilers outlast Blues in shootout

UNDATED (AP) — Connor McDavid and Oscar Klefbom helped their new head coach beat one of his former teams.

The Edmonton Oilers rallied from a 2-0 deficit before McDavid scored the deciding shootout goal in a 3-2 victory at St. Louis. The Blues led by two through 13 ½ minutes and were clinging to a 2-1 advantage until McDavid set up Klefbom's tying goal with 56 seconds left in regulation.

Ryan Nugent-Hopkins provided a goal and an assist, and Cam Talbot stopped 28 shots as the Oilers improved to 5-2-1 under Ken Hitchcock.

The Blues are 2-5-0 since Craig Berube (beh-ROO'-bee) became their interim head coach.

Elsewhere on NHL ice:

— The Ducks won their fifth in a row as Ondrej Kase (AHN'-dray KAH'-shah) scored the tiebreaking goal four minutes into the third period of a 4-2 verdict over the Blackhawks. Brandon Montour and Daniel Sprong scored 20 seconds apart in the first period for Anaheim, and John Gibson turned back 25 shots.

— Timo Meier returned from a three-game injury absence to deliver a goal and two assists in the Sharks' 5-1 win against Carolina. Martin Jones made 39 saves and blanked the Hurricanes until Lucas Wallmark's power-play goal late in the second period.

NHL FRANCHISE VALUES

Forbes: Rangers remain most valuable NHL franchise

TORONTO (AP) — The New York Rangers are the NHL's most valuable franchise for a fourth consecutive year, according to Forbes.

The Rangers top the annual list of franchise valuations at $1.55 billion, up 3 percent from last year.

The Maple Leafs are second, followed by the Canadiens, Blackhawks and Bruins.

The Coyotes and Panthers bring up the rear.

NFL NEWS

Trubisky, Newton expect to play Sunday

UNDATED (AP) — A pair of injured NFL quarterbacks are optimistic about this weekend.

Bears QB Mitchell Trubisky said he is "really close to 100 percent" and expects to play Sunday night against the Rams after missing the past two games because of a right shoulder injury. He went through a full practice Wednesday, and coach Mike Nagy says he has a strong feeling that Trubisky will play.

The Bears split their games started by Chase Daniel, losing to the Giants on Sunday following a Thanksgiving Day victory at Detroit.

Panthers signal-caller Cam Newton says he'll be ready to play against the Browns on Sunday despite lingering pain in his throwing shoulder.

Newton continues to experience pain and discomfort in his right shoulder more than 20 months after undergoing rotator cuff surgery. Newton has thrown downfield fewer times this year than at any point in his career, but he's also completed a career-high 69.5 percent of his passes due in part to the shorter throws.

In other NFL news:

— Rams running back Malcolm Brown will miss the remainder of the season because of a collarbone injury. Coach Sean McVay said that Brown is likely headed to injured reserve after sustaining the injury in last Sunday's win over Detroit.

— NFL interceptions leader Xavien Howard is nursing a knee injury, leaving his availability uncertain for the Dolphins on Sunday against New England. Miami coach Adam Gase described Howard's status as week to week.

—The Lions have placed linebacker Jalen Reeves-Maybin on injured reserve with a neck injury. Reeves-Maybin is tied for the team lead with six tackles on special teams and he had seven tackles on defense this season.

— Running back C.J. Anderson has signed with the Raiders and could be in their backfield for Sunday's game against the Steelers. Raiders coach Jon Gruden said that the move is insurance while Doug Martin deals with a sore knee.

— The Arizona Cardinals' bad injury situation got worse when starting left tackle D.J. Humphries was placed on injured reserve with a knee injury. The move leaves rookie center Mason Cole as the only remaining member of the offensive line that began the season.

— Giants safety and leading tackler Landon Collins is going on injured reserve with a partially torn labrum that will require surgery. Collins was hurt in Sunday's overtime win against the Chicago Bears.

—Sam Darnold was a full participant at practice, putting him on track to start for the Jets at Buffalo on Sunday. The rookie quarterback has missed the past three games with a strained right foot.

COLLEGE FOOTBALL NEWS

Colorado name football coach

BOULDER, Colo. (AP) — Colorado has hired Georgia defensive coordinator Mel Tucker as its new head coach after he helped rebuild the Bulldogs into a national contender.

Tucker gets a five-year, $14.75 million contract and starts immediately, which means he won't coach Georgia in the Sugar Bowl on New Year's Day.

The 46-year-old Tucker replaces Mike MacIntyre, who was fired with a game remaining in the season and the team mired in a six-game skid.

In other college football news:

— Missouri football coach Barry Odom's contract has been extended and he's getting a $600,000 raise. Members of the University of Missouri Board of Curators voted unanimously in favor of extending Odom's contract another two years. The raise will bring his salary up to more than $3 million a year.

USA GYMNASTICS-BANKRUPTCY

USA Gymnastics files for Chapter 11

UNDATED (AP) — USA Gymnastics is turning to bankruptcy in an effort to ensure its survival.

The embattled organization filed a Chapter 11 bankruptcy petition on Wednesday as it attempts to reach settlements in the dozens of sex-abuse lawsuits it faces and to forestall its potential demise at the hands of the U.S. Olympic Committee.

USA Gymnastics faces 100 lawsuits representing 350 athletes in various courts across the country who blame the group for failing to supervise Larry Nassar, a team doctor accused of molesting them.
In world and national news…
HOUSTON (AP) — More than 11,000 people paid their respects to George H.W. Bush as the 41st president lay in repose all night at a Houston church where his family worshipped. Some visitors waited for hours Wednesday night to pay tribute to Bush, who will be buried Thursday following a funeral at St. Martin's Episcopal Church. About 1,200 mourners are expected at the service Thursday morning.BEIJING (AP) — China is demanding that Canada release a Huawei Technologies executive who was arrested in a case that adds to technology tensions with Washington and threatens to complicate trade talks. The arrest followed a cease-fire in a U.S.-Chinese tariff war over Beijing's technology policy. Canadian authorities say Meng Wanzhou, Huawei's chief financial officer, faces possible extradition to the United States. A Toronto newspaper says she's accused of trying to evade U.S. curbs on trade with Iran.WASHINGTON (AP) — The Trump administration has separated 81 migrant children from their families at the U.S.-Mexico border since the June executive order by the president that stopped the general practice. That's according to government data obtained by The Associated Press. Immigration officials are allowed to separate a child from a parent in certain cases, such as criminal charges against a parent and concerns over the health and welfare of a child.RIMBO, Sweden (AP) — The U.N. envoy for Yemen says the country's warring sides have agreed on a prisoner exchange as part of confidence-building measures for the war-torn nation. Martin Griffiths spoke at the opening of Yemen peace talks in Sweden on Thursday.PARIS (AP) — Protesters in Paris say they can't talk about climate change and the end of the world when they're talking about higher fuel taxes and the end of the month. French President Emmanuel Macron scrapped higher fuel taxes on Wednesday, following the worst riots in Paris in decades. The resistance to the fuel tax is a personal blow to Macron, who has positioned himself as the anti-Donald Trump when it comes to climate issues.