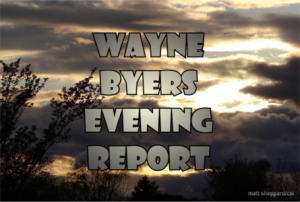 CSi Weather…
TONIGHT…Cloudy in the evening then clearing. Scattered flurries in the evening. Lows 5 to 10 above. Southwest winds 5 to 10 mph.
.FRIDAY…Sunny. Highs in the lower 20s. West winds 5 to 10 mph.
.FRIDAY NIGHT…Clear. Lows 5 to 10 above. Southwest winds around
5 mph.
.SATURDAY…Mostly sunny. Highs in the mid 20s. South winds 5 to
10 mph.
.SATURDAY NIGHT…Partly cloudy. Lows around 10.
.SUNDAY…Sunny. Highs in the lower 20s.
.SUNDAY NIGHT…Mostly clear. Lows around 10.
.MONDAY…Sunny. Highs around 30.
.MONDAY NIGHT…Partly cloudy. Lows 10 to 15.
.TUESDAY…Partly sunny. Highs in the upper 20s.
.TUESDAY NIGHT…Mostly cloudy. Lows 15 to 20.
.WEDNESDAY…Partly sunny. Highs around 30.
Quiet weather with a gradual warming trend is expected to end this
week and start the upcoming week.
A few snow chances start to show up towards the
middle of next week, but even that remains a bit questionable at
this time.
Jamestown  (UJ)   University of Jamestown students who are majoring in Education will participate in the first-ever North Dakota statewide "Hour of Code" event on Dec. 7, 2018. Students will participate in the event from 2-3 p.m. in the University's SmartLab.
Dr. LeeAnn Nelson, Assistant Professor at UJ, says,   "Our pre-service teachers will be participating with many K-12 students not only throughout the state but worldwide. This opportunity will provide them with computer science knowledge, skills and experience that they can take into K-12 classrooms."
"Hour of Code" started as a one-hour introduction to computer science designed to show that everyone can learn the basics of coding and to broaden participation in the field of computer science. It will take place during Computer Science Education Week, which runs from Dec. 3-9.
North Dakota Chief Information Officer Shawn Riley, along with Gov. Doug Burgum, Superintendent of Public Instruction Kirsten Baesler, and more than 30 Microsoft volunteers are supporting the event – the first known effort happening at the same time statewide in the nation. Initiated and coordinated by Microsoft, the Hour of Code is part of a broader statewide effort to teach students computer science and provide valuable resources to educators, including training and professional development, to help every student graduate with these essential skills.
FARGO, N.D. (AP) — A federal judge says two new expert witnesses will be allowed to testify on behalf of a man sentenced to death for killing a University of North Dakota student more than a decade ago.
Over objections from prosecutors, U.S. District Judge Ralph Erickson ruled that the experts will be allowed to testify during an upcoming evidentiary hearing for Alfonso Rodriguez Jr.
Prosecutors from the U.S. Attorney's office have opposed allowing testimony from a psychologist and a medical toxicologist. But Erickson says excluding evidence that could be helpful to Rodriguez is a "harsh and drastic remedy" and "is not justified in this case."
Rodriguez, of Crookston, Minnesota, remains on death row for the 2003 kidnapping and murder of UND student Dru Sjodin (shuh-DEEN').
KFGO reports the hearing is scheduled for late January.
FARGO, N.D. (AP) — The largest provider of health insurance in North Dakota will be under new leadership after next year.Blue Cross Blue Shield of North Dakota President and CEO Tim Huckle has announced plans to retire in January 2020.The insurer says Chief Legal Officer Dan Conrad will transition into the CEO position over the next year.Conrad has worked as an attorney for companies and the federal Justice Department. He's been with Blue Cross Blue Shield since July 2013.Blue Cross Blue Shield insures or administers claims for about 375,000 people.
FARGO, N.D. (AP) — The federal Agriculture Department's last weekly crop report of the harvest season shows a small amount of late-season crops still in the field in North Dakota.The report says 87 percent of sunflowers, 88 percent of corn and 95 percent of soybeans have been harvested.Sixty percent of subsoil moisture supplies and 73 percent of topsoil moisture supplies are rated adequate to surplus.Weekly reports for the 2019 season begin in April.
BISMARCK, N.D. (AP) — Planning commissioners have denied a permit for a controversial wind farm near Bismarck.
More than 500 citizens attended a four-hour meeting Wednesday when the Burleigh County Planning and Zoning Commission heard passionate testimony from both sides.
Chicago-based Pure New Energy USA wants to construct about 70 turbines in southern Burleigh County. The 250-megawatt Burleigh-Emmons Wind Farm, which would be located about 15 miles southeast of Bismarck.
The Bismarck Tribune says opponents raised questions about the turbines' impact on wildlife, health and property values. Supporters of the project emphasized the new jobs it would create and other economic benefits to the community.
Telfer Township and Emmons County must also decide whether or not to issue special use permits for the wind farm.
BILLINGS, Mont. (AP) — The Trump administration moved forward Thursday with plans to ease restrictions on oil and natural gas drilling, mining and other activities across millions of acres in the American West that were put in place to protect an imperiled bird species.
Land management documents released by the U.S. Interior Department show the administration intends to open more public lands to leasing and allow waivers for drilling to encroach into the habitat of greater sage grouse.
Critics warned the changes could wipe out grouse colonies as drilling disrupts breeding grounds. Federal officials under President Barack Obama in 2015 had adopted a sweeping set of land use restrictions intended to stop the birds' decline.
Interior Deputy Secretary David Bernhardt said the agency was responding to requests by states to give them more flexibility in how public lands are managed. He said the goal to conserve sage grouse was unchanged.
"I completely believe that these plans are leaning forward on the conservation of sage grouse," Bernhardt told The Associated Press. "Do they do it in exactly the same way, no? We made some change in the plans and got rid of some things that are simply not necessary."
The changes drew a sharp backlash from conservation groups and wildlife advocates, who warned excessive use of drilling waivers could push sage grouse onto the list of threatened and endangered species.
"If you allow exception after exception, that might make sense for a particular project in a particular spot, but you add them all together and you have death by a thousand cuts," said National Wildlife Association vice president Tracy Stone-Manning.
The ground-dwelling grouse ranges across about 270,000 square miles (700,000 square kilometers) in parts of 11 Western U.S. states and two Canadian provinces. Its numbers plummeted in recent decades.
Under President Donald Trump, Interior Secretary Ryan Zinke has vowed to lift obstacles to drilling, and grouse protections have long been viewed by the energy industry as an obstacle to development.
In world and national news…
HOUSTON (AP) — A special funeral train carrying the casket of President George H.W. Bush has begun its journey to College Station, where he will be buried during a private service in the family plot on the grounds of his presidential library. The number "4141" train that left the Houston suburb of Spring on Thursday afternoon was painted to resemble Air Force One. It will take Bush's casket, family and close friends through five small towns during a journey that's expected to take about two-and-a-half hours.WASHINGTON (AP) — Data obtained by The Associated Press show that separation of families at the US-Mexico border has decreased, but that 81 migrant children have been separated since June. That was when an executive order stopped the general practice of separating families. But it's still allowed in some cases, such as criminal charges against a parent or concern over a child's welfare or health.WASHINGTON (AP) — U.S. national security adviser John Bolton says in an interview with NPR that he knew in advance of the pending arrest in Canada of an executive for a Chinese tech company. The arrest of Meng Wanzhou, suspected of trying to evade trade curbs on Iran, could further complicate a trade stand-off between Beijing and Washington. China's foreign ministry is demanding that Canada release Meng, the chief financial officer of Huawei Technologies, and the daughter of its founder.

MADISON, Wis. (AP) — Wisconsin Republican Gov. Scott Walker is weighing whether to sign into law a sweeping package of bills passed in a lame-duck session that would weaken the powers of his Democratic successor. Walker spokesman Tom Evenson said Thursday that the governor was reviewing the bills that passed early Wednesday morning after overnight sessions in the state Senate and Assembly. Evenson did not give a time frame for when Walker would act.

UNDATED (AP) — Stocks are tumbling again, knocking 400 points off the Dow Jones Industrial Average and putting it back into the red for the year as the arrest of a senior Chinese technology executive threatened to worsen trade tensions between the U.S. and China. Traders continue to shovel money into bonds, a signal that they see weakness in the economy ahead. The price of crude oil fell sharply as OPEC leaders met.