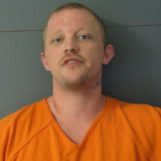 Valley City  (CSi) The Barnes County Sheriff's Office reports, a man is being sought for felony escape in Barnes County.
On December 29, 2018,  Kyle James Bock had removed his GPS monitor and left custody.
The 31 year-old  Bock was on furlough prior to serving a sentence with the Department of Corrections.
Anyone with information on the whereabouts of Kyle Bock is asked to contact the Barnes County Sheriff's office at 845-8530, and remain anonymous.