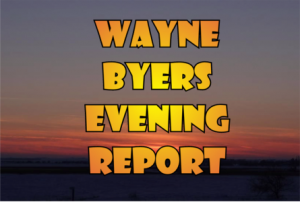 CSi Weather…
.TONIGHT…Partly cloudy. Lows  around 10 above. South winds around 5 mph shifting to the northwest after midnight.
.FRIDAY…Partly sunny. Highs 15 to 20. North winds around 10 mph.
.FRIDAY NIGHT…Mostly cloudy. Lows 5 to 10 above. North winds
5 to 10 mph.
.SATURDAY…Partly sunny. Highs 15 to 20. North winds around
5 mph shifting to the west in the afternoon.
.SATURDAY NIGHT…Decreasing clouds. Lows around 10.
.SUNDAY…Mostly sunny. Highs in the mid 20s.
.SUNDAY NIGHT…Partly cloudy. Lows around 15.
.MONDAY…Mostly sunny. Highs in the upper 20s.
.MONDAY NIGHT…Partly cloudy. Lows around 15.
.TUESDAY…Partly sunny. Highs in the lower 20s.
.TUESDAY NIGHT…Mostly cloudy. Lows zero to 5 above.
.WEDNESDAY…Mostly cloudy. Highs 10 to 15.
Cooler temperatures and partly to mostly cloudy skies expected on
Friday in the wake of the cold front while a stronger wave passes
through.
Quiet weather expected through the weekend into the start of the
upcoming work week along with a modest warming trend by mid week.
Then will  cooling temperatures and occasional low snow
chances.
Valley City (CSi)  The Valley City Area Chamber of Commerce invites the public to a  District 24 Legislative Forum, on Saturday January 19, from 9-a.m., to 11-a.m.
The forum will be held at the Valley City High School cafeteria.
Jamestown  (CSi)  The Jamestown Public School District is continuing to look at options in order to finance the continuing need for upgrades in buildings with construction  and infrastructure projects.
Superintendent Robert Lech points out, in his report, that the alternative plan from the original plan that failed a September 25, 2018 referendum, which required a 60 percent in favor vote to pass, needs to address the aging school district facilities, and to support the 21st Century Learning program.
He says that some voters last September rejected the issue, because of costs, and the inclusion of a sports complex.
Lech says, at that time, a Citizen's Advisory Committee recognized the high cost and determined that the recommendation presented to the school board and then to public forums, and the public vote, was the most representative of the community feedback against a phased project.
Next, the school board will look at steps to go forward, and options utilizing the perspectives of the supporters and those in opposition of the referendum.
Lech's recommendation is that the school board continue to explore options and bring those to the June 2020 primary, if possible.
He adds, another referendum, is the most-time consuming option.
The school board could also propose a vote to enhance the building fund, that could increase the building fund of 10 mills to 20 mills, that would exist in perpetuity.
Each subsequent year, the school board, and those in the future, would have discretion of how many building fund mills to levy each year.
Other options include bonding from the building fund or a combination of the three other options.
Lech's report says, "Waiting will simply exacerbate the need and overall expense."
FARGO, N.D. (AP) — Fire officials in Fargo have ruled accidental a fire that forced the evacuation of residents in 24 apartments at a senior living facility last week.Fire Marshal Ryan Erickson said Thursday natural gas leaking from near the gas meter entered the Riverview Apartment Complex and was ignited in a nearby mechanical room.The fire broke out shortly after 6 p.m. Friday. No residents or firefighters were hurt. An employee who tried to put out the blaze was taken to a hospital as a precaution.The gas had to be shut off before the fire could be extinguished.
BISMARCK, N.D. (AP) — A North Dakota lawmaker is pushing a measure that would require disclosing the costs of providing security for the governor, lieutenant governor and their families, and better documentation of their travel.
Republican Rep. Bill Devlin's bill introduced late Wednesday comes after questions from lawmakers, The Associated Press and other media about the level of personal security for Gov. Doug Burgum. It also comes in the wake of a state audit last year that said the wealthy first-term GOP governor inappropriately used state aircraft for personal travel, something Burgum has denied.
"This is about transparency and the accountability of taxpayers' money," said Devlin, a retired newspaper owner and longtime lawmaker. "There should not even be a question about this — especially from a governor who campaigned on transparency."
Burgum spokesman Mike Nowatzki said Thursday that the governor had not seen the measure and likely would not comment even if he had.
"We generally don't comment on bills until they reach his desk and we don't comment on his security," Nowatzki said.
Security at the North Dakota Capitol was beefed up in 2016 due to protests involving the Dakota Access pipeline, the four-state, $3.8 billion pipeline that lawmakers said put a burden on law enforcement and the state Highway Patrol, which provides security for the governor and the Capitol.
Two years after the protests ended and the pipeline began operating, increased security measures remain in place, including metal detectors and more troopers patrolling in and around the building. Troopers, both in uniform and plainclothes, also routinely can be seen with Burgum at events across the state and at the Capitol, something that was rare or nonexistent in previous administrations.
MINOT, N.D. (AP) — The first U.S. Navy submarine in a century to carry the name North Dakota is returning from its first deployment later this month.
The Minot Daily News reports that the $2.6 billion, 377-foot-long USS North Dakota will return to its home port of Groton, Connecticut, on Jan. 31 after a six-month deployment.
The submarine is able to launch cruise missiles, deliver special forces and carry out surveillance. Naval Commander Mark Robinson says the deployment included 68 days of operations that required "the most rigorous attention."
The USS North Dakota is just the second Navy vessel named for North Dakota. A World War I-era battleship was also named for the state.
The submarine was commissioned at Groton in 2014.
BISMARCK, N.D. (AP) — An administrative law judge in North Dakota is recommending that state officials issue a water permit for an oil refinery being developed near Theodore Roosevelt National Park.Area landowners had challenged a proposed permit that would allow the Davis Refinery to draw water from an underwater aquifer. Administrative Law Judge Tim Dawson held a hearing in November. On Tuesday he recommended the permit be granted.State Engineer Garland Erbele has the final say. Landowners can appeal his decision to state district court.Refinery developer Meridian Energy Group issued a statement Thursday applauding the decision.

Meridian is developing the refinery just 3 miles (5 kilometers) from North Dakota's top tourist attraction. It still needs a wastewater permit, and its state air quality permit is being challenged in court by environmental groups.
BISMARCK, N.D. (AP) — The North Dakota House has unanimously endorsed a measure that changes the threshold for vehicle accident reporting.North Dakota law says crashes are required to be immediately reported in cases of death, injury or when property damage exceeds $1,000. The House on Thursday raised the threshold to $4,000.Republican Rep. Robert Paulson of Minot says the bill is supported by law enforcement. Paulson says the idea is to free up officers to deal with other matters.Paulson says it doesn't take much of a crash to cause $1,000 damage to a vehicle.The bill now goes to the North Dakota Senate for consideration.
BISMARCK, N.D. (AP) — A North Dakota lawmaker is sponsoring a bill that would require schools to offer classes on the Bible.The American Civil Liberties Union's North Dakota chapter says the measure championed by Republican Sen. Oley Larson is "blatantly unconstitutional" and would likely lead to litigation if approved by the Legislature.Larson, a former teacher from Minot, tells The Associated Press that a Bible class would count toward students' social studies requirements.Larson says schools would have to offer curriculum that covers the Old Testament, the New Testament or a combination of the two. But he says students would not have to take it.Larson says the aim of his legislation is not religious but is to make students aware of Bible history.A hearing on the measure has not been scheduled.
BISMARCK, N.D. (AP) — A tank overflow at a well in Williams County spilled nearly 1,700 gallons of oil and 11,000 gallons of byproduct saltwater.Complete Energy Services reported the spill Wednesday at a well about 6 miles southeast of Tioga.The state Oil and Gas Division says the oil and brine were contained on site and all of it has been recovered.A state inspector has been to the site and will monitor any additional cleanup.
In sports…
FARGO, N.D. (AP) — New North Dakota State head coach Matt Entz has added a defensive coordinator and three other coaches to his staff.David Braun is the team's defensive coordinator and safeties coach. He comes to the Bison from Northern Iowa, where in two seasons he served as defensive line coach, run game coordinator, linebackers coach and special teams coordinator.Braun is a graduate of Winona State, where he played defensive line for Entz from 2004-07 and was a graduate assistant for two years.Entz also named Grant Olson as linebackers coach, Al Blazek as offensive line coach and Noah Pauley as wide receivers coach.Entz, who was the team's defensive coordinator, takes over for Chris Klieman, who left for Kansas State after leading the Bison to their seventh FCS title.
UNDATED (AP) — A person familiar with the negotiations tells The Associated Press that free-agent second baseman Brian Dozier and the Washington Nationals have agreed to a $9 million, one-year contract, subject to the successful completion of a physical exam.
The person confirmed the deal on condition of anonymity Thursday because neither the club nor player had announced the deal.
Dozier, who played for the Minnesota Twins and Los Angeles Dodgers last season, would fill Washington's need for a new starting second baseman and could help add some power to the lineup, particularly important if slugging outfielder Bryce Harper ends up leaving the Nationals as a free agent.
By only committing to Dozier for one season, the Nationals leave open the possibility of turning to leading prospect Carter Kieboom at second base in 2020.
MIAMI (AP) — Former Denver Broncos and University of Florida quarterback Tim Tebow is engaged.The Heisman Trophy winner announced his engagement on Instagram Thursday to Demi-Leigh Nel-Peters, a South Africa native and the 2017 Miss Universe.
The 31-year-old Tebow posted photos of himself down on one knee and 23-year-old Nel-Peters wearing an engagement ring.
Tebow quarterbacked Florida to national championships during the 2006 and 2008 seasons. He was drafted in 2010 by the Denver Broncos, where he played two seasons. He also played for the New York Jets in 2012.
Tebow currently plays professional baseball in the New York Mets organization, and is slated to play in 2019 for the AAA Syracuse Mets.
He is also a college football analyst for the SEC Network.
In world and national news…
WASHINGTON (AP) — Vice President Mike Pence says President Donald Trump has "made no decision" about declaring a national emergency to build a border wall with Mexico. But he adds, "The president's going to get this done one way or another." Pence called on Democrats to negotiate an end to the shutdown, which is now in its 20th day. Trump and Democrats are at an impasse over wall funding.
OGDEN, Utah (AP) — Payday will come Friday without any pay for about 800,000 federal workers affected by the lingering government shutdown, amplifying their stress and triggering emergency financial backup plans for people who don't have sufficient savings to pay for mortgages and bills. Roughly federal 420,000 workers were deemed essential and are working unpaid, unable to take any sick days or vacation. An additional 380,000 are staying home without pay.
HIDALGO, Texas (AP) — As President Donald Trump travels to the border in Texas to make the case for his $5.7 billion wall, many local landowners have hired lawyers to fight the government if it moves to seize their land through eminent domain. The federal government has started surveying land along the U.S.-Mexico border in Texas, and has announced plans to start construction next month of walls and fencing. But some landowners say rather than surrender their land, they're taking their fight to court.
CAIRO (AP) — U.S. Secretary of State Mike Pompeo delivered a scathing rebuke of the Obama administration's Mideast policies. He denounced former President Barack Obama, saying his policies were misguided and diminished America's role in the region. Former Obama administration officials rejected Pompeo's assertions as petty, political and weak. They said the speech pandered to authoritarian leaders and ignored rights violations.
UNDATED (AP) — A leading U.S. supplier of sportswear to college bookstores says it will no longer do business with a Chinese manufacturer that has used workers from an internment camp for ethnic minorities. An Associated Press investigation found last month that the Chinese government was forcing some detainees to work in manufacturing and food production. The investigation tracked shipments from a Chinese factory to Badger Sportswear in North Carolina.