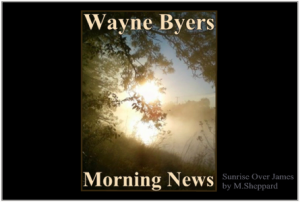 CSi Weather…
REST OF  TODAY…Mostly cloudy. Scattered flurries in the afternoon.
Highs 15 to 20. North winds around 10 mph.
.TONIGHT…Mostly cloudy. Lows around 10. North winds around 10 mph.
.SATURDAY…Partly sunny. Highs 15 to 20. Northwest winds 5 to
10 mph.
.SATURDAY NIGHT…Mostly cloudy. Lows around 10. South winds 5 to
10 mph.
.SUNDAY…Mostly sunny. Highs in the upper 20s. Southwest winds
around 10 mph.
.SUNDAY NIGHT…Mostly clear. Lows 15 to 20.
.MONDAY…Mostly sunny. Highs in the upper 20s.
.MONDAY NIGHT…Partly cloudy. Lows 10 to 15.
.TUESDAY…Partly sunny. Highs in the lower 20s.
.TUESDAY NIGHT…Mostly cloudy. Lows near zero.
.WEDNESDAY…Mostly cloudy. Highs 10 to 15.
.WEDNESDAY NIGHT…Mostly cloudy. Lows near zero.
.THURSDAY…Mostly cloudy. Highs 10 to 15.
A gradual warming trend through the weekend. Upper ridge weakens as we go into the upcoming work week while low over Hudson Bay strengthens. A
variety of weak disturbances moving through northwesterly flow
will keep temperatures cooler, and will also bring low
precipitation chances to various locations later in the work wee
Jamestown  (CSi)  Kevin Hoff of  Montpelier,  was sentenced Thursday in Southeast District Court, by Judge Troy LeFevre  to life in prison without the possibility of parole, for the murder of his former wife Nicole Haliaaloh Gututala-Hoff, of Jamestown.   When LeFevre handed down the sentence Thursday, he said it was "obviously simply a horrific crime committed by Mr. Hoff."
The 27 year old  Hoff, pleaded guilty November 6, 2018, in the May 12, 2018 murder of his former wife, Nicole Gututala in the parking lot of her Southeast Jamestown apartment building at 503 15th Street Southeast.
When Hoff pleaded guilty, he said he waited for Gututala to get in her car, then shot her three times in the head. He then called 911 and drove to the Stutsman County Law Enforcement Center to turn himself in.
Three members of Gututala's family provided victim impact statements asking for a sentence of life without parole.
Jamestown  (CSi)  The Jamestown Rural Fire  Department was called Thursday about 6:15-p.m. to a pickup truck fire, four miles north of Jamestown.
Jamestown Rural Fire  Chief, Ben Maulding says, the pickup was southbound on Highway 281, when it had  mechanical  problems.
When the driver stopped to investigate,  the engine compartment was on fire.
When rural fire fighter arrived on scene, a good part of the truck was engulfed in flames.
The driver was not injured.  Fire fighters cleared the scene at 7:01 p.m.
 The Stutsman County Sheriff's Office and the North Dakota Highway Patrol also responded.
Valley City (CSi)  The Valley City Area Chamber of Commerce invites the public to
A  District 24 Legislative Forum, on Saturday January 19, from 9-a.m., to 11-a.m.
The forum will be held at the Valley City High School cafeteria.
Jamestown  (CSi)  The Jamestown Public School District is continuing to look at options in order to finance the continuing need for upgrades in buildings with construction  and infrastructure projects.
Superintendent Robert Lech points out, in his report, that the alternative plan from the original plan that failed a September 25, 2018 referendum, which required a 60 percent in favor vote to pass, needs to address the aging school district facilities, and to support the 21st Century Learning program.
He says that some voters last September rejected the issue, because of costs, and the inclusion of a sports complex.
Lech says, at that time, a Citizen's Advisory Committee recognized the high cost and determined that the recommendation presented to the school board and then to public forums, and the public vote, was the most representative of the community feedback against a phased project.
Next, the school board will look at steps to go forward, and options utilizing the perspectives of the supporters and those in opposition of the referendum.
Lech's recommendation is that the school board continue to explore options and bring those to the June 2020 primary, if possible.
He adds, another referendum, is the most-time consuming option.
The school board could also propose a vote to enhance the building fund, that could increase the building fund of 10 mills to 20 mills, that would exist in perpetuity.
Each subsequent year, the school board, and those in the future, would have discretion of how many building fund mills to levy each year.
Other options include bonding from the building fund or a combination of the three other options.
Lech's report says, "Waiting will simply exacerbate the need and overall expense."
BISMARCK, N.D. (AP) — A Bismarck woman who operated a day care has been convicted of abusing a 3-year-old boy because he wet his pants.Authorities alleged that 55-year-old Marlene Steedsman grabbed the boy by his ears, injuring them, and later tried to blame another child. A jury this week convicted her of felony child abuse. She'll be sentenced later.It was Steedsman's second conviction related to the injury of a child in her care. In 2017, she pleaded guilty to a misdemeanor charge of lying to law officers. She was still on probation when the most recent incident occurred.She no longer operates a day care.
BISMARCK, N.D. (AP) — A North Dakota lawmaker is pushing a measure that would require disclosing the costs of providing security for the governor, lieutenant governor and their families, and better documentation of their travel. Republican Rep. Bill Devlin's bill comes after questions about the level of personal security for Gov. Doug Burgum. It also comes in the wake of a state audit that found the wealthy first-term GOP governor inappropriately used state aircraft for personal travel, something Burgum has denied.
BISMARCK, N.D. (AP) — North Dakota regulators have concluded that the developer of the Dakota Access oil pipeline has complied with a settlement of allegations it violated state rules during construction.Energy Transfer Partners was accused of removing too many trees and improperly handling a pipeline route change. To avoid fines, it was directed to plant tens of thousands of new trees and to develop an industry handbook and conduct training on properly handling route adjustments.North Dakota's Public Service Commission late last year asked for more proof from the company that it had complied. ETP filed numerous documents including a letter in which attorney Lawrence Bender said he was "disappointed" that compliance had been questioned.Commissioner Julie Fedorchak says regulators went through the documents this week and concluded the company is in compliance.
In sports…
BOYS PREP BASKETBALL=
Bismarck Century 60, Bismarck Legacy 46
Bismarck High 65, Dickinson 45
Dickinson Trinity 59, Heart River 42
Garrison 50, Underwood 46
Glen Ullin-Hebron 82, Killdeer 42
Grand Forks Central 77, Grand Forks Red River 66
Kidder County 59, Linton-HMB 51
Mandaree 63, Powers Lake 57
Napoleon/Gackle-Streeter 55, South Border 48
New Salem-Almont 50, Mott-Regent 47
Rugby 94, North Star 40
Stanley 44, Our Redeemer's 43, OT
Wahpeton 82, Fargo North 70
West Fargo 78, Fargo Davies 72
Barnes County Tournament=
Consolation Semifinal=
Barnes Co N-north Central 55, Sargent Central 36
Maple Valley 66, Finley-Sharon/Hope-Page 36
Semifinal=
Enderlin 66, Griggs County Central 54
LaMoure-Litchville-Marion 68, Milnor-North Sargent 49
LaMoure-Litchville-Marion plays Enderlin Saturday in the championship game at 6:30 p.m. at Valley City State University's W.E. Osmon Fieldhouse.
GIRLS PREP BASKETBALL=
Benson County 38, Lakota 37, OT
Bismarck Century 60, Bismarck Legacy 39
Bismarck High 58, Dickinson 48
Bowman County 60, Beach 38
Center-Stanton 50, Max 11
Central Cass 42, Hankinson 35
Dakota Prairie 44, Warwick 33
Des Lacs-Burlington 46, Glenburn 34
Divide County 49, Burke County, Ga. 36
Edgeley-Kulm-Montpelier 39, Ellendale 30
Glen Ullin-Hebron 36, Mott-Regent 32, OT
Grand Forks Red River 61, Grand Forks Central 30
Harvey-Wells County 65, New Rockford-Sheyenne 20
Hettinger/Scranton 84, Richardton-Taylor 47
Hillsboro/Central Valley 37, Midway-Minto 34
Kenmare 61, New Town 47
Killdeer 43, Beulah 33
Kindred 52, Oak Grove Lutheran 21
Lewis and Clark-Berthold 56, South Prairie 38
Linton-HMB 74, Wilton-Wing 29
Mandaree 58, Powers Lake 44
Mohall-Lansford-Sherwood 64, Bishop Ryan 38
Nedrose 58, Drake/Anamoose 30
New England 35, Hazen 25
Northern Cass 48, Wyndmere-Lidgerwood 45
Oakes 67, Midkota 33
Our Redeemer's 52, Surrey 39
Richland 62, Milnor-North Sargent 52
Shiloh Christian 53, Grant County 46
St. John 68, Rolla 48
Stephen-Argyle, Minn. 51, Grafton 45, OT
Thompson 45, May Port CG 32
Towner-Granville-Upham 51, Bottineau 35
Underwood 50, Garrison 46
Velva 72, Westhope-Newburg 23
Wahpeton 60, Fargo North 51
West Fargo 61, Fargo Davies 50
Williston 49, Minot 42
BOYS HOCKEY
Fargo South/Shanley 3, Fargo Davies 2
May Port CG 5, Grafton-Park River 1
Fargo Davies 5, Moorhead, Minn. 0
Minot 4, Williston 0
West Fargo-Sheyenne United 5, Devils Lake 0
2019 GPAC Baseball Preseason Coaches' Poll
(First-place votes in parenthesis)
School Pts.
1. Jamestown (4) 91
2. Midland, Neb. (2) 83
3. Northwestern, Iowa (4) 77
4. Doane, Neb. 68
5. Concordia, Neb. (1) 64
6. Morningside, Iowa 61
7. Mount Marty, S.D. 61
8. Hastings, Neb. 41
9. Briar Cliff, Iowa 34
10. Dakota Wesleyan, S.D. 17
11. Dordt, Iowa 12
2019 GPAC Softball Preseason Coaches' Poll
(First-place votes in parenthesis)
School Pts.
1. Midland, Neb. (9) 119
2. Jamestown (2) 104
3. Morningside, Iowa (1) 97
4. Northwestern, Iowa 88
5. Concordia, Neb. 71
6. Doane, Neb. 66
6. Dordt, Iowa 66
8. Dakota Wesleyan, S.D. 57
9. Mount Marty, S.D. 47
10. Hastings, Neb. 37
11. Saint Mary, Neb. 27
12. Briar Cliff, Iowa 13
Valley City  (VC Chamber)  The  VCPR Youth Basketball Tournament is on Saturday Jan. 12, from 9-a.m., to 4:30-p.m., at various Valley City locations.
2 courts at the Rec
2 courts at the Hi-Liner Activitiy Center
2 courts at Gaukler Family Wellness Center
2 courts in the VCHS North and South gyms
There are 42 teams involved in the tournament
Regional college men's basketball…
GRAND FORKS, N.D. (AP) — Matt Pile and Mitchell Hahn posted double-doubles and Hahn hit a go-ahead 3-pointer with 8 seconds left in the game to lift Omaha to a 92-91 victory over North Dakota on Thursday night.
Pile finished with 20 points and 10 rebounds for his sixth double-double of the season and Hahn tallied 17 points with 11 boards for his second. Zach Jackson had 15 points and JT Gibson scored 13 for the Mavericks (9-8, 3-1 Summit League).
Conner Avants paced the Fighting Hawks (7-10, 1-3) with a season-high 24 points. Freshman Aanen Moody came off the bench to score 18 on 6-of-12 shooting from 3-point range. Cortez Seales contributed 16 points, six rebounds and six assists and Kienan Walter scored 14.
FARGO, N.D. (AP) — Tyson Ward had 17 points and 13 rebounds to lead six North Dakota State players in double figures as the Bison beat Western Illinois 85-69 on Thursday night.
Deng Geu added 14 points for the Bison (8-10, 2-2 Summit League). Sam Griesel scored 12 while Rocky Kreuser and Vinnie Shahid scored 13 apiece.
Kobe Webster had 17 points and Isaac Johnson added 15 points for the Leathernecks (6-11, 1-3).
North Dakota state led by 11 at halftime and soon went up by 20 after a 3-pointer by Kreuser and a fast-break layup by Ward. The Bison led by at least 16 the rest of the way and the lead peaked at 81-57 when Shahid hit a pair of free throws with 3:09 to go.
Western Illinois plays at North Dakota (7-9, 1-2) on Saturday. North Dakota State plays at Denver (5-14, 0-5) on Wednesday.
NBA…
UNDATED (AP) — The Spurs have continued their midseason surge by winning a thrilling marathon against the Oklahoma City Thunder.
LaMarcus Aldridge delivered seven of his career-high 56 points in double-overtime as the Spurs earned a wild 154-147 victory against the Thunder. San Antonio hit its first 14 3-point attempts and won for the sixth time in seven games.
The Spurs have won 14 of 18 since opening the season 11-14.
Russell Westbrook also had an outstanding game, finishing with 24 points, 24 assists and 13 rebounds.
Checking out Thursday's other NBA action:
— Josh Richardson hit four of the Heat's season-high 18 3-pointers while scoring 18 points in a 115-99 victory against Boston. Dwyane Wade had a team-high 19 points for Miami, which had 33 assists on 45 field goals and became the first team to hold Boston under 100 points since Nov. 17.
— Nikola Jokic (YOH'-kihch) posted his 21st career triple-double and the Nuggets ran their home winning streak to 11 games by slamming the Clippers, 121-100. Jokic had 18 points, 14 rebounds and 10 assists for the Western Conference leaders, who also received 23 points from Jamal Murray.
— Buddy Hield (heeld) scored 18 points and Willie Cauley-Stein chipped in 14 with 14 rebounds as the Kings won for only the second time in seven games, 112-102 over the Pistons. Stanley Johnson had 16 points off the bench for Detroit, which gave forward Blake Griffin the night off after he played 37 minutes the previous night.
NBA NEWS
LeBron still not ready to play
EL SEGUNDO, Calif. (AP) — The Lakers say LeBron James likely will miss at least three more games after being cleared Thursday to increase his on-court activity in his comeback from a groin injury.
The team says it will provide another update on Jan. 16, which likely means he will miss the Lakers' three upcoming games against Utah, Cleveland and Chicago.
The Lakers have gone 3-5 since James suffered the injury during a 127-101 rout of the Warriors at Golden State on Christmas Day.
T25 BASKETBALL-SCHEDULE
UNDATED (AP) — Michigan remains one of two Division One men's basketball teams with an unblemished record this season.
Zavier Simpson scored 16 points and the second-ranked Wolverines improved to 16-0 with a 79-69 victory at Illinois. Jon Teske had 13 points and 11 rebounds for Michigan, which jumped out to a 7-0 lead against the overmatched Illini.
Elsewhere in top-25 basketball:
— Josh Perkins had a team-high 14 points and fifth-ranked Gonzaga allowed just 15 points in the first half of a 67-36 rout of Pacific. Zach Norvell contributed 11 points and six rebounds to the Bulldogs' 15th victory in 17 games. The Zags hit a season-low for points but gave up the fewest points they've allowed all year.
— Notre Dame won a 1-2 matchup in women's basketball. Arike Ogunbowale (ah-REE'-kay oh-goon-bah-WAH'-lee) scored 30 points and top-ranked Notre Dame overcame 18 turnovers to beat No. 2 Louisville 82-68. Brianna Turner added 16 points and Jackie Young had 14 for the 15-1 Irish, who dropped the Cardinals to 14-1.
NHL…
UNDATED (AP) —  The Wild are 3-0 versus the Jets this season after Jason Zucker scored twice in a 3-2 victory at Minnesota. Jordan Greenway also scored and Devan Dubnyk made 26 saves as Minnesota pushed the Jets two points behind the Central Division-leading Predators.
The Washington Capitals have expanded their lead in the NHL's Metropolitan Division by defeating the Boston Bruins for the 14th consecutive time.
Nicklas Backstrom's third-period goal snapped a 2-2 tie and pushed the Capitals toward a 4-2 triumph at Boston. The Capitals squandered a pair of one-goal leads before Backstrom ripped a shot past Jaroslav Halak (YAH'-roh-slahv hah-LAHK') less than six minutes into the final stanza, about a minute after David Krejci (KRAY'-chee) tied the game.
Alex Ovechkin notched his league-leading 31st and 32nd goal for the Capitals, and TJ Oshie (OH'-shee) had two assists in Washington's third straight win.
Braden Holtby stopped 39 shots as the Caps stopped the Bruins' five-game winning streak.
Elsewhere on NHL ice:
— Brayden Point had a tiebreaking, power-play goal in the third period and added a late empty-netter to secure the Lightning's 3-1 triumph over the Hurricanes. Ondrej Palat (AHN'-dray pah-LAHT') also scored and Andrei Vasilevskiy (va-sih-LEHV'-skee) made 26 saves as the NHL leaders improved to 17-1-1 over their last 19 games.
— Melker Karlsson and Joonas Donskoi scored third-period goals 39 seconds apart to lift the Sharks over Vegas, 3-2. San Jose won its fifth straight, pulled within one point of the Western Conference lead and ended the Golden Knights' seven-game winning streak.
— Artemi Panarin (ahr-TEH'-mee pah-NAH'-rihn) scored his second goal of the night 1:22 into overtime to lift the Blue Jackets past the Predators, 4-3. Boone Jenner also tallied twice for Columbus, which led 3-1 in the third period until Viktor Arvidsson and Mattias (mah-TEE'-uhs) Ekholm scored 38 seconds apart to tie it.
— John Tavares notched his 300th NHL goal while scoring twice in the second period of the Maple Leafs' 4-2 win at New Jersey. Michael Hutchinson turned back 27 shots and blanked New Jersey after Blake Coleman and Brian Boyle scored 26 seconds apart to cut Toronto's lead to 3-2 late in the second period.
— The Rangers outshot the Islanders 17-1 in the third period, but Josh Bailey's goal with 1:26 remaining sent the Isles to a 4-3 win at Madison Square Garden. Mathew Barzal had a goal and two assists in the Isles' seventh win in eight games.
— Oskar Sundqvist had a goal and an assist to back rookie Jordan Binnington's 28-save performance in the Blues' 4-1 win over the Canadiens. Binnington improved to 2-0 after becoming the 35th goaltender in NHL history to record a shutout in his first career start on Monday at Philadelphia.
— The Flyers ended their eight-game losing streak as Carter Hart stopped 37 shots in a 2-1 verdict over the Stars. James van Riemsdyk (REEMZ'-dyk) set up Travis Konecny's (kah-NEHK'-neez) second-period goal and scored 7 1/2 minutes later to help Philadelphia win for the first time since Dec. 23.
— Connor McDavid scored twice in regulation and again in a shootout as the Oilers prevailed against the Panthers, 4-3. McDavid tied the game with eight seconds left in regulation before the Oilers won for the third time in five games since a six-game losing streak.
— The Coyotes skated away with a 4-3 win at Vancouver on Richard Panik's goal 4:10 into overtime. Panik also notched the game's first goal and Darcy Kuemper (KEHM'-pur) turned back 33 shots as Arizona won its second straight to begin its three-game trek through Western Canada.
— The Senators have their first road winning streak of the season after Chris Tierney scored twice and Bobby Ryan added a power-play goal in a 4-1 downing of the Kings. Anders Nilsson made 33 saves in helping Ottawa hand Los Angeles its fourth loss in five games.
NHL-BLUE JACKETS-BOBROVSKY
Bobrovsky benched for team incident
COLUMBUS, Ohio (AP) — Columbus Blue Jackets goaltender Sergei Bobrovsky (boh-BRAHV'-skee) missed Thursday's game against the Predators because of an unspecified team "incident."
General manager Jarmo Kekalainen says in a statement that "there are certain expectations and values that we have established for our players that define our culture. An incident occurred in which Sergei failed to meet those expectations and values."
The 30-year-old Bobrovsky is 18-13-1 in the final year of his contract and so far has declined to sign a long-term extension.
MLB-NEWS
Nats, Mets get infielders
UNDATED (AP) — The Washington Nationals and New York Mets worked out deals with veteran infielders on Thursday as they try to catch the Atlanta Braves in the NL East.
A person familiar with the negotiations tells The Associated Press that free-agent second baseman former Twin, Brian Dozier and the Nats have worked out a one-year, $9 million deal that's subject to a physical. Dozier hit a career-low .215 for the Dodgers and Twins last season, but he finished with 21 home runs and 72 RBIs. The 31-year-old Dozier is a lifetime .246 hitter with 172 homers and 511 RBIs in 1,002 big league games.
A person with knowledge of the contract says the Mets and Jed Lowrie have worked out a two-year, $20 million package, pending a physical. Lowrie made his first All-Star team last season and set career highs with 23 homers and 99 RBIs while batting .267 for Oakland. The 34-year-old Lowrie will likely play third and first for the Mets with Robinson Cano (kah-NOH') entrenched at second.
The Mets also agreed to a minor league pact with lefty reliever Luis Avilan, who was 2-1 with a 3.77 ERA in 70 games for the White Sox and Phillies in 2018.
In other baseball news:
— The Tigers have avoided arbitration with reliever Shane Greene by working out a one-year, $4 million contract with the right-hander. Greene went 4-6 with a 5.12 ERA and 32 saves last season.
— Oft-injured first baseman Greg Bird and the New York Yankees have agreed to a one-year, $1.2 million pact to avoid arbitration. The 26-year-old hit .214 with 11 homers and 31 RBIs in 311 plate appearances during an injury wrecked 2018 season
— Rockies right-handed reliever Scott Oberg has avoided arbitration by accepting a one-year, $1.3 million contract. The 28-year-old Oberg was 8-1 with a 2.45 ERA and 57 strikeouts over 58 2/3 innings in 2018.
— The Phillies have avoided arbitration with a pair of right-handed pitchers, giving one-year deals with former closer Hector Neris and starter Jerad Eickhoff.
— Free agent outfielder Jon Jay and the White Sox have finalized a one-year, $4 million, one-year contract. The 33-year-old Jay played for Kansas City and Arizona last season, batting .268 with three homers and 40 RBIs in 143 games.
— The Athletics and lefty reliever Ryan Buchter have agreed to a one-year, $1.4 million contract to avoid salary arbitration. Buchter was a key bullpen piece for AL Manager of the Year Bob Melvin last year, going 6-0 with a 2.75 ERA in 54 games and 39 1/3 innings.
— An arbitrator has denied a grievance filed by the Major League Baseball Players Association on behalf of right-handed pitcher Carter Stewart, who failed to sign with the Braves last summer and will be eligible for this year's amateur draft. The union claimed the Braves failed to make Stewart an offer of at least 40 percent of his slot value.
NFL-NEWS
Thomas Davis says he's done with Panthers
UNDATED (AP) — Thomas Davis says he's been informed by the Carolina Panthers he won't be back with them for a 15th NFL season.
The three-time Pro Bowl linebacker is the Panthers' all-time leading tackler. He overcame a torn ACL in his same knee three times to record 1,094 tackles, 28 sacks and 13 interceptions. Davis was an All-Pro in 2015, the year he went to his only Super Bowl.
However, Davis posted on Twitter late Wednesday night that the Panthers informed him they were moving in a different direction at linebacker.
In other NFL news:
— Jets tight end Chris Herndon has had his driver's license suspended and was ordered to pay a $639 fine after pleading guilty to driving while intoxicated in New Jersey. New Jersey State Police say the 22-year-old Herndon was driving his Nissan Armada in June when he crashed into a Toyota Land Cruiser that was towing a trailer carrying another vehicle.
COLLEGE FOOTBALL NEWS
AP source: Ohio State QB could transfer
UNDATED (AP) — Ohio State quarterback Tate Martell may be looking to transfer.
Martell has entered his name into the NCAA transfer portal, according to a person with access to the portal. The move makes other schools free to talk to him about a potential transfer.
Martell will be a third-year sophomore this year after sitting behind record-smashing quarterback Dwayne Haskins Jr. last season.
Also in college football:
— Clemson's national championship front four is off to the NFL after All-American defensive end Clelin Ferrell declared he's leaving school early. Ferrell joins All-American tackle Christian Wilkins, tackle Dexter Lawrence and end Austin Bryant in heading to the draft.
TENNIS-AUSTRALIAN OPEN
Murray says retirement could be near
MELBOURNE, Australia (AP) — A tearful Andy Murray says the Australian Open could be his last tournament because of a hip injury that has hampered him for almost two years.
The three-time Grand Slam champion says he plans to start his opening match against No. 22-ranked Roberto Bautista Agut at the Australian Open, where he has reached the final five times but never won the title.
Murray had right hip surgery in January 2018 and played only 12 matches in the year.
Roger Federer and Novak Djokovic (NOH'-vak JOH'-kuh-vich) are each aiming for a record seventh men's Australian Open title. The draw announced Thursday has ensured they can't play each other at Melbourne Park until the final.
Seven-time Australian Open champion Serena Williams could meet top-ranked Simona Halep (HA'-lehp) in the fourth round.
In world and national news…
WASHINGTON (AP) — About 800,000 federal workers, more than half of them still on the job, are set to miss their first paychecks under the partial government shutdown on Friday, the shutdown's record-tying 21st day. President Donald Trump is edging closer to declaring a national emergency to fund his long-promised U.S.-Mexico border wall, at the heart of the impasse with congressional Democrats. Some Republicans on Capitol Hill are increasingly uncomfortable with Trump's demands.
BAGHDAD (AP) — Russia's Foreign Ministry says the Americans are not serious about withdrawing from Syria. Ministry spokeswoman Maria Zakharova told reporters on Friday that it appears to Moscow that the U.S. "is looking for a reason to stay." Zakharova's remarks appeared shortly after an American official said that the U.S.-led military coalition has begun the process of withdrawing troops from Syria.
MADISON, Wis. (AP) — Investigators say a suspect is in custody after a missing Wisconsin teenager was found alive more than three months after she disappeared and her parents were found dead in their home. A woman walking her dog stumbled across the 13-year-old girl Thursday afternoon in the small town of Gordon. Neighbors say the girl was skinny and dirty but appeared outwardly OK. No details have been released about the suspect. Authorities say a news conference is planned Friday.WASHINGTON (AP) — Data provided to The Associated Press shows the U.S. approved thousands of requests by men to bring child and teenage brides from other countries. In one case a 49-year-old man applied for admission for a 15-year-old girl. The petitions are legal but raise questions on how the immigration system may enable forced marriage and how lax marriage laws within the U.S. contribute.
OGDEN, Utah (AP) — Many government employees are trying to make ends meet during the partial government shutdown. Rachael Weatherly, a senior adviser for FEMA, just applied for unemployment and is considering trying to get a job at a grocery store. In Massachusetts, a private group is making sure that local Coast Guard employees have food and clothing. In Falls Church, Virginia, one school district is holding a hiring fair for furloughed federal employees interested in working as substitute teachers.