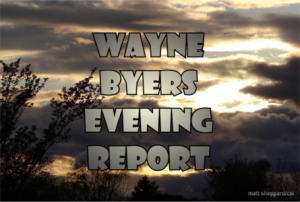 CSi Weather…
.TONIGHT…Cloudy. Periods of flurries through the night. Lows around 10. North winds around 10 mph.
.SATURDAY…Partly sunny. Highs 15 to 20. Northwest winds 5 to 10 mph.
.SATURDAY NIGHT…Mostly cloudy. Lows around 10. South winds 5 to 10 mph.
.SUNDAY…Mostly sunny. Highs in the upper 20s. Southwest winds
around 10 mph.
.SUNDAY NIGHT…Mostly clear. Lows 15 to 20.
.MONDAY…Mostly sunny. Highs in the upper 20s.
.MONDAY NIGHT…Partly cloudy. Lows 10 to 15.
.TUESDAY…Partly sunny. Highs in the lower 20s.
.TUESDAY NIGHT…Mostly cloudy. Lows near zero.
.WEDNESDAY…Mostly cloudy. Highs 10 to 15.
.WEDNESDAY NIGHT…Mostly cloudy. Lows near zero.
.THURSDAY…Mostly cloudy. Highs 10 to 15.
A gradual warming trend through the weekend. Upper ridge weakens as we go into the upcoming work week while low over Hudson Bay strengthens. A
variety of weak disturbances moving through northwesterly flow
will keep temperatures cooler, and will also bring low
precipitation chances to various locations later in the work week.
Jamestown  (CSi)  St James Basilica has a very special program coming on Monday Jan 14 at 7-p.m.,which will feature a few of the over 150 DOCUMENTED and VATICAN-APPROVED Eucharistic Miracles that have occurred over the centuries.
On Friday's Wayne Byers Show on CSi Cable 2, Deacon Tom Geffre said the public is invited, and is appropriate for people of any church believing in the Eucharist (Body and Blood of Jesus)…
He pointed out that the Vatican has approved and documented the Eucharist miracles that have occurred and are still occurring world-wide.
There are 152 Eucharist miracles that have been published and will be on display at a special program at St. James Basilica in Jamestown at 7 p.m. Monday, Jan. 14, at the community room.  The Chapel will be used for any overflow attendance.
The current exhibition includes 153 panels that are used to explain 152 Eucharistic miracles.
Tom added that Earl Markley, from Sioux Falls, South Dakota, has been given permission by his bishop to present this program in as many parishes as possible.
With an extensive assortment of photographs and historical descriptions, the exhibition presents some of the principal Eucharistic miracles that took place throughout the ages in various countries of the world.
In addition to the program presentation, through the panels and booklet pages, people can "virtually visit" the places where the miracles took place.
The exhibition has already visited more than 3,000 parishes in Italy, the U.S., Canada and in many other countries and has been translated into numerous languages.
A book containing all the miracles will be available for sale.
A freewill offering will be collected to defray the expenses of the presenters.
The program is open to the public.
Jamestown  (JRECenter.com) Women's Professional Workshop on Tuesday, March 5th at Reiland Fine Arts Center in Jamestown from 8:45-a.m., to 2:30-p.m.
The Jamestown Regional Entrepreneur Center and the North Dakota Women's Business Center are organizing the Women's Professional Workshop that will present events such as women in leadership, sexual harassment, becoming prepared to start a business, starting a food-based business, igniting your passion daily, and starting a non-profit organization.  The day is tailored to learning and networking!
The cost is $15 through February 8th and thereafter $25.
To register for this event, please visit www.JRECenter.com. For information, please contact Katherine Roth, Executive Director of the Jamestown Regional Entrepreneur Center, at Katherine.Roth@uj.edu and 253-4112.
Update
Jamestown  (JRMC)   — The new year is here and so is Jamestown's New Year, New You (NYNY) wellness challenge.
NYNY is an eight-week wellness challenge that encourages participants to develop positive lifestyle changes.
Each week, Jamestown Regional Medical Center has a NYNY point bank for participants to choose from. Each participant may select as many items within the point bank as he or she desires in an attempt to earn as many points as possible.
During week one, participants were challenged to take the NYNY pre-challenge survey. The five to 10-minute survey asks basic questions like: "How many fruits and vegetables do you consume?" and "How would you rank your quality of life?" Completing the survey earns five points per participant. NYNY participants are challenged to complete a post-challenge survey in March so JRMC can measure the challenge's success. The pre-challenge survey closes at midnight on Jan. 12.
New to NYNY this year are opportunities to earn points for trying signature NYNY healthy recipes, as well as workout video demonstrations and Better Me Bingo during the last four weeks.
NYNY participants are challenged to special workouts. Lose Your Lap (LYL) workouts are short, simple and easily included in a 15-minute break at the office or even in line while running errands. High-Intensity Interval Training (HIIT) workouts are more intense. However, the whole HIIT workout can be completed in less than 20 minutes.
To learn more about NYNY, visit www.jrmcnd.com/nyny. Check out the weekly team standings at www.jrmcnd.com/nyny/teams-standings/.
About Jamestown Regional Medical Center
Jamestown Regional Medical Center is located at 2422 20th St. SW, Jamestown, N.D. and serves approximately 55,000 people in nine counties. In 2018, it was named a "Top 100 Critical Access Hospital" as well as a "Best Places to Work in Healthcare."  For more information, visit www.jrmcnd.com or call (701) 952-1050.
STANLEY, N.D. (AP) — A manslaughter count against a Fargo man accused in the death of his girlfriend's 6-month-old son in Stanley has been upgraded to a murder charge.
Authorities allege 24-year-old Cody Faltersack was alone with the child last November when emergency crews responded to a report of an unresponsive child. The boy later died at a Minot hospital of brain trauma.
The Minot Daily News reports the murder charge carries a maximum punishment of life in prison without parole. Faltersack made his initial court appearance on the new charge Thursday and will enter a plea later.
BISMARCK, N.D. (AP) — North Dakota Gov. Doug Burgum has reappointed Nick Hacker to the state Board of Higher Education and named Timothy Mihalick to fill the remaining term of a board member who quit.Hacker, of Bismarck, will serve another four-year term. He has been on the board since 2015 and is currently vice chair of the group.Mihalick, of Minot, will fill out the term of Greg Stemen, who left the board in September. That terms ends on June 30.The board has eight voting members appointed by the governor, including one student, and two non-voting members who represent faculty and staff. The board oversees the system's 11 public colleges and universities.
MINOT, N.D. (AP) — Four lawsuits have been filed against the city of Minot over property buyout disputes for a flood protection project.
Minot Daily News reports that the project was prompted by a June 2011 Souris River flood that damaged or destroyed thousands of buildings in Minot. The flood caused an estimated $1 billion in damage in the region.
Two of the lawsuits allege government liability, interference in business, negligence, violation of due process and inverse condemnation, which is taking without compensation. The other two complaints were filed after failed purchase negotiations.
The city denies the allegations for both cases and asks the court for dismissal. It also requests the court to approve condemnation, granting the city ownership or an easement to financial interests of the owners.
BISMARCK, N.D. (AP) — North Dakota's House will consider legislation that would require abortion providers to inform women undergoing drug-induced abortions that it's possible they could still have a live birth if they change their mind, a claim abortion-rights groups say is unsupported by science.
It's the first time in six years the Republican-led Legislature has had the appetite to undertake such legislation, after several anti-abortion laws were struck down in the courts and two of the most vocal anti-abortion lawmakers were booted by voters.
GOP Rep. Daniel Johnston said he is sponsoring the bill this session so that "women having second thoughts" are ensured they have "options."
"This in no way restricts access to abortions," Johnston told The Associated Press Friday. "I don't see how anyone could be against it."
The so-called "abortion reversal" measure would require abortion practitioners to notify women undergoing medical abortions, in which two drugs are taken separately, that they may be able to discontinue the abortion if they don't take the second drug.
There is no medical evidence to support that claim that the procedure can be reversed, said Elizabeth Nash, state issues manager at the New York-based Guttmacher Institute, an abortion rights research organization.
"What this amounts to is essentially misinformation because the science isn't there," Nash said.
Planned Parenthood spokeswoman Jen Aulwes agreed that the science was flawed said there is no medically accepted evidence that a drug-induced abortion can be interrupted.
In world and national news…
EUGENE, Ore. (AP) — A suspect was shot Friday after an attack that occurred inside an Oregon middle school but did not injure any students or teachers, police said.Students were locked in classrooms and no one was being allowed into the building during the lockdown, Eugene police Lt. Jennifer Bills told reporters at Cascade Middle School in Eugene."No students were harmed whatsoever. All the students are safe," she said.Bills said the incident began with a dispute outside the school. It wasn't clear who was involved and no further details were released on the attacker.Police asked parents to stay away from the school during the investigation.

Bethel School District said in a statement posted on its website that students would be released at 3 p.m. local time through the school's side exits and should be picked up at nearby St. Mark's Catholic Church.

More than 20 years ago, then 15-year-old Kip Kinkel killed his parents before fatally shooting two students and wounding 26 others at Thurston High School in nearby Springfield.

The incident was among the first school attacks in recent decades to seize the national spotlight, and predated prominent incidents around the country that have spurred a broader focus on school violence. Kinkel remains in prison.
OGDEN, Utah (AP) — Federal workers received pay stubs Friday with only zeroes on them as the effects of the lingering government shutdown hit home, deepening anxieties about mortgage payments and unpaid bills. Fuming government employees posted pictures of the $0 pay stubs on Twitter along with comments revealing their frustrations with a shutdown that enters its 21st day Friday and will be the longest in history by this weekend.WASHINGTON (AP) — President Donald Trump says his visit to the U.S.-Mexico border supports what he sees as a crisis of drugs and crime. He tweets that "it is a far worse situation than almost anyone would understand, an invasion!" During a visit to the border this week, Trump was presented with statistics on border crossings and an array of drugs seized by agents. But the drugs were intercepted at official points of entry, not the areas where Trump wants to build a wall. There were no signs of invading hordes.BARRON, Wis. (AP) — Detectives are interviewing a 13-year-old Wisconsin girl who authorities say managed to escape from a cabin months after being abducted from her home. Barron County Sheriff Chris Fitzgerald said Friday that investigators don't think Jayme Closs had ever interacted with 21-year-old Jake Thomas Patterson before they say he killed her parents and kidnapped her in October. Authorities say Jayme escaped Thursday from a cabin near Gordon and they arrested Patterson on homicide and kidnapping charges.BAGHDAD (AP) — A U.S. defense official says no American troops have withdrawn yet from Syria, but some military cargo has been pulled out. The official said the movement of equipment is part of what the military calls the start of a deliberate withdrawal from Syria, where about 2,000 troops have been working with a coalition of Syrian Kurdish and Arab fighters to defeat the remnants of the Islamic State group.WASHINGTON (AP) — Some victims of forced marriage say lax U.S. marriage laws and the lure of a U.S. passport are partly fueling petitions from men to bring child and adolescent brides to the country. Data obtained by The Associated Press shows thousands of requests have been approved over the past decade. The approvals are legal because the Immigration and Nationality Act does not set minimum age requirements for the person making the request or for that person's spouse or fiancee.