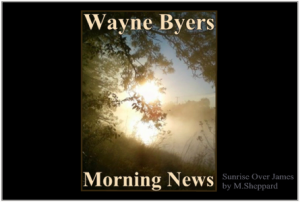 CSi Weather…
REST OF TODAY…Cloudy. Highs in the lower 20s. North winds 5 to 10 mph.
.TONIGHT…Mostly cloudy. Lows 10 to 15. South winds 5 to 10 mph.
.TUESDAY…Partly sunny. Highs in the mid 20s. West winds 10 to
15 mph shifting to the northwest 15 to 20 mph in the afternoon.
.TUESDAY NIGHT…Partly cloudy. Colder. Lows around 5 below.
North winds 5 to 15 mph.
.WEDNESDAY…Mostly sunny. Colder. Highs 5 to 10 above. East
winds around 5 mph.
.WEDNESDAY NIGHT…Mostly cloudy. Lows near zero.
.THURSDAY…Mostly cloudy. Highs 5 to 10 above.
.THURSDAY NIGHT…Mostly cloudy. Lows around 5 below.
.FRIDAY…Mostly cloudy. Highs near zero.
.FRIDAY NIGHT…Decreasing clouds. Lows around 15 below.
.SATURDAY…Mostly sunny. Highs near zero.
.SATURDAY NIGHT…Partly cloudy. Lows around 15 below.
.SUNDAY…Partly sunny. Highs around 10.
Dry, with cold air Tuesday, continuing through Wednesday. Increasing chances for light snow into portions of south central ND Thursday
through Friday,the leading edge of the Arctic high pressure.
Snowfall totals are around one inch through Friday.
Dangerous wind chills Thursday night/Friday morning, again Friday night/Saturday morning, and Saturday night/Sunday morning.
Wind chill advisory criteria likely then  along and east of the Missouri River during the above mentioned periods, as low as 35 below zero.
Frigid conditions Thursday night into Sunday. Looks dry Sat/Sun.
Very cold continues next week with the potential for a more active precipitation pattern.
Jamestown  (CSi)  St James Basilica has a very special program coming on Monday Jan 14 at 7-p.m.,which will feature a few of the over 150 DOCUMENTED and VATICAN-APPROVED Eucharistic Miracles that have occurred over the centuries.
On Friday's Wayne Byers Show on CSi Cable 2, Deacon Tom Geffre said the public is invited, and is appropriate for people of any church believing in the Eucharist (Body and Blood of Jesus)…
He pointed out that the Vatican has approved and documented the Eucharist miracles that have occurred and are still occurring world-wide.
There are 152 Eucharist miracles that have been published and will be on display at a special program at St. James Basilica in Jamestown at 7 p.m. Monday, Jan. 14 at the community room.  The Chapel will be used for any overflow attendance.
The current exhibition includes 153 panels that are used to explain 152 Eucharistic miracles.
Tom added that Earl Markley, from Sioux Falls, South Dakota, has been given permission by his bishop to present this program in as many parishes as possible.
With an extensive assortment of photographs and historical descriptions, the exhibition presents some of the principal Eucharistic miracles that took place throughout the ages in various countries of the world.
In addition to the program presentation, through the panels and booklet pages, people can "virtually visit" the places where the miracles took place.
The exhibition has already visited more than 3,000 parishes in Italy, the U.S., Canada and in many other countries and has been translated into numerous languages.
A book containing all the miracles will be available for sale.
A freewill offering will be collected to defray the expenses of the presenters.
The program is open to the public.
Jamestown  (JRECenter.com) Women's Professional Workshop on Tuesday, March 5th at Reiland Fine Arts Center in Jamestown from 8:45-a.m., to 2:30-p.m.
The Jamestown Regional Entrepreneur Center and the North Dakota Women's Business Center are organizing the Women's Professional Workshop that will present events such as women in leadership, sexual harassment, becoming prepared to start a business, starting a food-based business, igniting your passion daily, and starting a non-profit organization.  The day is tailored to learning and networking!
The cost is $15 through February 8th and thereafter $25.
To register for this event, please visit www.JRECenter.com. For information, please contact Katherine Roth, Executive Director of the Jamestown Regional Entrepreneur Center, at Katherine.Roth@uj.edu and 253-4112.
Jamestown  (JRMC)   The new year is here and so is Jamestown's New Year, New You (NYNY) wellness challenge.
NYNY is an eight-week wellness challenge that encourages participants to develop positive lifestyle changes.
Each week, Jamestown Regional Medical Center has a NYNY point bank for participants to choose from. Each participant may select as many items within the point bank as he or she desires in an attempt to earn as many points as possible.
During week one, participants were challenged to take the NYNY pre-challenge survey. The five to 10-minute survey asked basic questions like: "How many fruits and vegetables do you consume?" and "How would you rank your quality of life?" Completing the survey earns five points per participant. NYNY participants are challenged to complete a post-challenge survey in March so JRMC can measure the challenge's success. The pre-challenge survey has now closed
New to NYNY this year are opportunities to earn points for trying signature NYNY healthy recipes, as well as workout video demonstrations and Better Me Bingo during the last four weeks.
NYNY participants are challenged to special workouts. Lose Your Lap (LYL) workouts are short, simple and easily included in a 15-minute break at the office or even in line while running errands. High-Intensity Interval Training (HIIT) workouts are more intense. However, the whole HIIT workout can be completed in less than 20 minutes.
To learn more about NYNY, visit www.jrmcnd.com/nyny. Check out the weekly team standings at www.jrmcnd.com/nyny/teams-standings/.
STANLEY, N.D. (AP) — Sheriff's officials say two suspects are in custody in connection with a homicide in Mountrail County.Authorities say deputies went to a residence in Stanley after getting a 911 about a shooting Saturday about 8 p.m. They say 49-year-old Douglas Martin was found dead at his home. The two suspects were arrested at the scene.The Mountrail County Sheriff's Office is working with the North Dakota Bureau of Criminal Investigation on the case. No other details were released.
Jamestown  (CSi)  RSVP in Bismarck, North Dakota along with Bismarck/Mandan residents will serve as volunteers on the annual Martin Luther King Jr. Holiday. RSVP will be hosting a food drive in honor of Dr. King's dream of opportunity for all by way of the idea of beloved community.
For Dr. King, The Beloved Community was not a lofty utopian goal to be confused with the rapturous image of the Peaceable Kingdom, in which lions and lambs coexist in idyllic harmony. Rather, The Beloved Community was for him a realistic, achievable goal that  is  attained by a critical mass of people committed to and trained in the philosophy and methods of  working in harmony with each other.
The annual event honors Dr. King's legacy and is an opportunity for Americans to
renew their vows of civic responsibility through service to others and engage in conversations to advance community goals.
WHO: Scott Jordan Specialist with the RSVP Program Bismarck/Minot
             Mary Siverson, Coordinator with the RSVP Program Western North Dakota
WHAT: MLK Food Drive, Non-Perishable Food Drive Items can be dropped off at the two Bismarck Papa Murphy locations and the YMCA.
WHERE: Papa Murphy's 1427 Mapleton Avenue, Bismarck, ND 58503
Papa Murphy's 625 South Washington Street, Bismarck, ND 58504
YMCA East entrance at Washington and Divide Ave, Bismarck, ND 58501
WHEN: Monday, January 14-21, 2019
BISMARCK, N.D. (AP) — A Bismarck man is accused of leading state troopers on a high-speed chase in a stolen car.The North Dakota Highway Patrol says a trooper responded to a report of a reckless driver on Interstate 94 Saturday and attempted to pull him over. That's when the driver took off at a high rate of speed.The patrol says the vehicle went through the median and drove eastbound in the westbound lanes of the interstate through McKenzie. The vehicle eventually got stuck after the driver drove into a field. The 39-year-old man tried to flee on foot before he was arrested and taken to the Burleigh County Detention Center.
BISMARCK, N.D. (AP) — A North Dakota institution for people with disabilities is formulating a new strategy to reduce admissions.
Life Skills and Transition Center administrators in Grafton have included additional funds in the center's proposed 2019-21 budgets to create a statewide team, The Bismarck Tribune reported . The group is called the Clinical Assistance, Resources and Evaluation. CARES, a program that has existed since 1995, would work with community providers to help keep people with development disabilities in their homes.
The request to expand CARES would total about $970,000 and include 7.5 full-time positions. The full-time jobs would likely be placed at the eight regional human service centers across the state, according to the Department of Human Resources.
"I definitely think anytime we can put resources into communities to help with crisis intervention, it's a positive thing," said Pam Mack, director of North Dakota Protection and Advocacy.
North Dakota Gov. Doug Burgum included funding for the CARES team expansion and additional funding for the institution in his budget proposal.
BISMARCK, N.D. (AP) — Six years after the North Dakota Legislature pledged $12 million to help develop a Theodore Roosevelt presidential library that never materialized, lawmakers are being asked for more than four times that amount for a revamped project.
The success of Gov. Doug Burgum's proposal to meld public and private money into a $150 million funding package might well rest on which side is willing to pony up first. The foundation behind the library effort wants the state money to jump-start private fundraising, but some lawmakers would like to see some private donor commitments before dedicating any public money — leading to "chicken or the egg" discussions at the Capitol.
"It does take a leap of faith from both sides," said Rep. Mike Nathe, a member of the House Appropriations Committee.
Burgum has proposed pledging $50 million in interest money from an oil tax-funded reserve account known as the Legacy Fund for the library that the private foundation is trying to develop in western North Dakota's rugged badlands, an area in which Roosevelt ranched and hunted and which he said prepared him to be the nation's 26th president. His four years on a ranch when he was in his 20s ingrained in him the value of hard work, deepened his love for nature and made him a champion of wildlife conservation.
BISMARCK, N.D. (AP) — Guns, blue laws and Bibles in public schools: North Dakota lawmakers are considering some weighty issues as the legislative session enters its second full week. A look at what's expected:
Monday is the deadline for House members to introduce bills. And after that, senators are limited to three new bills.
BISMARCK, N.D. (AP) — A North Dakota sets oil production records, a local oil group is offering experienced oil workers a chance to advance their careers with the hope of increasing employee retention.
The North Dakota Petroleum Council has hired a company to offer training for workers who have around two years of experience and are emerging leaders and managers, The Bismarck Tribune reported . Envision Group International held one training session in November and plans to hold six more events this year.
The oil and gas industry advocacy group knows that preparing employees for management roles is key to retention, said Kari Cutting, the vice president of the Petroleum Council.
"They recognized they were having problems hiring and retaining employees and the challenges new leaders are having," said Scott Donald, a partner with Envision Group.
Envision Group Founder Pat Lipovski said employees who are good at their jobs and selected for managerial positions don't necessarily have the skills needed to oversee groups.
In sports…
See local and regional sports score and recaps from the weekend, on line at CSiNewsNow.com
College Basketball…
VALLEY CITY (VCSU) – Two Vikings reached career milestones, and the Valley City State women's basketball team won a huge conference matchup with Bellevue University on Sunday afternoon.
In a battle of one-loss teams in the North Star Athletic Association, Valley City State broke the game wide open in the fourth quarter, putting together a game-changing 13-1 run en route to a 67-54 victory.
Valley City State moves to 7-9 overall and is now 4-1 in the North Star Athletic Association. VCSU is tied with Mayville State atop the NSAA standings. Bellevue, ranked No. 24 in the NAIA, drops to 12-8 overall and 3-2 in the NSAA. The Vikings swept their weekend with a win against Dakota State as well on Friday. The Bruins went 0-2 on their weekend road trip, also suffering a loss at Mayville State on Friday.
Viking senior Kaitlin Connor became the new career blocks at VCSU with her 97th career block at the end of the first quarter on Sunday. She surpassed the old record of 96 held by Loni Hall. Senior forward Alli Vandal reached a milestone by scoring her 1,000th career point in the game, becoming the 16th member of the 1,000 point club at VCSU.
Vandal scored her 1,000th career point early in the fourth quarter when she was fouled on a 3-point attempt and sank all three free throws for a 52-39 lead. It was part of a 13-1 run that broke the game wide open for VCSU. Huber followed with a 3-point play inside, Connor hit a 12-foot jumper, and Alexis Bentz drained a 3-pointer to put the Vikings ahead 60-40 with 3:45 remaining.
Mackenzie Huber scored eight first-quarter points for the Vikings, keeping VCSU close as they ended the first quarter trailing 11-10. Huber scored again early in the second quarter, putting VCSU ahead 12-11 and sparking an 11-1 Viking run that put them up 21-12 midway through the second period. The Vikings led the rest of the way, thanks to a strong defensive effort up and down the lineup.
"The biggest takeaway from this game was our defensive effort," said head coach Vanessa Keeler-Johnson. "I thought we showed great toughness and togetherness on that end of the floor. Offensively, we carried our momentum from Friday and had a similar mindset to attack and be aggressive."
After taking a 24-17 lead into the locker room, the Vikings maintained their lead early in the third quarter, opening up a 30-21 advantage on Huber's two free throws with 7:09 left in the third. Back-to-back turnovers by the Vikings led to a quick 5-0 Bellevue run, including a 3-pointer by Morgan Cuffe, that cut the Viking lead to 30-26.
Valley City State responded with five of their own, capped by Dierra Diegel's right-wing 3-pointer to put VCSU ahead 35-26. Bellevue again cut the Viking lead to five points, but back-to-back 3's by Hannah Schlecht and Emily Schafer gave VCSU it's biggest lead of the third quarter at 41-30. Schafer would add two 15-foot jumpers late in the quarter – scoring VCSU's last seven points – as the Vikings held a 45-36 advantage entering the fourth.
Huber continued to make an early case for conference player of the year as she posted her third straight double-double, leading the Vikings with 19 points and 10 rebounds. Vandal added 10 points and five rebounds. Dierra Diegel knocked down two 3-pointers as she finished with 10 points and eight rebounds. Schelcht and Schafer each added seven points.
VCSU shot 44 percent overall (22-50), 28 percent on 3's (5-18) and 82 percent at the free throw line (18-22). Bellevue finished the game shooting 31 percent overall (18-58), 30 percent on 3's (9-30) and 64 percent on free throws (9-14).
Faith Ross led the Bruins with 15 points, including four 3-pointers. Morgan Cuffe added 11 points, while Shanae Collins scored nine.
The Vikings held a 35-28 rebounding advantage. VCSU finished with 13 assists and 22 turnovers. The Bruins had eight assists and 17 turnovers.
Up next: Valley City State goes on the road for games at Dickinson State on Friday and Presentation College on Saturday. Bellevue returns home for games against Viterbo on Friday and Waldorf on Saturday.
Men…
VALLEY CITY (VCSU) – Bellevue guard Richard Reed drove the length of the court in 3.7 seconds Sunday as he scored the game-winning basket at the buzzer to stun Valley City State University.
Viking sophomore Logan Nelson had just drained a game-tying 3-pointer from the right wing, sending the Viking crowd into a frenzy and evening the score at 65-65. Out of a timeout, Reed took the inbounds pass and sprinted the length of the court, scoring a full-speed layup from the right block as time expired.
Valley City State University drops to 4-12 overall and 1-4 in the NSAA. The Vikings lost their two conference games this weekend by a combined four points. Bellevue improves to 10-11 overall and 4-1 in the NSAA. The Bruins are currently tied with Presentation College atop the NSAA standings.
A back-and-forth first half on Sunday featured four ties and eight lead changes. Bellevue led by as many as eight points midway through the half before VCSU battled back. The Vikings scored the last five points of the half – including a 3-pointer by Christian Kvilvang with 3 seconds remaining – to take a 30-27 lead into the locker room. Both teams made five 3-pointers in the first half.
Bellevue's Sequan Walker and VCSU's Logan Nelson went shot-for-shot early in the second half as both teams came out firing. Walker and Nelson scored seven points each in the first three minutes, after which the Vikings maintained their lead at 40-36.
Bellevue used a 12-4 run midway through the second half to take its biggest lead of the game. Richard Reed's 3-pointer with 9:07 to go made it 56-48 in favor of the Bruins. The Vikings did not fold though, battling back down the stretch. A 3-point play by Michael Cornelious inside cut the deficit to 59-55 with 5:39 to go. Nelson drained a 3-pointer with 2:09 remaining to pull VCSU within 61-60. Bellevue's Jaron Dickson answered on the other end, but Nelson responded with a jumper to make it 63-62 in favor of Bellevue.
VCSU's defense prevented Bellevue from scoring on the next possession, giving the Vikings a chance at the lead in the final minute. Bellevue's defense answered by blocking Morgan's shot attempt out of bounds and forcing the Vikings into a long 3-point attempt as the shot clock expired. Walker went to the line on the other end and sank two free throws with 16 seconds remaining to go ahead 65-62. Out of a timeout, Nelson received the ball on the right wing, dribbled and a drained a pull-up 3 to tie the game at 65-65 with 3.7 seconds left. Overtime was not in the cards though as Reed delivered the game-winner for Bellevue.
Nelson made four 3-pointers and finished with 22 points to lead the Viking offense, including 17 points in the second half. Nelson scored VCSU's final eight points, and he and Cornelious combined to score the final 13 for the Vikings. Cornelious finished with 12 points, five rebounds and three assists. Jake Skelly made three 3-pointers as he finished with nine points and four assists. Chris Morgan added nine points and three assists in the middle.
Walker led the Bruins with 15 points, including 12 in the second half. Reed added 11 points and three steals. Stephen Matthews and Justin Bessard each scored nine for the Bruins.
VCSU shot 50 percent overall (25-50), 45 percent from 3-point range (10-22) and 71 percent at the line (5-7). Bellevue finished at 48 percent overall (24-50), 50 percent on 3's (12-24) and 64 percent on free throws (7-11).
Bellevue held a slight 25-23 rebounding advantage, including a 6-3 edge in offensive rebounds. The Vikings finished with 12 assists and 11 turnovers. Bellevue totaled seven assists and eight turnovers.
Up next: Valley City State goes on the road for games at Dickinson State on Friday and Presentation College on Saturday. Bellevue returns home for games against Viterbo on Friday and Waldorf on Saturday.
2019 Boys Barnes County Tournament
Final Results
Played at Valley City State University.
Saturday, Jan. 12
7th place: Sargent Central 44, FSHP 42
5th place: Barnes County North 47, Maple Valley 43
3rd place: Griggs County Central 61, Milnor/North Sargent 58
Championship: LaMoure/Litchville-Marion 66, Enderlin 42
Tournament Awards
Free Throw Champion
Carson Hovelson, Maple Valley (22-25, 8-10 in tie-breaker)
Sportsmanship Award
Griggs County Central
All-Tournament Team
Jacob Johnson, Maple Valley
Isaac Smith, Griggs County Central
Ben Waswick, Milnor/North Sargent
Tristin Roaldson, Barnes County North
Gus Hurlburt, Enderlin
Shay Ness, LaMoure/Litchville-Marion
Chance Bye, Enderlin
*Tanner Haugen, Griggs County Central
*Joe Hurlburt, Enderlin
*Jamison Kramer, LaMoure/Litchville-Marion
*denotes a unanimous selection
(Information from Mark Potts, VCSU)
NFL PLAYOFFS-DIVISIONAL PLAYOFFSPatriots, Saints advance to conference title gamesUNDATED (AP) — The NFL conference championships are set following victories by the New England Patriots and New Orleans Saints. The Pats will be making their eighth consecutive appearance in the AFC title game when they visit the Chiefs in Kansas City next Sunday. The Saints are back in the NFC title game following a 10-year absence and will host the Los Angeles Rams next Sunday.The Patriots shredded the Chargers' defense while building a 35-7 lead by halftime of a 41-28 win at Foxborough. Sony Michel ran for 129 yards and three touchdowns for the Pats, who are in the AFC Championship Game for the 13th time during the Tom Brady-Bill Belichick era. Brady finished 34 of 44 for 343 yards and a TD while improving to 8-0 as a starter against Philip Rivers.James White tied Darren Sproles' NFL postseason record with 15 catches, totaling 97 yards. Julian Edelman contributed nine receptions for 151 yards as the Pats prevented the Chargers from reaching the AFC title game for the first time since the 2007 season.Rivers finished 25 of 51 for 331 yards, three touchdowns and an interception. He is 0-5 in games played in Foxborough, including 0-3 in the postseason.In New Orleans, the Saints spotted the Eagles a 14-0 lead before defeating the defending Super Bowl champions, 20-14. Drew Brees took the Saints on scoring drives of 92, 79 and 67 yards after falling behind by two touchdowns.

Brees was 28 of 38 for 301 yards, two TDs and one interception. His two-yard scoring strike to Michael Thomas put New Orleans ahead, 17-14 with 1:40 left in the third quarter. Thomas had 12 receptions for 171 yards in helping the Saints reach the conference title game.

Eagles quarterback Nick Foles threw for a touchdown and ran for another in the first quarter, but his first interception sparked the Saints' comeback. Foles had 201 yards passing and two picks for Philadelphia, which controlled the ball for just over 22 minutes.

NFL-NEWS

Ex-Dolphins guard Kuechenberg dies

UNDATED (AP) — Miami Dolphins guard and six-time Pro Bowl selection Bob Kuechenberg has died at age 71, according to the team.

Kuechenberg spent his entire NFL career with the Dolphins from 1970 to 1983. He started every game for the team that went 17-0 in 1972, and started 16 games for the team that repeated as Super Bowl champions in 1973.

The Gary, Indiana, native played at Notre Dame and was drafted by the Eagles in 1969 without playing for the team. He signed with the Dolphins as a free agent in 1970.

In other NFL news:

— Sarah Thomas became the first woman to work an NFL playoff game as an on-field official, serving as the down judge in Sunday's divisional round game between the Patriots and Chargers. Thomas was hired in 2015 and was already the league's first female full-time official.

— The league says Big Boi and Travis Scott will join Maroon 5 in this year's Super Bowl halftime show.

MLB-A'S-MURRAY

A's in hot pursuit of Heisman-winning outfielder

OAKLAND, Calif. (AP) — Representatives of the Oakland Athletics and Major League Baseball met Sunday with Heisman Trophy winner Kyler Murray, according to a person with direct knowledge of the session.

The meeting came a day before the Oklahoma quarterback's deadline to enter the NFL draft. Oakland executives remained confident as recently as the baseball winter meetings last month in Las Vegas that Murray would report to spring training this year and pursue baseball.

COLLEGE FOOTBALL-ALABAMA-THOMPSON

Alabama loses Thompson to NFL draft

TUSCALOOSA, Ala. (AP) — All-America safety Deionte Thompson has joined a growing crowd of Alabama players leaving early for the NFL draft.

Thompson announced his decision Sunday on Twitter. He's the sixth Crimson Tide underclassman to leave early.

Thompson was a consensus All-American in his first season as the starter. He made 79 tackles and had two interceptions and four forced fumbles.

NBA…

UNDATED (AP) — The Toronto Raptors still lead the NBA's overall standings by 1 ½ games over Milwaukee following victories by both teams on Sunday.

The Raptors blew a 23-point lead before Serge Ibaka (ih-BAH'-kah) nailed a 3-pointer with 15 seconds left in double-overtime to lift Toronto past the Wizards, 140-138. Kawhi (kah-WY') Leonard delivered 41 points and 11 rebounds for the Raptors, who led 51-28 late in the second quarter and 96-79 with 57 seconds to play in the third. Leonard had 13 straight Toronto points in the fourth quarter and overtime.

The Raptors' fifth straight win gives them a 4 ½-game lead over Philadelphia in the Atlantic Division.

Wizards guard Bradley Beal had his second triple-double of the season, collecting season highs of 43 points and 15 rebounds along with 10 assists.

Giannis Antetokounmpo (YAH'-nihs an-teh-toh-KOON'-poh) returned from a one-game absence to score 33 points in the Bucks' 133-114 rout of the Hawks. Antetokounmpo was sidelined due to injury while Milwaukee dropped a 113-106 decision at Washington on Friday.

Eric Bledsoe added 24 points and 10 assists to help coach Mike Budenholzer get a victory in first game back in Atlanta.

The Bucks lead the Central Division by two games over Indiana.

Checking out the rest of Sunday's completed NBA action:

— Nikola Jokic (YOH'-kihch) poured in a season-high 40 points and Jamal Murray fought through a bloody lip to add 24 in the Nuggets' 12th straight home win, 116-113 over the Trail Blazers. Damian Lillard led Portland with 26 points and CJ McCollum had 18 for Portland, but Denver was able to keep its half-game lead over Golden State atop the Western Conference.

— The Warriors were 119-114 winners over the Mavericks behind Stephen Curry, who nailed 11 3-pointers and poured in 48 points. Kevin Durant added 28 points for the Warriors, and Klay Thompson had nine of his 16 in the fourth quarter of Golden State's fourth consecutive win.

— Nikola Vucevic and Aaron Gordon each scored 22 points as the Magic handed the Rockets just their fourth loss in 17 games, 116-109. James Harden scored 38 points to push his run of 30-point games to 16, but the Houston guard was just 1 for 17 on 3-pointers.

— Ben Simmons fell an assist short of a triple-double and the 76ers built a 24-point lead in the second quarter before holding off the Knicks, 108-105. Simmons finished with 20 points and 22 rebounds, while Joel Embiid (joh-EHL' ehm-BEED') contributed 26 points as Philadelphia stopped a two-game skid.

— The Cavaliers' 12-game losing streak is over after Cedi Osman scored 20 points and Collin Sexton added 17 in a 101-95 victory over the Lakers in Los Angeles. Tristan Thompson had 15 points and 14 rebounds for Cleveland, which dropped the Lakers to 3-7 since LeBron James suffered a groin strain.

T25 MEN'S BASKETBALL…

Wolverines, Spartans win

UNDATED (AP) — Second-ranked Michigan kept its perfect season intact, while arch-rival and No. 6 Michigan State ran its winning streak to 10 games.

The Wolverines are 17-0 for the first time in school history after Jon Teske scored all 17 of his points in the first half of an 80-60 romp over Northwestern. Zavier Simpson scored a career-high 24 points for the Wolverines, who had opened 16-0 during the 1985-86 and 2012-13 seasons.

Michigan also matched the longest winning streak in team history.

The Spartans beat Penn State for the 10th straight time as Nick Ward provided 16 points and 11 rebounds in a 71-56 victory at University Park. Matt McQuaid added 15 points and Cassius Winston chipped in 11 as the Spartans improved to 15-2 overall and 6-0 in the Big Ten.

Michigan State trailed for just 10 seconds and led by as many as 21 with 6:44 remaining.

NBA NEWS

Grizzlies' Kyle Anderson to miss at least 2-4 weeks

UNDATED (AP) — Memphis Grizzlies forward Kyle Anderson will miss at least two to four weeks with a Grade 2 sprain of his left ankle.

Anderson hurt his ankle Saturday in a 112-108 loss at Miami.

The 6-foot-9 forward is averaging 7.9 points, 5.8 rebounds, 3.0 assists and 29.7 minutes.

NHL…

Isles cool off Lightning

UNDATED (AP) — The New York Islanders bounced back from a frustrating loss to the crosstown Rangers by whipping the NHL's No. 1 team.

The Isles' fourth line led the scoring parade as Casey Cizikas (sih-ZEE'-kuhs), Cal Clutterbuck and Matt Martin each collected two points in a 5-1 rout of the Lightning. Cizikas and Clutterbuck each had a goal and an assist, while Martin set up two tallies in New York's 11th victory in 14 games. Brock Nelson, rookie Devon Toews and Josh Bailey to support Thomas Greiss (grys), who made 32 of his 38 saves over the final two periods.

Ryan McDonagh had a late second-period goal for the Lightning, who lost in regulation for just the second time in 21 games.

Elsewhere on NHL ice:

— Mark Giordano and Matthew Tkachuk (kah-CHUHK') each scored twice and Giordano also had an assist as the Flames clobbered the Coyotes, 7-1 to take a four-point lead in the Western Conference. Giordano and Sean Monahan scored 68 seconds apart late in the first period to jumpstart the Flames in their fifth straight win.

— Nick Foligno (foh-LEE'-noh) scored twice and Sergei Bobrovsky (boh-BRAHF'-skee) returned from a team suspension to stop 22 shots in the Blue Jackets' 7-5 win over the Rangers. Cam Atkinson and Artemi Panarin (ahr-TEH'-mee pah-NAH'-rihn) each had a goal and an assist as Columbus won for the fourth time in five games to climb within two points of the Metropolitan Division-leading Capitals.

— Sebastian Aho (AH'-hoh) scored three times and had an assist as the Hurricanes doubled up the Predators, 6-3. Aho scored twice in Friday's win against the Sabres before registering his second career hat trick to lead Carolina to its seventh victory in eight games.

— The Jets moved two points ahead of Nashville for the Central Division lead by beating the struggling Ducks, 4-3 on Bryan Little's goal at 4:49 of overtime. Blake Wheeler, Patrik Laine (LY'-may) and Ben Chiarot (CHEHR'-aht) also scored, and Connor Hellebuyck (HEH'-leh-buhhk) made 28 saves as Winnipeg earned its fourth straight win and sent Anaheim to its team-record 11th consecutive loss.

PGA-SONY OPEN

Kuchar blows lead, wins anyway

HONOLULU (AP) — Matt Kuchar (KOO'-chur) blew a two-stroke lead with three early bogeys before closing with a 4-under 66 to win the PGA's Sony Open by four strokes over Andrew Punam. The two were tied with five holes remaining before Putnam bogeyed 14 and Kuchar followed with two straight birdies for a 22-under total in his second victory of the season.

Putnam closed with a 68 and moved into the top 50 for the first time in his career.
MELBOURNE, Australia (AP) —  Two-time Wimbledon champion Petra Kvitova was shunted from a show court to a side court at Melbourne Park late in the day but it didn't matter where she was — the Czech player beat Magdalena Rybarikova 6-3, 6-2 in 67 minutes.
The eighth-seeded Kvitova was scheduled to play Rybarikova as the last match at Melbourne Arena, the third show court at the Australian Open. But when Andy Murray's match against Roberto Bautisa Agut was extended to a fifth set, officials decided to move the women's singles match.
Good thing, as Bautista Agut's win over Murray lasted 4 hours, nine minutes.
Defending champion Roger Federer began his quest for a record seventh Australian Open title with a 6-3, 6-4, 6-4 win over Denis Istomin.
Playing before a capacity crowd of more than 15,000 at Rod Laver Arena, Federer broke Istomin's serve at 2-2 in the third set on the way to his seventh win in a row without a loss against the Uzbekistan player.
In world and national news…
WASHINGTON (AP) — Republican South Carolina Sen. Lindsey Graham is encouraging President Donald Trump to reopen the government for several weeks to continue negotiating with Democrats over the U.S.-Mexico border wall Trump wants to build. Graham says if there's no deal at the end of that time Trump would be free to declare a national emergency to build the wall. Democrats oppose a wall and say Trump should reopen departments closed during the partial government shutdown, which is on its 24th day Monday.
RICHMOND, Va. (AP) — Record snow has fallen in parts of central Illinois in the weekend storm. Springfield's State Journal-Register reports the state capital broke a 55-year record for daily snowfall on Saturday, leaving 8.4 inches of snow. The previous record was 6.6 inches in 1964. And in North Carolina, Gov. Roy Cooper has declared a state of emergency he says will help utility crews restore electricity more quickly to the state's western Piedmont, foothills and mountains following the winter storm.
OAKLAND, Calif. (AP) — Additional employers in 13 states and Washington, D.C. won't, at least for now, be able to opt out of providing no-cost contraceptive coverage to women by claiming religious objections. A federal judge in California has issued a preliminary injunction of Trump administration rules from taking effect Monday. California, 12 other states and Washington, D.C. sought to prevent the rules from taking effect as scheduled while a lawsuit moves forward.
JAKARTA, Indonesia (AP) — Navy divers have recovered the cockpit voice recorder of a Lion Air jet that crashed into the Java Sea in October, in a possible boost to the investigation into why the 2-month-old plane nosedived at high velocity, killing all 189 people on board. A deputy maritime minister says remains of some of the people who died in the crash were also discovered at the seabed location.
WASHINGTON (AP) — The Turkish president's spokesman has sharply responded to President Donald Trump's warning that if Turkey attacks U.S.-backed Kurdish forces in Syria, the United States will "devastate Turkey economically." Turkish President Recep Tayyip Erdogan's spokesman Ibrahim Kalin responded to Trump on Twitter by saying "Terrorists can't be your partners & allies" and insisting Turkey "fights against terrorists, not Kurds" as a people. Turkey views the U.S.-backed Syrian Kurdish forces as terrorists.