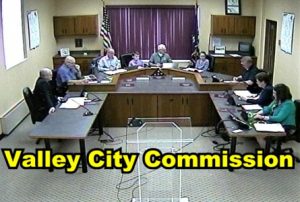 Valley City   (CSi)  The Valley City Commission met in Regular Session, Tuesday evening at City Hall.
All members were present.
Main Street Initiative Proclamation was made by Mayor Carlsrud.
The proclamation indicates Valley City's support of increasing community programming, and joins the North Dakota Main Street program.
APPROVAL OF CONSENT AGENDA ITEMS INCLUDED:
A Raffle Permit for Barnes County Ducks Unlimited
PUBLIC COMMENTS  …No one spoke
RESOLUTION
Approved was a Resolution Approving Engineers Report & Directing Preparation of Detailed Plans, Specifications & Estimates of Probable Construction Cost for Paving Improvement District No. 119 Northwest storm sewer project, and water main and reconstruction of the street.
KLJ said the project cost is $2.5 million.
City Commissioners then approved a Resolution Declaring the Necessity for Paving Improvement District No. 119.  A 30 day protest period is being set up, along with a public meeting.
NEW BUSINESS
The City Commission accepted Project No. SU-2-990(056)060, 7th St SE Mill & Overlay (Paving Improvement District No. 114) ), closing out the project near the Winter Show building.
Also approved was accepting the 3rd Ave SE Reconstruction (Paving Improvement District No. 115, including the street lighting project.)
City Commissioners approved increasing Public Works AMI meter Opt-Out Fee, currently charging those property owners $5 per month to manually read the meter.  The proposed charge was an increase to $20 per month to cover expenses to the city.
Also approved was a change in policy allow access to inside electric and water meters, or be turned off until access is gained.
CITY ADMINISTRATOR'S REPORT:
David Schelkoph said a property tax "pie chart," shows how the property taxes collected are divided among entities.  It's available on the city's web site.
He outlined upcoming 2019 projects, which include StreetScape One, Phase 3 of the permanent flood control project, along with the 7th Avenue Northwest utility and street project.  Other mill and over lay projects as well.
He said Mayor Carlsrud attended a legislative hearing on Tuesday, in support of the Prairie Dog Bill that sets aside significant dollars annually to non-oil producing counties, ear-marked for infrastructure, including airport improvements.
The meeting was shown live on CSi Cable 68 followed by replays.