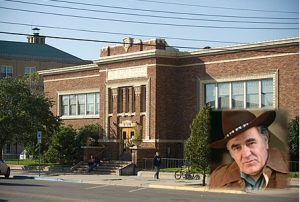 Jamestown  (CSi)  Jamestown Tourism is working with the James River Valley Library System, as the Alfred Dickey Public Library prepares for the Centennial Initiative later this month.
On Tuesday's Wayne Byers Show on CSi Cable 2, Jamestown Tourism Visitor Experience Manger, Allison Limke said Tourism is working the library with the Louis L'Amour Exhibit detailing his life, including is young years in Jamestown with a kiosk, and shadow box display, along with a room featuring photos, posters and other memorabilia.
She added that the display will be part of the Alfred Dickey Public Library's tour on Wednesday February 20, at 6-p.m.
Ahead of that, a ribbon cutting at the library is set for February 19, at 10-a.m.
She said the Louis L'Amour Walking Trail, is being renamed the Louis L'Amour Walking Tour to include visits to Jamestown locations where L'Amour spent his childhood, including going to school at Franklin Elementary School, now the CSi Technology Center at Historic Franklin School in Downtown Jamestown.
Allison pointed out that a room that has named in honor of L'Amour's  sister,  Edna, will be opened in the future at the library.
Also on our show, Allison talked about the remodeling at the National Buffalo Museum, and the Stutsman County Museum's program, "Murder Mysteries."
She said plans are being made to transform the basement of the 1883 Stutsman County Courthouse into an Escape Room, with scripted mysteries involving the public solving "crimes."