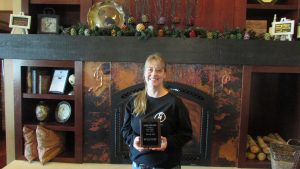 Jamestown  (CSi)  Dani Paul of Sabir's Buffalo Grill received the Feb Customer Service Award for her outstanding service.  The award was presented by Jamestown Chamber Ambassador Committee and the Young Professionals.
The chamber honors individuals who demonstrate a consistent commitment to delivering products or services that satisfy customers by exceeding their requirements or expectations.
Dani's letter of nomination stated, "I receive great customer service from Dani every time I go to Buffalo City Grille, but Friday's service stuck out to me.  It had been awhile since I had been in but she remembered me right away and knew I liked Diet Coke and asked if I wanted a Diet Coke right away. She is a great server and usually by herself. She handles the tables with ease, never seems flustered, always brings refills and your bill in a timely manner. I never have to ask for anything because she is always on the ball. It is hard to find great service and Dani never disappoints! I would love Dani to receive this award because she deserves the recognition for the great job she does every single day."
Congratulations to Dani, who along with all the other monthly winners, will be recognized at the Chamber's annual banquet in January 2020.  Customer Service Award nomination forms are available at the Chamber office and on their website at www.jamestownchamber.com or call 701-252-4830.