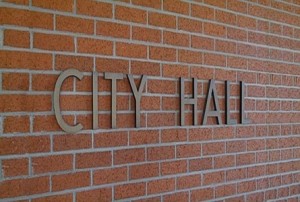 Jamestown  (CSi)  The Jamestown City Council's Police & Fire Committee and  Public Works Committee met Thursday evening at City Hall.
All members were present.
POLICE & FIRE COMMITTEE
No agenda items at this time.
PUBLIC WORKS COMMITTEE
The committee recommends approving the 2019 Jamestown Standard Specifications as prepared by the City Engineer.
Travis Dillman with Interstate Engineering said all items are covered for infrastructure  improvements, which have been updated, and sent to contractors.
INFORMATIONAL: The Department of Health requirement for the City of Jamestown to develop an Industrial Wastewater Pre-treatment Program was explained.
Marty Haroldson, NPPDES Program Administrator, ND Department of Health gave a presentation outlining the program.  He said the Clean Water Act came into being in 1972 and updated in 1977.
He said the program can be expanded, need be, for protection of the city's assets, with several industrial users waste water entering the system.  He added a "fats, oil and grease," pretreatment helps pretreat the waste water before it enters the waste water treatment plant.  He outlined city requirements under the pre-treatment program.
The compliance time line is conjunction with the City permit expiration in 2021, or before, and the pretreatment costs paid by the user. The Health Department will monitor compliance with the city the permitting authority.
No action was taken by the committee.
INFORMATIONAL: A public hearing concerning Seal Coat, Patching, Construction & Reconstruction District 19-41, is scheduled at the March 4, 2019, City Council meeting.
INFORMATIONAL: The 2019 Water main replacement project was updated. Interstate Engineering reported that this summer 10-12 blocks are included, with a three block near the Anne Carlsen Center, eight blocks around the University of Jamestown Taylor Stadium, plus upsizing a water main line at one block along 3rd Street Northwest.   Bidding is in April this year, after the areas are survey for utilities.
The city is looking at replacing water meters that will be read remotely, eliminating the need for meter readers.
INFORMATIONAL:  The 2019 stormwater utility implementation update was given by Kevin Smith, AE2S, via phone.
He outlined developing a fee structure, and revenue sources, and current city expenses to mange stormwater, with funds coming from other sources and how many properties will be affected with the fee.
The committee tabled approval of a flat fee of $3.00 minimum monthly residential stormwater utility fee for residential properties, including vacant properties and undeveloped properties. Individual storm water utility bills will be sent to affected property owners.
The cost of the program is estimated at $500,000 annually for storm water maintenance.
Letters will be sent to affected property owners in March, along with billing testing, and public meetings will be set.
Implementation is expected in July this year.
The meeting was shown live on CSi Cable 67, followed by replays.