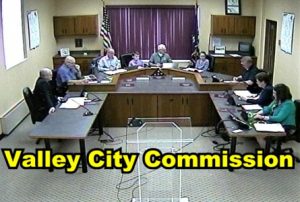 Valley City  (CSi)  The Valley City Commission met in Regular Session Tuesday evening at City Hall.  All members were present.
Approval of Consent Agenda Items:
Monthly Reports from the Fire Chief, Building Inspector, Auditor, Municipal Judge and Public Works Accountant.
Monthly Bills for the City and Public Works in the Amount of  $1,344,029.17
A Raffle Permit for Valley Quilters
Public Comments  No one spoke.
Ordinance
City Commissioners  approved the second and final reading of, an Ordinance relating to the annexation of a tract of land located southeast of I-94 and Exit 292, (described as Parcel 1B-1 and Parcel 1B-2 in Section 28, Township 140N, Range 58W, County of Barnes, State of North Dakota (parcels #41-2840415, 41-2830335)). City Attorney Martineck there were no changes from the First Reading.
Resolution
Approved was a  Resolution Adopting Updated Hydrology for the Sheyenne River from the 2012 US Army Corps of Engineers Feasibility Study of Flood Protection.  KLJ reported that under permanent flood protection, the study is being revised.
Approved a Resolution Creating Sanitary Sewer District No. 64.
City Commissioners approved a Resolution Creating Storm Sewer District No. 52
Approved was a Resolution Creating Water Main District No. 100
City Hall has specifics on each of these areas
New Business
The City Commission Approved a NDDOT Cost Participation, Construction, and Maintenance Agreement for Project No. SU-SS-2-990(053)057 (Wintershow Road, 4th Avenue, 8th Avenue SW and I-94 Exit 292 NE Ramp) Storm Drain, Manholes, Inlets and Seeding.  KLJ said state dollars will go toward the project along with a local share, handled through the NDDOT, with construction slated for later this year.
Approved was the  purchase of new hooklift and hoist truck/trailer for Sanitation Department. City Administrator Schelkoph said while not being the low bid the unit is the best fit for the garbage department.
City Administrator's Report
David Schelkoph fore went his report due to the condition of his voice, adding that a report is forthcoming at the next meeting.
City Updates & Commission Reports
City Fire Chief  Scott Magnuson praised his department during recent calls.
He added that fire fighters have been busy digging out fire hydrants from under snow banks.
City Building Inspector, Dave Andersen said to prevent water line freeze ups to let a faucet run at a trickle about the circumference of a pencil.
Mayor Carlsrud thanked the city employees who work out in the cold weather, for being out there.
The meeting was shown live on CSi Cable 68 followed by replays.