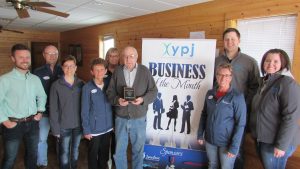 Jamestown  (Chamber)  Members of the chamber Young Professionals of Jamestown and the chamber Ambassadors recently presented the Business of the Month Award to Frontier Fort Bar & Grill of Jamestown for their outstanding customer service and continued commitment to the community.  This business is located at 1838 3rd Ave SE in Jamestown and they can be reached at 701-252-7492. Store Owner Charley Tanata was there to celebrate this award.
The nomination stated, "This is hands down the most unique place to go for supper in Jamestown. The old west feel and great tasting food make you want to come back for more, but the best part about the whole experience is the view of the city. Great food, great drinks, and a great view make for a fun evening out! Please consider awarding this unique dining experience the Business of the Month Award."
The Young Professionals of Jamestown honor businesses that provide superior customer service, exhibit community spirit and provide a positive economic impact to the community.  This award provides recognition throughout the month with a plaque and a recognition banner for the month. Frontier Fort, along with all of the other monthly winners, will be considered for Business of the Year to be awarded at the Chamber's annual banquet in January of 2020.  Business of the Month award nomination forms are available at the Chamber office.  Call 701-252-4830 for more information or email director@jamestownchamber.com.