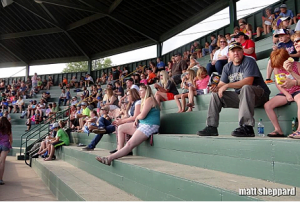 Jamestown  (CSi)  The Jamestown City Park Board has under its strategic plan, approved Jack Brown Stadium renovations, and an outdoor pool area vendor.
On a 3-1 vote the board approved completing the JBS renovations by next fall.
Renovations included demolition the first base bleachers and press box, and installing new bleachers and press box.  Th new seating with be accessible under ADA guidlines.
This is the first major repair work at the stadium since the late '60's.  Last year the new dugouts were constructed and put into use.
Parks and Recreation Director, Doug Hogan said, with no major baseball tournament slated for two years this is the right time to do the work, adding that there's no concern with seating capacity for any games that may occur during the construction period.
Private donations will be sought for the project along and a request for $50,000 in Capital Construction funds from the Jamestown Tourism Grant and Executive Board which will act on the request this Wednesday, at the meeting at 11:30-a.m., at the CSi Technology Center, at Historic Franklin School.
The Park Board also unanimously approved a Phase II splash deck committee vendor recommendation for Waterplay, an aquatic play solutions company based in Canada and Australia.
The foundation director for Dakota College at Bottineau,  Leslie Stevens completing her master's degree in leadership this summer through the University of Jamestown said, that she would assist Parks and Recreation in developing a strategic plan process, this summer.