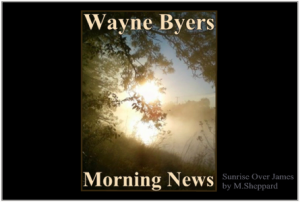 CSi Weather…
JAMESTOWN AREA….BLIZZARD WARNING IN EFFECT UNTIL 4 PM CDT THIS AFTERNOON…
…WINTER WEATHER ADVISORY IN EFFECT FROM 4 PM THIS AFTERNOON TO 1 AM CDT FRIDAY…
VALLEY CITY AREA…
…BLIZZARD WARNING IN EFFECT UNTIL 7 PM CDT THURSDAY EVENING…
…WINTER WEATHER ADVISORY IN EFFECT FROM 7 PM THURSDAY EVENING TO 1 AM CDT FRIDAY…
Forecast…
.REST OF TODAY…Mostly cloudy with a 50 percent chance of light
snow. Blowing and drifting snow. Highs 30 to 35. Temperature
falling through the afternoon. Very windy. North winds around
35 mph with gusts to around 60 mph.
.TONIGHT…Partly cloudy. Patchy blowing and drifting snow
through the night. Lows 15 to 20. Windy. Northwest winds 20 to
30 mph with gusts to around 40 mph.
.FRIDAY…Partly sunny. Highs 25 to 30. Northwest winds 10 to
20 mph.
.FRIDAY NIGHT…Mostly cloudy. Lows 10 to 15.
.SATURDAY…Partly sunny. Highs 30 to 35.
.SATURDAY NIGHT…Partly cloudy. Lows 15 to 20.
.SUNDAY…Mostly sunny. Highs 30 to 35.
.SUNDAY NIGHT…Partly cloudy. Lows 10 to 15.
.MONDAY…Mostly sunny. Highs 30 to 35.
.MONDAY NIGHT…Mostly cloudy. Lows 15 to 20.
.TUESDAY…Partly sunny. Highs in the mid 30s.
.TUESDAY NIGHT…Partly cloudy. Lows 20 to 25.
.WEDNESDAY…Mostly sunny. Highs 35 to 40.
The National Weather Service reports Jamestown recrded 10 inches of news snow from the blizzard overnight Wednesday into Thursday morning
Valley City (CSi)  Valley City street crews Thursday are working on clearing Emergency Snow Routes, and then will start on the entire city Thursday night.
City Hall in Valley City is open for emergency contacts and will reevaluate plans later Thursday.
Garbage in Valley City is being collected ,where the garbage bins are accessable.
Jamestown  (CSi)  Jamestown city crews will begin the full snow plowing program starting Friday, March 15, 2019 at 4:00 a.m. beginning with the Emergency routes.
City crews will begin plowing residential areas at 11:00 a.m., Friday, March 15, 2019.
Crews will continue work during the night with the Downtown district beginning at 11:00 pm.
City Ordinance Section 25-10 requires that a property owner keep the sidewalk adjoining the property clear of snow and ice. Do not deposit snow or ice on the city street after the city plow has cleared the street. These violations are class B misdemeanors under the general penalty and will result in a fine.
PLEASE NOTE:
The above schedule is contingent upon changing weather conditions and snow accumulation totals.
City of Jamestown,  offices will be closed on Thursday. Only the road to the hospital will be maintained for emergency purposes.
No garbage or recycling collection on Thursday. It will be collected Friday, March 15, as conditions allow.
Jamestown  (CSi)  Due to inclement weather  forecast for Thursday, and team travel concerns, the NAIA Women's Wrestling Invitational will be a one day event and will happen Saturday, March 16.
All rounds and competitions, including the championship matches will be retained.
Doors to Harold Newman Arena will open Saturday at 7:00 a.m. with competition beginning at 8:00 p.m. and finals 7:00 p.m.
The planned banquet will now be held on Friday at the same times.
Those needing to pick up shirts and passes need to do that on Wednesday.
Below is ticket information and schedule of events:
Ticket prices are $15 for adults and $10 for students for the entire day.
Schedule:

Saturday, March 16

8 a.m. 
Session #1:
1st Round – Championship
2nd Round – Championship
2nd Round – Consolation

Session #2:
3rd Round – Championship Quarterfinals
3rd Round – Consolation
4th Round – Consolation

Session #3:
4th Round – Championship Semifinals
6th Round – Consolation Semifinal
Placement Round Matches – 3rd, 5th and 7th place

6 p.m. 
NAIA Parade of Champions – Opening Ceremonies
Parade of All-Americans & Daktronics – NAIA Scholar-Athletes

7 p.m. 
Session #4:
Championship Finals
Closing Ceremonies & Awards Presentation
Jamestown  (CSi)  The Jamestown Grant Executive Board on Wednesday meeting at the CSi Technology Center, at Historic Franklin School, heard Capital Construction funding requests from Jamestown Parks and Recreation, and the Jamestown Soccer Club.
In attendance were: Board Members, President, Matt Woods, Taylor Barnes, Tena Lawrence, and Frank Balak.  Ex Officio Member, Pam Phillips representing the Jamestown City Council.
Tourism Director Searle Swedlund.
Goals and Objectives of Capital Construction Fund were reviewed.
Searle pointed out that there is a total yearly amount in the fund, of $80,000 which is divided between the two rounds of funding requests, March 1, and October 1, each year.
The funds are held by the City of Jamestown.
With Requests:
Doug Hogan representing Jamestown Parks and Recreation, requested $50,000 to replace the Jack Brown Stadium first base line bleachers, with metal bleachers, and a new press box.   The application states the cost of the bleacher replacement is estimated at $118,000 and for the press box replacement, $57,500.  The total project cost is estimated at $225,800 including demolition of the existing structures, and concrete work.
He added that the replacement is due to safety concerns, pointing out the new bleachers will allow fans to sit behind each other.
Some spectator seating was lost when the new dugouts were installed, being higher than the old ones.
The new bleachers will be ADA accessible.
Plans are to start the project this fall, with demolition  with the seating installed in the spring of 2020 completion in the spring of 2020.
Next baseball season the press box will have a temporary location, noting there is enough seating to accommodate baseball crowds, and all games will be held as scheduled.
A temporary P.A. system will be used during renovations.
Other funding of $145,000 is planned to come from Parks and Recreation and private donations.
The request pointed out that tourism will benefit from the improvements as Jack Brown Stadium will be able to host not only state and regional and conference tournaments, at the high school and college levels,  plus hosting 4-5 tournaments for amateur, American Legion, and Babe Ruth baseball, bringing thousands of people to the community every year.  There have also been discussions of bringing a collegiate wood-bat team to play in Jamestown.
After discussion the Grant Executive Board voted to fund $20,000 half of the present funding available this round, with Parks & Recreation invited to re       quest additional funds in the next round in October
Director, Tommy Nienhaus representing the Jamestown Soccer Club stated that $34,724 is needed for the soccer field goals, based on bids.  The goals vary in size, depending on the age of the players.  He said the new goals with a life expectancy of 10-12- years, meet all requirements and guidelines under the North Dakota Soccer Association, would enable the Soccer Club to host tournaments in Jamestown, that usually attracts 80-100 teams with rosters of 12-18 players for each team, adding that the ability of host a June 7-9 tournament in Jamestown this year, depends on this grant funding.
He added the goal of the soccer club is host multiple and regional tournaments in Jamestown within three years.
Local businesses would be able to set up booths during the tournaments.
The Grant Executive board voted  to fund, $25,829, half of the $40,000 available in the fund, this round, plus $5,829 no longer earmarked for another grant request that will not be used for that organization.
Jamestown (CSi)  The James River Figure Skating Club's Annual Ice Show, "Dance Your Skates Off," is at Wilson Arena in Jamestown, Friday March 15 at 7-p..m., Saturday the 16 at 2-p.m., and 7-p.m., and Sunday the 17 at 2-p.m.
The James River Figure Skating Club Ice Show is an annual event designed to showcase the skills our skaters have learned throughout the year while providing quality entertainment for the community and raising much needed funds for JRFSC.  This event compares to a dancer's recital, but on a much grander scale.
For more information call 701-320-7217.
Jamestown  (CSi)  Saturday March 23, marks the 41st Jamestown  Runnin O' The Green fundraiser through Jamestown.
Organizer and founder of the original event, The Not So Famous River Run, that evolved into the Runnin' O' The green, Larry Knoblich says no specific the goal is mind this year.
This year the Run is in Memory of Dean Anderson.
On The Wayne Byers Show on CSi Cable 2 Larry said, dollars raised go to support Camp Grassick, serving both mentally and physically challenged individuals and selected local cancer patients .
In 2018 $40,000 was raised for Camp Grassick, $10,000 for local cancer patients.
The list of cancer patients to receive the funds comes by "word of mouth," by contacting Larry Knoblich.
He adds, that over the years, $340,000 have been donated to Camp Grassick, and $105,000 to local cancer patients.  All proceeds go directly to those causes, with no administrative fees involved.
Those wishing to make a monetary donation can send a check, written to Camp Grassick, with Runnin O The Green in the memo area.
He says those entering may be a team or and individual.  He points out that participants must be at least 21 years old.
Early Registration is at: Wildside Creations, where $30 shirt orders are taken, and Cork & Barrell Liquors by March 20, along with the Corner Bar.
On Friday March 22, early registration is at the Elks Club is from 4-p.m., to 9-p.m.
All on the 23rd register at The Buff, the Knights of Columbus Hall, and the Elks Club.
On race day, March 23 registration at Frontier Fort starts at 11-a.m, with the first flight of runners leaving at 2-p.m., please carry an legal ID card when registering, and on-demand.
The first heat leaves Frontier Fort at 2-p.m., other heats will leave the starting area at: 2:10, 2:20, 2:30, and 2:40 p.m., all other runners will leave at 2:50-p.m.
The run finishes at Shady's at the Gladstone.
Remember, Registration/donation is $10 for the Run, or before race day, $30 including the T-shirt. (Shirt order deadline, March 20 at Wildside Creations.
The pub stops along the way include: The All Vets Club, Buffalo Lanes, Corner Bar, Cork & Barrell (At the Elks location), Fred's Den, Frontier Fort Bar & Grill, Jonny B's Brickhouse, Knights of Columbus Hall, Office Bar & Lounge, and Wonder Sports Bar.  Alcoholic beverages must be consumed in the establishments or with the fenced in outdoor area.  Growlers will be allowed to be taken off premises in properly sealed containers.
Larry says alcohol need…not…be consumed to participate, or drink in moderation.  To those drinking alcohol, Larry points out that "Binge Drinking Kills."
He cautions runners to be weary of traffic and drivers to be watchful of participants, and not to litter along the way.
He asks that participants watch out for each other along the route.
Rides will be available on race day, by calling:  701-320-3751, or 701-658-0087, starting at 10:30 a.m., ending at 2-a.m.
Larry thanks, Jerry Iverson Construction, and the group of drivers for their continued financial support, and R.M. Stoudt for furnishing some vehicles.
Poster printing by The Press Room.
For more information contact Larry Knoblich at 701-269-0603, or send donations to the Jamestown Elks Club at P.O. Box 990 Jamestown, ND  58402.
The event will be recorded by CSi Cable 10 The Replay Channel.  Be watching for the 2019 replay dates.
BISMARCK, N.D. (AP) — The possible misallocation of millions of dollars in North Dakota oil money may have affected a third fund.
Lawmakers have been dealing with the revelation that about $137 million in state revenue from the oil-rich Fort Berthold reservation did not go to a pair of school funds as it should have.
On Wednesday, state engineer Garland Erbele testified that a fund that benefits water projects was shorted, too, by about $125 million.
Republican leaders have argued the money was correctly distributed before. But they have introduced legislation to begin steering some oil tax money into the school funds.
Education and water groups told lawmakers the money should be repaid retroactively.
A spokesman for GOP Gov. Doug Burgum says the governor agrees the money should be reimbursed.
BISMARCK, N.D. (AP) — A federal report shows the number of drug overdose deaths in North Dakota has dropped slightly after reporting a record number in 2016.
The Bismarck Tribune reports the Centers for Disease Control and Prevention released a report that shows overdose deaths in North Dakota declined from 77 in 2016 to 68 in 2017.
North Dakota Department of Human Services officials say the decrease is a sign of the state's successful drug overdose prevention efforts. The state introduced the Recovery Reinvented Program in 2017 and then began distributing naloxone to communities. Naloxone is a medication used to counter the effects of opioid overdose.
The Senate passed a measure last month that includes funding $4.5 million to expand the program. It's now under review in the House.
BISMARCK, N.D. (AP) — North Dakota's Senate has killed a measure that would require disclosure of the costs of the travel and security for state officials, including the governor, lieutenant governor and their families.
The Senate voted 30-15 to kill the House bill on Wednesday.
Republican Rep. Bill Devlin's bill came after questions from lawmakers and the media about the level of personal security for GOP Gov. Doug Burgum.
The governor and the Highway Patrol have claimed the records are protected by state laws that were put on the books following the Sept. 11, 2001, terrorist attacks.
Supporters of the bill argue the information is needed for budget reasons.
The Legislative Council, which is the Legislature's research arm, says the records are not protected from disclosure.
In sports…
NBA-SCHEDULE
Warriors top Rockets
UNDATED (AP) — The Golden State Warriors have padded their lead in the NBA's Western Conference while ending the Houston Rockets' nine-game winning streak.
Klay Thompson poured in 30 points and DeMarcus Cousins added a season-high 27 as the Warriors nipped the Rockets, 106-104 in Houston. The Warriors watched a 14-point, fourth-quarter lead shrink to one before Stephen Curry made two free throws with eight seconds remaining to make it 106-103.
The Warriors won without injured star Kevin Durant and bounced back after a loss to Phoenix on Sunday.
James Harden had 29 points and 10 assists for the Rockets but shot just 2 of 12 on 3-pointers. Chris Paul finished with 24 points.
The Warriors lead the West by 1 ½ games over the Nuggets. The Rockets fell into a third-place tie with Oklahoma City in the conference, a half-game ahead of the Trail Blazers.
Checking out Wednesday's other NBA action:
— Russell Westbrook posted his 25th triple-double of the season by contributing 31 points, 12 rebounds and 11 assists to the Thunder's 108-96 downing of the visiting Nets. The Thunder erased the Nets' lead by scoring 20 points in the first 3:41 of the second half. Brooklyn remains sixth in the East by a half-game over Detroit.
— Justise Winslow scored 16 points and the Heat opened the second half on a 21-0 run en route to an easy 108-74 win over the Pistons. Dion Waiters scored 14 points against the Pistons, who have back-to-back losses for the first time since late January.
— Donovan Mitchell scored 16 of his 26 points in the second half in leading the Jazz to a 114-97 win over the Suns. Rudy Gobert added 18 points and 20 rebounds as the Jazz ended a two-game skid and pulled into a tie with the Clippers for the seventh playoff seed in the Western Conference.
— Bradley Beal scored 23 points and Thomas Bryant added 21 with 10 rebounds as the Wizards knocked off the Magic, 100-90. Jabari Parker added eight of his 19 points in the fourth quarter to help Washington push Orlando two games behind Miami for the final Eastern Conference playoff berth.
— The Grizzlies' three-game winning streak has ended after John Collins had 27 points and 12 rebounds in the Hawks' 132-111 romp over Memphis. Trae Young added 22 points and helped Atlanta take a 72-61 lead into halftime.
T25 BASKETBALL-SCHEDULE
Tech reaches ACC quarters
CHARLOTTE, N.C. (AP) — Virginia Tech has rolled into the ACC quarterfinals as the Hokies try to improve their seeding in the NCAA Tournament.
Kerry Blackshear had 19 points and 10 rebounds to help 16th-ranked Virginia Tech beat Miami, 71-56. Ty Outlaw scored all of his 14 points by halftime for the fifth-seeded Hokies, who never trailed after opening the game with an 11-0 run.
Virginia Tech shot 50 percent and put the game out of reach with a 20-5 run in the second half.
NFL-FREE AGENCY
Lots of moves prior to start of NFL season
UNDATED (AP) — The Seattle Seahawks hope they have found the solution for their recent kicking troubles.
The Seahawks have agreed to sign Pro Bowl kicker Jason Myers to a four-year deal, according to a person with knowledge of the deal.
Myers was in a battle with veteran Sebastian Janikowski during Seattle's training camp last year. Janikowski won the job, in part because of his veteran status, but it was Myers who had the better season after being signed by the New York Jets.
Myers was 33 of 36 on field-goal attempts in New York and was named to the Pro Bowl for the first time in his career.
Among other NFL developments Wednesday:
— The Jaguars have released Blake Bortles after officially agreeing to terms with fellow quarterback Nick Foles. The Jags parted ways with the third overall pick in the 2014 draft just 13 months after handing him a three-year, $58 million contract.
— The Patriots have extended qualifying offers to restricted free agent receiver Josh Gordon and defensive back Jonathan Jones. Gordon could rejoin New England only if he's reinstated from his latest suspension for violating an agreement that allowed him to play after multiple drug suspensions. Also, a person familiar with the move says cornerback Jason McCourty has agreed to a two-year deal to remain with the Super Bowl champions.
— Shamar Stephen has returned to the Minnesota Vikings to fill the defensive tackle spot opened by the departure of Sheldon Richardson for Cleveland.
— The Saints have agreed to terms on a new five-year contract with kicker Wil Lutz, who made 28 of 30 field goal attempts and 52 of 53 extra points in 2018. Also, Saints have agreed to terms with free-agent running back Latavius Murray on a four-year contract.
— The Cowboys are keeping offensive tackle Cameron Fleming and fullback Jamize Olawale (oh-lah-WAH'-lee) by agreeing to terms on new deals with the unrestricted free agents.
— Guard A.J. Cann has agreed to terms on a three-year contract with the Jaguars just hours before he would have become a free agent. Cann started 59 of 64 games over four seasons for the Jaguars.
— The Chargers are signing Tyrod Taylor to a two-year contract to be Philip Rivers' backup, according to a person with knowledge of the deal. Taylor has started 46 games during his eight-year career. Also, the Chargers have re-signed defensive tackle Brandon Mebane to a two-year contract.
— A person with knowledge of the deal tells The Associated Press that cornerback Pierre Desir has agreed to a three-year, $25 million deal to stay with the Colts. Earlier Wednesday, the Colts gave cornerback Chris Milton a one-year contract extension.
— The Browns may have filled a hole at linebacker by reaching agreement with free agent Adarius Taylor on a two-year, $5 million contract, a person familiar with the deal told The Associated Press. Taylor spent the past four seasons with Tampa Bay.
— A person with knowledge of the situation says the Baltimore Ravens have signed running back Mark Ingram and safety Earl Thomas.
— The Redskins are making salary-cap room by releasing linebacker Zach Brown and defensive lineman Stacy McGee to clear more than $8 million.
— The Titans announced they have agreed to terms with offensive lineman Kevin Pamphile on a one-year contract.
— Linebacker Preston Brown got a three-year extension from the Bengals, who signed him last year from Buffalo.
— A person with knowledge of the decision tells The Associated Press the Falcons have agreed to terms with guards James Carpenter and Jamon Brown. The team also cut former starting right tackle Ryan Schraeder, creating $3.5 million in cap space.
—The Chiefs have released safety Eric Berry, who missed nearly all of last season with a mysterious heel injury that cropped up early in training camp.
—Four-time Pro Bowl guard Josh Sitton has been released by the Dolphins, a decision that was expected as part of the team's youth movement.
—The Raiders have agreed to a deal with free-agent receiver Tyrell Williams. A person familiar with the deal said on condition of anonymity that the Raiders will sign the former deep threat for the Los Angeles Chargers.
—The Bears have agreed to a one-year contract with veteran offensive lineman Ted Larsen.
— Linebacker Deone Bucannon and receiver Breshad Perriman have agreed to join the Buccaneers on one-year deals.
NHL-SCHEDULE
Hawks hold off Leafs
UNDATED (AP) — Two months ago the Chicago Blackhawks were tied for the NHL's worst point total at 16-24-9. Right now they are within four points of a Western Conference playoff berth after surviving a furious comeback by the Maple Leafs in Toronto.
Red hot Brendan Perlini collected a goal and two assists while the Hawks built a 5-0 lead in their fourth straight win, 5-4 over the Leafs. Perlini's three-point night comes two days after he registered his first career hat trick.
Alex DeBrincat's (deh-BRIHN'-kats) 38th goal put the Blackhawks ahead by five 12 1 ½ minutes into the second period. Perlini, Duncan Keith, Dominik Kahun (kah-HOON') and Branden Saad (sahd) scored against Frederik Andersen, who was pulled before the second period after stopping 10 of 14 shots.
Hawks netminder Colin Delia (DEE'-lee-uh) entered in the third period after Corey Crawford had to leave due to illness. Delia surrendered three goals but stopped 27 shots in protecting the lead.
The outcome keeps Toronto four points behind Boston for second place in the Atlantic Division and home-ice advantage in the first round of the playoffs.
Elsewhere on NHL ice:
— Kenny Agostino, Kevin Rooney and Damon Severson (SEE'-vur-suhn) each had a goal and an assist as the Devils doubled up the Oilers, 6-3. Cory Schneider backstopped the victory in 36 saves.
— Tyler Motte scored twice in an 11-second span of the second period of the Canucks' 4-1 win over the Rangers. Brock Boeser (BEH'-sur) and Jake Virtanen also tallied as Vancouver handed New York its eighth loss in nine games.
MLB-NEWS
Martinez to start season on the IL
UNDATED (AP) — St. Louis Cardinals pitcher Carlos Martinez will begin the season on the injured list as the two-time All-Star tries to work his way back from shoulder weakness.
Martinez will not appear in an exhibition games. He is to throw on flat ground for the next week before moving to a mound.
St. Louis has not announced a timetable for Martinez's arm strengthening program. The pitcher received a platelet-rich plasma injection two weeks ago, and manager Mike Shildt said treatment improved Martinez's condition.
A 27-year-old right-hander, Martinez was the Cardinals' opening-day starter last year.
In other baseball news:
— Alex Cobb has been picked by new Baltimore manager Brandon Hyde to start the Orioles' opener on March 28 at the Yankees. Cobb was 5-15 with a 4.90 ERA last year in his first season with the Orioles after signing a $57 million, four-year contract on March 21.
— Blue Jays hurler Marcus Stroman has been chosen to start the team's opener against the visiting Tigers on March 28. The 27-year-old struggled last season, going 4-9 with a 5.54 ERA. He is 41-34 in his five-year big league career.
— A person familiar with the deal has told The Associated Press that that left-handed reliever Tony Sipp and the Nationals have agreed in principle to a one-year contract for 2019 that guarantees $1.25 million and includes a mutual option for 2020. The person spoke on condition of anonymity.
NASCAR-HALL OF FAME NOMINEES
Stewart headlines new nominees for NASCAR Hall
CHARLOTTE, N.C. (AP) — Tony Stewart headlines six new nominees eligible for induction into NASCAR's Hall of Fame.
Stewart joins Neil Bonnett, Sam Ard, Marvin Panch, Jim Paschal and Red Vogt as the new nominees.
NASCAR also added three new nominees for the Landmark Award for contribution to the sport: Edsel Ford II of Ford Motor Co., Pocono Raceway founder Dr. Joseph Mattioli and NASCAR President Mike Helton.
COLLEGE ADMISSIONS-BRIBERY
DeVos calls admissions scheme 'disgraceful'
BOSTON (AP) — Education Secretary Betsy DeVos says officials are reviewing whether a widespread college bribery scandal violated federal education rules.
A statement issued Wednesday by DeVos calls the scheme "disgraceful" and says her department is "looking closely" at the issue.
Fifty people have been charged in a scheme in which wealthy parents bribed sports coaches and other officials to get their children into elite universities.
The coaches worked at colleges including Yale, Stanford, Georgetown and the University of Southern California.
SPORTS BETTING
Nearly $2 billion in New Jersey sport bets in 9 months
ATLANTIC CITY, N.J. (AP) — Nearly $2 billion has been wagered on sporting events in New Jersey since such betting became legal last year.
New Jersey gamblers plunked down more than $320 million on sporting events in February, led by action on the day of the Super Bowl and the two days preceding it.
The extra money helped Atlantic City's casinos to an increase of nearly 26 percent in gambling revenue in February compared to a year earlier. The casinos kept $12.7 million of bets on completed sporting events after winnings bets and other expenses were paid.
In world and national news….
AUSTIN, Texas (AP) — Former congressman Beto O'Rourke is running for president.
The 46-year-old officially announced his 2020 Democratic primary bid Thursday with an online post. After months of teasing a bid, he's finally, formally hoping to turn buzz from a close loss in Texas' 2018 Senate race into a White House try.
O'Rourke nearly upset Sen. Ted Cruz. Since then, his blend of Kennedy-esque looks, easygoing charisma and bipartisan optimism has helped his national political star burn brighter.
Democrats have long dreamed that a booming Hispanic population could eventually flip Texas blue and transform the electoral college, making the Republican path to the presidency all but impossible.
O'Rourke's home-state appeal may not prove to be enough to make Texas competitive, however, as the Democrats try to deny President Donald Trump a second term.
HEJERE, Ethiopia (AP) — About 200 family members of people who died on the crashed jet have stormed out of a briefing with Ethiopian Airlines officials, complaining that the airline has not given them adequate information. The airline officials said they have opened a call-in center that is open 18 hours a day to respond to questions by family members. But angry family members left the meeting at a hotel in Addis Ababa, saying that they are frustrated by a lack of answers to their questions.
Prosecutors and tax documents say the mastermind of a wide-ranging college admissions scandal set up a charity that wove a deep web of deception and fraud to mask bribes.
William "Rick" Singer is accused of funneling millions of dollars through the tax-exempt organization under the nose of U.S. officials.
Singer has been charged with funneling money from wealthy parents through the Key Worldwide Foundation, then using it to bribe coaches and others to get their children into elite universities.
Prosecutors said the foundation also accepted donations from clients to help their kids get admitted through cheating. The scheme allowed the parents to claim tax deductions for themselves.
Nonprofit experts are renewing criticism of the Internal Revenue Service's limited ability to police wrongdoing.
The IRS says it's investigating the so-called donations.
WASHINGTON (AP) — The Republican-led Senate is set to deal President Donald Trump a rebuke on his declaration of a national emergency at the Mexican border. The only remaining question is how many GOP senators will join Democrats in defying him.
Republicans say Thursday's showdown vote will result in Congress sending Trump a resolution blocking the border emergency he proclaimed last month to steer an extra $3.6 billion to building barriers. The Democratic-controlled House approved the measure last month.
Senate approval would force Trump to use a veto to protect his "Build the Wall" mantra over objections from his own party.
The vote also forces many GOP senators into a difficult box: defy Trump or assent to an emergency declaration that many lawmakers think goes too far.
PHOENIX (AP) — Despite scores of sanctuary laws around the country to shield immigrants from deportation, federal authorities are still getting under-the-table cooperation from some local law enforcement agencies.
Activists say Immigration and Customs Enforcement has informal information-sharing relationships with police and jail officials. In New Mexico, for example, the staff at the county jail in Albuquerque was giving ICE access to its computers and tipping off the agency about inmates being released.
Immigration activists say they have seen it places like Philadelphia, Chicago and several communities in California, which has a statewide sanctuary law. The American Civil Liberties Union reported this week that emails show that a detective in Orange County, California, regularly looked up license plate information for an immigration officer.
LONDON (AP) — Donald Tusk, the president of the European Council, says the bloc should be open to granting Britain a long delay to its departure.
In a tweet, Tusk said Thursday that, in consultations ahead of next week's summit of EU leaders in Brussels, he will appeal to the leaders of the other 27 EU nations "to be open to a long extension if the U.K. finds it necessary to rethink its Brexit strategy and build consensus about it."
The prospect of Brexit being delayed from the scheduled date of March 29 has grown over recent days after Prime Minister Theresa May saw her withdrawal agreement with the EU heavily defeated again in the British Parliament. Lawmakers in London are set to vote later Thursday on whether to request May to seek an extension from the EU.
Her preference appears to be for a short delay, until the end of June. She has warned Brexit supporters who oppose her deal that if no withdrawal agreement is passed in the coming days, the extension could then last a long time and could mean Brexit never actually happens.