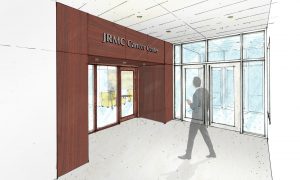 Jamestown (JRMC) – It's official. Cancer care is coming to Jamestown.
With the help of supporters and staff, partners in design and construction, Jamestown Regional Medical Center announced Tuesday that it had set the date for the JRMC Cancer Center opening.
JRMC's Chief Executive Officer, Mike Delfs, says oncology services were a dream of the Boards and the community when JRMC moved from downtown to southwest Jamestown in 2011.
Delfs says, "This will be a great day for Jamestown and the surrounding communities. Miles matter when you're sick and our community has clearly expressed they want care that is local. We thank the community for helping us fulfill the vision of state-of-the-art cancer care close to home."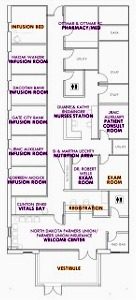 Delfs adds, With the help of Davis Group, Hillerud Construction team and BWBR Architects, construction of the 3,200 square-foot space includes two exam rooms and six infusion rooms. Those rooms will serve more than 100 people a month, saving 160,000 miles of travel each year. Patients can expect to schedule appointments this summer.
The JRMC Cancer Center Ribbon Cutting Celebration is set for noon, Thursday, June 13 at JRMC. The event is free and open to the public. It includes a light lunch, hope rock painting and self-guided cancer center tours.
Cancer has left very few people untouched. In a 60-mile radius, 252 people are diagnosed or pass away from cancer each year. Currently, more than 100 people from the Jamestown region travel 200 miles for a chemotherapy infusion. This may be a monthly, weekly or even daily trip. In Stutsman County, cancer is the leading cause of death for individuals ages 45 – 84.
JRMC Foundation Director Lisa Jackson, says,"This is a community of supporters," said. "Whether it was lemonade stands, t-shirt sales or gifting retirement accounts, the community made this happen. Thank you for helping us gift the community excellent care, close to home."
JRMC already offers some chemotherapy infusion services in the JRMC Emergency Department. The JRMC Cancer Center will allow the hospital to offer a wider range of treatments.
To learn more about the JRMC Cancer Center, call (701) 952-1050 or visit www.jrmcnd.com/cancer.