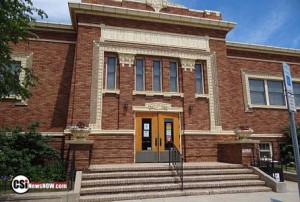 Update:  Jamestown  (CSi)  Jamestown University of Jamestown Marketing students, in cooperation with the Friends of the James River Valley Library, have established an eight question survey.
On Wednesday's Wayne Byers Show on CSi Cable 2, Bill Kennedy of Kennedy Consulting, ND said the survey seeks information about community perceptions toward the role of the library in the future.
He pointed out that even in today's world of internet and other "E" access a number of individuals still enjoy reading books, pointing out that students reading the printed word in documents, are better able to retain the information.
He said three UJ Marketing students, and instructor put together the survey and arranged with the library to make the survey online, available until April 1.
Click on the link below and take a few minutes to share your thoughts.
By completing this survey, you will have a random chance to win one of three $25 Amazon gift cards.
https://forms.office.com/Pages/ResponsePage.aspx?id=lG0qErTA_0moluXHr0yoICtiwRV-k-dHmbxlRrC8SFtUMUJUMEpMWTNCMlM2T1RNOE8wUFRBNTZVSi4u