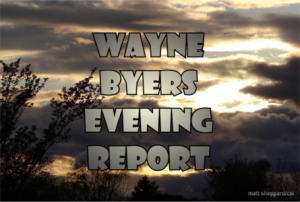 CSi Weather…
.FRIDAY NIGHT.. Mostly cloudy. Numerous snow showers in the evening.
Snow accumulation up to 1 inch in the Valley City area.
Lows in the lower 20s. Northwest winds 10 to 15 mph. Chance of snow 60 percent.
.SATURDAY…Sunny. Highs in the lower 40s. Northwest winds 5 to
10 mph shifting to the west in the afternoon.
.SATURDAY NIGHT…Mostly clear. Lows around 20. South winds
around 5 mph.
.SUNDAY…Increasing clouds. Highs in the upper 30s. South winds
5 to 15 mph.
.SUNDAY NIGHT…Mostly cloudy. A 20 percent chance of snow and
sleet after midnight. Lows in the upper 20s.
.MONDAY…Partly sunny. A 20 percent chance of rain in the
afternoon. Highs in the upper 40s.
.MONDAY NIGHT…Decreasing clouds. Lows in the lower 30s.
.TUESDAY…Mostly sunny. Highs in the mid 50s.
.TUESDAY NIGHT…Mostly cloudy. A 20 percent chance of rain and
snow after midnight. Lows in the lower 30s.
.WEDNESDAY…Partly sunny. Slight chance of rain and snow in the
morning, then slight chance of rain in the afternoon. Highs in
the lower 50s. Chance of precipitation 20 percent.
.WEDNESDAY NIGHT…Increasing clouds. Lows around 30.
.THURSDAY…Partly sunny. Slight chance of rain and snow in the
morning, then slight chance of rain in the afternoon. Highs in
the upper 40s. Chance of precipitation 20 percent.
Road Report…
Friday afternoon….
Updates posted throughout the day at CSiNewsNow.com
The North Dakota Department of Transportation (NDDOT) along with the North Dakota Highway Patrol (NDHP) have OPENED I-29 from Grand Forks to the Canadian border. According to South Dakota DOT, I-29 is now open at the North Dakota border.
The North Dakota Department of Transportation (NDDOT) along with the North Dakota Highway Patrol (NDHP) have opened I-94 from Jamestown to Fargo.
NDDOT and NDHP have OPENED highway 13 from I-29 to Wahpeton.
A Travel Alert is in effect for all of eastern North Dakota due to compacted snow and ice on the roadways. Cities included in the Travel Alert are Jamestown, Valley City, Edgeley, Ellendale, Wahpeton, Fargo, Grand Forks and surrounding areas. A Travel Alert means motorists can travel, but should be aware of winter driving conditions and should slow down.
The NDDOT is also urging motorists to use caution if traveling in eastern North Dakota because due to current flood conditions this spring, there is extra concern for motorists due to water filled ditches along many roadways. Motorists should slow down and drive for the conditions.
For statewide flooding information, please go https://ndresponse.gov/
All travelers are encouraged to monitor road conditions as weather conditions occur and use caution while traveling. For road information, call 511 from any type of phone or go to the Travel Information Map at www.dot.nd.gov. Please be advised that road condition information on 511 and the travel map is updated daily from 5 a.m. until 10 p.m. CDT. The road report is based upon the information available to the NDDOT at the time of preparation and is provided solely as a public service. Conditions may vary from those reported.
BISMARCK, N.D. (AP) — The North Dakota Legislature has handed Gov. Doug Burgum his first veto setback since taking office.
The House voted 89-3 Friday morning to override the first-term Republican governor veto of a bill that he has called "legislative overreach."
Senators voted unanimously to override Burgum's veto on Thursday of the bill that defines the authority of a group of legislators known as the budget section.
Burgum says spending authority has been improperly delegated to the group, which consists of 42 of the Legislature's 141 members who meet between sessions.
A similar fight last session ended up in the North Dakota's Supreme Court. The high court agreed that the Legislature had ceded too much power to the budget section.
Burgum says the veto override was a "missed opportunity to move forward."
MANDAN, N.D. (AP) — A Mandan man is charged with reckless endangerment and terrorizing after he was accused of dousing a house with gasoline and threatening to burn it down with a woman and 1-year-old child inside.
Police went to the house Wednesday evening and arrested the 72-year-old man. Fire officials say any ignition source, including an electric furnace, could have started a fire, given the amount of gas in the house.
The Bismarck Tribune reports a court affidavit says the man planned to burn down the house, so that he wouldn't have any freeloaders. The woman told police the man was intoxicated, went to a shed and retrieved a container of gas that he poured in the house.
No one was injured.
DES MOINES, Iowa (AP) — The latest Census of Agriculture shows the number of farms and ranches in the U.S. has fallen but the remaining operations are larger and are responsible for a higher percentage of agricultural sales.The U.S. Department of Agriculture released the 2017 Census of Agriculture on Thursday, marking the 29th release of the report since the government began collecting the data in 1840. Since 1982, it has been released every five years.The census shows there were 2.04 million farms and ranches in 2017, down 3.2 percent from 2012. The average size of those operations was 441 acres, an increase of 1.6 percent.About 75 percent of all sales came from only 105,453 of those farms, down more than 14,000 from 2012.

The average age of producers was 57.5.
BLOOMINGTON, Minn. (AP) — A witness says a woman screamed that her child was thrown from a balcony at the Mall of America in Minnesota.
Brian Johnson told WCCO-TV the woman was screaming, "Everybody pray, everybody pray. Oh my God, my baby, someone threw him over the edge."
Johnson says the woman was screaming that her child was thrown from a third-floor balcony at the Bloomington, Minnesota, mall. The child landed on the first floor on Friday morning.
Police say the child is 5 years old. The police chief says the child suffered "significant injuries" and was taken to a hospital.
A suspect was arrested at the mall. Police don't think there is any relationship between the man and the child or the child's family. Authorities don't know a motive.
In world and national news..
WASHINGTON (AP) — President Donald Trump says that he is "strongly looking at" the idea of transporting migrants to so-called sanctuary cities that don't cooperate with federal immigration authorities.
Trump told reporters at the White House Friday that if leaders of those districts and municipalities really want to open their arms to immigrants, "we can give them an unlimited supply."
He says: "They're always saying they have open arms. Let's see if they have open arms."
White House and Homeland Security officials had said as recently as Friday morning that the "sanctuary cities" idea has been discussed, but quickly dismissed, after DHS lawyers voiced opposition.
Trump nonetheless revived it in a pair of tweets that took DHS officials by surprise.
LONDON (AP) — WikiLeaks editor-in-chief Kristinn Hrafnsson has told The Associated Press that Julian Assange is confined to a cell at Belmarsh Prison, a grim facility in southeast London.
He said conditions at the sprawling prison offer some advantages, however over the embassy where Assange lived for nearly seven years without taking a step outside. Assange was arrested Thursday.
And the WikiLeaks founder should finally be able to receive badly needed medical care for a shoulder problem and tooth pain now that he is out of the Ecuadorian embassy and in prison, Hrafnsson added.
"There are medical facilities there, access to dental care I would assume and a garden to go out into," he said.
He added that it is now much easier for Assange to meet with his legal team in prison than it was at the embassy, where a feud with Ecuadorian authorities had led to a ban of most guests.
He said Assange is in relatively good mental condition considering the stress of recent days.
The 47-year-old hacker faces sentencing for jumping bail in Britain and possible extradition to the United States.
CAIRO (AP) — The U.N. Security Council has been briefed on the situation in Sudan but has taken no action.
Germany's U.N. Ambassador Christoph Heusgen, the current council president, told reporters after Friday's closed-door briefing by Assistant Secretary-General Bintou Keita that all 15 members understood the meeting "as a strong signal that the Security Council is dealing with the issue."
He said members agreed to continue monitoring the situation.
WASHINGTON (AP) — House Democrats are rounding the first 100 days of their new majority taking stock of their accomplishments, noting the stumbles and marking their place as a frontline of resistance to President Donald Trump.
They set out an ambitious legislative agenda on the kitchen table priorities that helped them win the majority, such as protecting the Affordable Care Act and imposing new ethics rules, all while providing aggressive oversight of the Trump administration.
With the spotlight comes high-profile setbacks. Democrats splintered over a climate change proposal and other issues. Few of their bills will ever be signed into law. House Republicans gathered on the Capitol steps for their own 100-days event ridiculing the new majority for catering to their liberal flank, veering toward socialism and failing to keep their campaign promises.
MOUNT HOLLY, N.J. (AP) — A homeless veteran has been sentenced to five years' probation for conspiring with a New Jersey couple to scam GoFundMe donors out of $400,000.
Johnny Bobbitt was given the sentence Friday as part of a plea agreement reached with county prosecutors last month.
He must meet conditions including inpatient drug treatment and cooperation with prosecutors against his co-defendants. If he violates those conditions, he will be sentenced to five years in prison with no possibility of parole for at least 18 months.
Bobbitt made no statement in court.
He admitted helping Katelyn McClure and Mark D'Amico, McClure's boyfriend at the time, make up a story in 2017 about Bobbitt giving McClure $20 when she was stranded on a highway in Philadelphia.
Prosecutors contend a GoFundMe campaign ostensibly set up to help Bobbitt was a lie intended to enrich all three. McClure and D'Amico allegedly used the money to buy a BMW and take expensive vacations.
McClure and Bobbitt have also pleaded guilty to federal charges and await sentencing. D'Amico and McClure were charged last fall in state court with theft and conspiracy but have yet to be indicted by a grand jury.
D'Amico has denied wrongdoing.