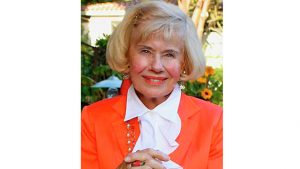 Born May 25, 1924 to Albert and Francis Baas, in Jamestown. She had a sister, Lucille, and half-sister Marion. LaVerne met local basketball star Keith Ingstad in high school and it was "love at first sight."
When he returned from the war, they married, moved back to Jamestown, and had 5 children: Terry, Timothy, Nancy, David, and Richard. In the middle of children and countless stores, LaVerne discovered a passion for art and her paintings were featured in many art exhibits and galleries; several were picked for the North Dakota's Governor's Award and went on to be displayed in the N.D. Governor's mansion.
LaVerne was married to Keith, for 61 years. She passed away April 1st, 2019 and is survived by her 5 children, 10 grand children, and 4 great grandchildren. Memorial: Wednesday June 5th @ 10:30am at the Presbyterian Church in Jamestown.