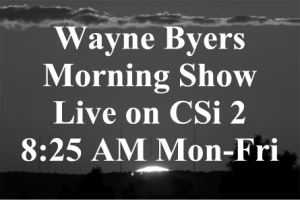 CSi Weather
REST OF  TODAY…Mostly cloudy. 20 percent chance of rain showers in the afternoon, then mostly sunny. Highs in the mid 50s. Southwest winds 10 to 20 mph.
.TONIGHT…Partly cloudy. Lows in the lower 30s. Southwest winds 5 to 10 mph.
.TUESDAY…Mostly sunny. Highs in the lower 60s. Southwest winds
around 5 mph.
.TUESDAY NIGHT…Cloudy. Chance of rain showers in the evening,
then rain showers likely after midnight. Lows around 40. East
winds 5 to 10 mph. Chance of showers 70 percent in the Jamestown area, 50 percent in the Valley City area.
.WEDNESDAY…Cloudy with rain likely. Windy. Highs 45 to 50.
Chance of rain 70 percent.  Highs in the upper 40s.
Northeast winds 15 to 20 mph. Chance of showers 70 percent.
.WEDNESDAY NIGHT…Mostly cloudy with a 30 percent chance of rain
showers. Lows in the mid 30s.
.THURSDAY…Mostly sunny. Highs in the mid 50s.
.THURSDAY NIGHT…Mostly clear. Lows in the mid 30s.
.FRIDAY…Sunny. Highs around 60.
.FRIDAY NIGHT…Mostly clear. Lows in the upper 30s.
.SATURDAY…Mostly sunny. Highs in the mid 60s.
.SATURDAY NIGHT…Mostly cloudy. A 20 percent chance of rain
showers and thunderstorms in the evening. Lows in the upper 30s.
.SUNDAY…Partly sunny. Highs in the upper 50s.
Rain in the Northern Plains Tuesday afternoon through Wednesday night.
Little, if any snow mixing in.
The southern half of the forecast area will likely see
the highest rain totals, which model consensus suggests could be
over half an inch.
On Wednesday afternoon,  a few
isolated thunderstorms across western and northern North Dakota.
For the end of the week, temperatures to reach well into the 60s on Friday and Saturday.
Low pressure moving across southern Canada will bring a chance of showers and thunderstorms to the region late Saturday into Sunday.
Flood updates  for the …
Sheyenne River Level Through Valley City
James River level through Jamestown.
Water amounts in the snow pack
The Latest Flood Warnings from The National Weather Service
https://ndresponse.gov/flood-region
Monday morning road report…
The NDDOT reports, there is water on the southbound lanes of I-29 approximately 25 miles north of Grand Forks. The roadway is reduced to one lane. Traffic is allowed with traffic speeds reduced and traffic control is in place.
NDDOT encourages motorists to check road conditions before traveling. For updated road information, call 511 from any type of phone or go to the Travel Information Map on our website at www.dot.nd.gov.
This Day In History, April 15.1907 – North Coast Limited Train Leaves the tracks. . . .  from the 125th Anniversary Calendar of Jamestown History
West bound North Coast Limited leaves rails two miles east of Jamestown Depot. Several injured and rail traffice in both directions is delayed.
BISMARCK, N.D. (AP) — A man is in custody after a six-hour standoff in Bismarck.
Authorities say the 20-year-old man fled from officers investigating him Saturday for alleged domestic aggravated assault and terrorizing in Mandan. He barricaded himself in a home in Bismarck
Residents in the area were told to either stay inside their homes or leave the area. Police also shut down two area roads.
The man was arrested about 9:30 p.m. by members of a SWAT team. No one was injured. Formal charges are pending.
GRAND FORKS, N.D. (AP) — Grand Forks police are offering a $2,500 reward for information leading to the arrest and conviction in a hit-and-run fatality.
Police believe the crash happened between 4:45 and 5 a.m. on April 7, in the area of Interstate 29 and Demers Avenue. Thirty-nine-year-old Christina Melvin, of Bedford, Pennsylvania, was pronounced dead while being transported to a hospital.
Authorities say Melvin was passing through Grand Forks on an Amtrak train when the incident occurred.
Anyone with information is encouraged to call Grand Forks police at 701-787-8004.
Jamestown  (NDFU)  – Presidents of North Dakota and South Dakota Farmers Union met this week with members of the Surface Transportation Board in Washington, D.C., to discuss increased rail shipping costs on farm commodities.
NDFU President Mark Watne, says,  "Rail transportation is becoming a large expense for farm operations, and farmers have no tools to pass this expense on.  We met with the Surface Transportation Board to get oversight on the monopolistic practices the rail industry is using, now that we only have four major rail companies in the U.S."
Farmers Union leaders also met with administration officials from the Risk Management Agency, Natural Resource Conservation Service, and Environmental Protection Agency, along with congressional leaders.
South Dakota Farmers Union President Doug Sombke said the group advocated for agencies to consider adopting IMSET, an Inventory Management Soil Enhancement Tool, to use alongside crop insurance. The tool incentivizes soil health building and was developed by South Dakota farmer Craig Blindert, who also is a crop insurance agent.
According to Sombke, Tested by North Dakota State University economics professors, the tool is a farmer-led solution to poor markets, saying "The feedback we received was positive.  Those we spoke with appreciated our outside-the-box thinking."
BISMARCK, N.D. (AP) — The Legislature and Gov. Doug Burgum have set the stage for two potential lawsuits in the waning days of the legislative session.
Burgum's signature on an abortion bill last week could spur an eventual court challenge. And lawmakers are bracing for Burgum to perhaps file a Supreme Court challenge to a bill he believes encroaches on his executive authority.
Monday is Day 67 of the session, and the Legislature will have to hustle to meet a goal of finishing work in 72-75 days. The House and Senate still have most major spending measures and some policy bills embroiled in conference committee negotiations.
The North Dakota Constitution limits the Legislature to 80 days of meetings every two years.
BISMARCK, N.D. (AP) — The North Dakota Stockmen's Association and its foundation have started a relief program to help flood-stricken ranchers in Nebraska.
The two groups have pledged $10,000 to kick-start the Nebraska in Need Disaster Relief Program . All of the money raised will go to Nebraska ranchers.
The Nebraska Farm Bureau says farm and ranch losses in that state could reach $1 billion. North Dakota Stockmen's Foundation President Warren Zenker says "what Nebraska has been through is almost unimaginable."
MINNEAPOLIS (AP) — Most of the tens of thousands of people who lost electricity during a severe snow storm in the Upper Midwest have their power back on.
The second "bomb cyclone" storm in less than a month knocked out power to more than 100,000 people in Minnesota, South Dakota, Iowa and Wisconsin. PowerOutage.us reports that only about 3,600 are still waiting to have their electricity restored.
Minneapolis-based Xcel Energy had 100,000 customers without power during the storm. The utility reports that fewer than 1,000 are still without electricity, and they should be back online soon.
Xcel says snow, rain, ice, and strong winds snapped more than 650 power poles and downed hundreds of power lines in the region.
GRAND FORKS, N.D. (AP) — Drone pilots from nearly two dozen universities across the country gathered in Grand Forks over the weekend to compete in the national collegiate drone racing championship at the University of North Dakota.For about 60 pilots from 23 university club teams it's more than competition, it's about having the opportunity to meet with drone industry officials and learn about the latest technology.UND senior Jordan Krueger tells Minnesota Public Radio News competitors have intrinsic knowledge of their drone, so that when it crashes they can fix it. Krueger estimates there are about 300 drone racing pilots at universities across the country, but many lack resources to compete in a sport because equipment can cost a couple of thousand dollars.
BISMARCK, N.D. (AP) — Landowners and the sculptor of the Enchanted Highway in western North Dakota have resolved a dispute concerning liability and the lease linked to the statuary road's flagship sculpture.
In 2017, Seth and Kayla O'Donnell bought 28 acres where they planned to build their home, including the 5-acre site of "Geese in Flight." The sculpture is located off Exit 72 on Interstate 94, at the northern end of the 32-mile Enchanted Highway of scrap metal works of art.
The couple closed public access to the 110-foot-tall, 78-ton carving in July 2017. Sculptor Gary Greff subsequently sued.
The Bismarck Tribune reports that the parties resolved the dispute outside of court in March before the trial that was scheduled for mid-April.
Both parties have declined to comment, citing the settlement's confidentiality agreement.
In sports…
Sunday…
Softball…
In Valley City
Game One…
VCSU.com
Viterbo 7 VCSU 5
Game Two
VCSU 9 Viterbo 6
(uj.edu)
In Sioux City, Iowa
Jamestown  5 Hastings College 4
Jamestown 11 Hastings College 3 (6 innings)
Baseball…
FREMONT, Neb.  (uj.edu)  — The University of Jamestown baseball team remained in second place in the Great Plains Athletic Conference standings, splitting a pair of games Sunday against Midland University. UJ took the opener 10-6 before Midland came back to win 4-3 in the nightcap.
The Jimmies, now 25-13 overall and 14-6 in the GPAC, are scheduled to play a single nine-inning game at Mayville State (N.D.) University Tuesday at 2 p.m.
Game 1: Jimmies 10, Warriors 6
A four-run sixth inning broke a five-all tie as Jamestown went on to a 10-6 win in game one against Midland.
After Grant Okawa (JR/Mississauga, ON) and Jaden Yackley (SR/Lynnwood, Wash.) walked to start the inning, Chase Hacker (JR/Millcreek, WA) drilled a three-run home run for an 8-5 lead. Lincoln Trujillo (JR/Cheyenne, WY)'s one-out sacrifice fly later in the inning pushed home another run to make it 9-5.
Hacker finished 2-for-5 at the plate with four RBI and two runs scored. Trujillo was 2-for-3 with three RBI. Yackley and Tanner Roundy (SR/Henderson, NV) also had two hits for UJ.
Andrew Reed (JR/Woodinville, WA) (2-0) pitched three innings in relief for the win. He gave up one run on two hits, walked one and struck out two. Dru Fitz (JR/Gresham, OR) went the first four innings for the Jimmies, allowing five runs (three earned) on eight hits. Fitz struck out five and did not walk a batter.
Game 2: Warriors 4, Jimmies 3
James Kaiser's two-run double in the bottom of the fifth erased a 3-2 Jimmie lead as the Warriors went on to take game to by a score of 4-3.
Kaleb Binstock (SR/Grand Forks, ND) and Lincoln Trujillo drove in runs for UJ in the first as the Jimmies took a 2-0 lead. Midland answered with one in the bottom of the second to cut the lead in half, but Jamestown made it 3-1 after an RBI single by Tanner Roundy.
Roundy took the loss on the mound for the Jimmies. He pitched four innings and gave up four runs on five hits. Roundy walked five and struck out four. Austin Pesicka (JR/West Linn, OR) and Joe Harris (SO/Recluse, WY) combined to hold Midland hitless over the final four innings.
Binstock, Roundy, and Chase Hacker all had two hits for Jamestown.
MAUSTON, WIS.  (VCSU)   – VCSU junior Phillip Almanza fired a five-hit shutout Sunday afternoon and the Valley City State baseball team swept a doubleheader from Viterbo University.
Almanza was nearly untouchable in game one of the doubleheader, striking out 12 batters as he pitched a 9-inning complete game in VCSU's 5-0 win. In game two, Jacob Rosales pitched a 7-inning complete game and struck out 11 batters as the Vikings completed the sweep with an 8-6 victory.
Valley City State improves to 11-14 overall and 6-4 in the North Star Athletic Association. Viterbo University drops to 7-21 overall and 2-9 in conference play.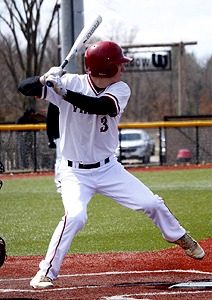 "Phil and Jacob were really good today," said Casey Olney, VCSU head coach. "It was great to see two complete games and the strikeout totals were impressive. We are in a spot where every game matters so much and they stepped up. The whole group fought through some adversity in game two, which was great to see, and we were able to hold on when they put together a comeback late."
Up next: Valley City State will face Viterbo for two more games Monday on Viterbo's home field in La Crosse, Wis. (Sunday's doubleheader was held in Mauston, Wis., due to wet field conditions at Viterbo.)
VCSU 5, Viterbo 0
Brady Smith opened the second inning with a solo home run, putting the Vikings on the board first and igniting a four-run inning by the VCSU bats.
That's all the offense Almanza would need on this day. The junior right-hander diced his way through the V-Hawk lineup, scattering just five hits, walking no one and striking out 12 during a 9-inning complete game shutout.
With the Vikings leading 4-0, Viterbo put two runners on in both the second and fifth innings. Almanza stepped up to the challenge by inducing a shallow pop out to end the second inning, and then worked out of the fifth inning with back-to-back strikeouts. The V-Hawks also put two runners on the ninth, but Almanza closed the game with a groundout to third base.
Almanza's 12 strikeouts is the most by any North Star Athletic Association pitcher this season, and his shutout is the first of the year for the Vikings.
The Vikings finished with 10 hits in the game, including two each by Grant Wehseler, Emmanuel Leyva and Jorun Hamre. Wehseler doubled and drove in two runs, while Smith picked up one RBI with his solo home run.
Viterbo's Noah Bouley had two hits in the game. Samuel Torsey took the loss after allowing seven hits and five runs over seven innings of work. He walked one and struck out seven. Only two of the five runs were earned.
VCSU 8, Viterbo 6
Jacob Rosales fired his second straight complete game on the mound and the Vikings overcame four errors as they completed the sweep with an 8-6 win in game two of the doubleheader.
Rosales gave up four hits and six runs while striking out 11 batters. The 11 strikeouts is the second-highest individual total in the conference this season, trailing only the 12-strikeout performance by Almanza in game one Sunday. All six runs were unearned due to four Viking errors.
Valley City State scored first with two runs in the second inning on a fielder's choice and a double steal. Viterbo struck back to take the lead with four runs in the third inning, taking advantage of three Viking errors to score four unearned runs.
The Viking regained the lead with three runs in the top of the fourth. Jorun Hamre drew a one-out walk to start the rally, and Christian Peery followed with a double to left field. Jayden Shipman's RBI single cut the deficit to 4-3, and then Nate Soulis tied the game with a pinch-hit RBI single that scored Peery. Wehseler capped the rally with a single that scored Shipman for a 5-4 Viking lead.
VCSU tacked on three needed insurance runs in the top of the seventh. Sal Avila drew a walk and Aiden Brook singled to put two runners on. Brady Smith singled both home to make it 7-4, and then Smith later came in to score on a wild pitch.
Viterbo made things interesting in the bottom of the seventh. Noah Bouley drew a two-out walk and then Nolan Glunz reached on an error. DJ Wilson followed with a two-run double to make it 8-6. Rosales hit the next batter to put the tying run at first base, but he buckled down and sealed the victory with his 11th strikeout of the day.
VCSU finished with 10 hits, including two each by Brady Smith and Aiden Brook. Smith finished 2-for-4 with two runs and two RBIs. Four other Vikings had a hit and an RBI.
Kyle Gilbertson took the loss for Viterbo, giving up eight hits and five runs over six innings on the mound. DJ Wilson led the V-Hawk offense with two hits and three RBIs.
PGA-MASTERSTiger caps comeback with 15th major titleAUGUSTA, Ga. (AP) — The comeback is complete. Tiger Woods has his fifth Masters title.The 43-year-old Woods shot a 2-under 70 for one-stroke victory and his 15th major championship. But it was his first since the 2008 U.S. Open, capping a remarkable recovery from debilitating injuries and embarrassing personal problems.Woods never missed a shot that mattered over the final seven holes, taking the lead with a 5-iron to the fat of the green on the par-5 15th for a two-putt birdie. He delivered the knockout with an 8-iron that rode down the ridge by the cup and settled 2 feet away for birdie on the par-3 16th.He tapped in for birdie and a 13-under total.This is the first time Woods has ever come from behind on the final day to win a major championship, leaving him three behind Jack Nicklaus' record of 18 major titles.Brooks Koepka (KEHP'-kuh), Xander Schauffele (SHOW'-flee) and Dustin Johnson tied for second. Francesco Molinari entered the final round with a two-shot lead and remained in contention for his first Green Jacket before carding double-bogeys on the 12th and 15th holes to end up two shots back.

NBA PLAYOFFS

Bucks, Celtics, Blazers open with wins

UNDATED (AP) — The Milwaukee Bucks showed how they earned the No. 1 seed in the NBA playoffs by blowing out the Detroit Pistons.

Giannis Antetokounmpo (YAH'-nihs an-teh-toh-KOON'-poh) had 24 points and 17 rebounds in just 24 minutes of the Bucks' 121-86 thrashing of the eighth-seeded Pistons. Antetokounmpo shot 9-for-17 and was one of seven Milwaukee players to score in double-figures.

George Hill scored 16 points off the bench, Eric Bledsoe had 15 and Brook Lopez and Khris Middleton each added 14.

Detroit shot 38% from the field and trailed by 41 in the third quarter. Luke Kennard paced the Pistons with 21 points off the bench.

In other NBA series openers:

— The Rockets rolled to a 122-90 rout of the Jazz behind James Harden's 29 points, 10 assists and eight rebounds. Harden contributed six points during a 9-2 run that gave Houston a 108-86 lead with about four minutes left. Eric Gordon had 17 points and Clint Capela scored 16 in the rout. Rudy Gobert (goh-BEHR') had 22 points and 12 rebounds to lead the Jazz.

— The Celtics dominated the second half of an 84-74 comeback win over Indiana. Boston trailed by 11 in the first half and was down seven at the break before outscoring the Pacers, 26-8 in the third quarter. Kyrie Irving and Marcus Morris each had 20 points for the Celtics, Jayson Tatum finished with 15 and Al Horford added 10 with 11 rebounds.

— Damian Lillard scored 30 points and CJ McCollum added 24 as the Trail Blazers held off the Thunder, 104-99. Enes Kanter added 20 points and a career playoff-high 18 rebounds to help the Blazers overcome Russell Westbrook's 24 points, 10 assists and 10 boards. Portland led by as many as 19 points in the first half, but the Thunder pulled within 80-77 early in the fourth quarter before the Blazers held home-court advantage. Game 2 is Tuesday in Portland.

NHL PLAYOFFS

Blue Jackets beat Bolts again

UNDATED (AP) — The Tampa Bay Lightning have picked the worst time for their first three-game losing streak of the season.

The NHL's top-seeded team is down three-games-to-none in the first round of the Stanley Cup playoffs following a 3-1 loss to the Blue Jackets in Columbus. Matt Duchene (doo-SHAYN'), Oliver Bjorkstrand and Cam Atkinson tallied for the Jackets, who have scored 12 of the last 14 goals in the series since falling behind 3-0 in Game 1.

Sergei Bobrovsky (boh-BRAHF'-skee) fended off a desperate third-period charge to finish with 30 saves, blanking the Lightning until Ondrej Palat (AHN'-dray pah-LAHT') beat him with 14:20 remaining.

Tampa Bay played without NHL scoring champion Nikita Kucherov (KOO'-cheh-rahv), who served a one-game suspension.

The Jackets can wrap up the series on Tuesday, while the Lightning will try to become the fifth team in league history to win a series after dropping the first three games.

Elsewhere in the Stanley Cup playoffs:

— The Islanders have a 3-0 series lead after Jordan Eberle and Brock Nelson scored 62 seconds apart in the first period to erase an early deficit and jumpstart the New York's 4-1 win over the Penguins. Leo Komarov gave the Islanders insurance with his first goal since January, beating Matt Murray midway through the third period. Robin Lehner (LEH'-nur) stopped 25 shots for the Isles, who have outscored the Pens 11-5 and can advance as early as Tuesday.

— Paul Statsny (STAS'-nee) and Mark Stone each had five-point nights as the Golden Knights doubled up the Sharks, 6-3 to take a two-games-to-one lead. Stone completed his hat trick by scoring with 6:03 remaining after San Jose netted two straight in the third period to get within 5-3. Stone had two goals and set up three others to back Marc-Andre Fleury's 25-save performance.

— Kyle Connor scored twice and the Jets pulled within two games to one in their series by whipping the Blues, 6-3 in St. Louis. Patrik Laine (LY'-nay) had a goal and an assist for Winnipeg, and Connor Hellebuyck (HEH'-leh-buhk) made 25 saves to help the Jets bounce back from a pair of one-goal losses. The Jets trailed 1-0 until Kevin Hayes, Laine and Connor tallied during the first nine minutes of the second period.

NHL-AVALANCHE-MAKAR

Cale Makar signs with Avs

DENVER (AP) — The Colorado Avalanche have signed defenseman Cale Makar (mah-KAHR') to a three-year deal a day after his Massachusetts squad lost in the Frozen Four championship game.

Makar just wrapped up a sophomore season in which he led the Minutemen to the title game before falling to Minnesota-Duluth. He won the Hobey Baker Award and finishing fourth among NCAA defensemen this season with 49 points.

MLB …
— Jose Berrios (beh-REE'-ohs) pitched into the seventh and Trevor Hildenberger notched his first big league save by striking out two with the bases loaded in the ninth to pitch the Twins to a 6-4 win against the Tigers. C.J. Cron homered and drove in three, and Eddie Rosario was a triple short of the cycle in Minnesota's third win in four games.
 The Seattle Mariners owned the best record in the majors until their lost weekend against the visiting Houston Astros.The Astros completed a three-game sweep as Gerrit Cole, Aledmys (ah-LEHD'-mees) Diaz and Michael Brantley led a 3-2 victory over the Mariners. Cole struck out 11 while limiting Seattle to two runs and four hits over six innings. But the Mariners led 2-0 until Brantley hit a two-run single in the sixth, one inning before Diaz homered.The Mariners stretched their season opening-record home run streak to 18 games when Mitch Haniger went deep, but Seattle dropped to 13-5.The American League's new No. 1 team is the 12-4 Tampa Bay Rays after they completed a fifth straight series victory.Pinch-hitter Guillermo Heredia (gee-HER'-moh heh-RAY'-dee-uh) belted a two-run homer to cap a five-run burst in the eighth inning of the Rays' 8-4 win over the Blue Jays. Pinch-hitter Mike Zunino poked a two-run single in the eighth.In other MLB games:— Terrance Gore stole a base and scored on Hunter Dozier's single in the bottom of the ninth to lift the Royals past the Indians, 9-8. Lucas Duda (DOO'-dah), Whit Merrifield and Jorge Soler (HOHR'-hay soh-LEHR') homered to help Kansas City complete a three-game sweep.— Tim Anderson launched his first career grand slam and Carlos Rodón allowed three hits in six innings of the White Sox's 5-2 victory over the Yankees. Chicago chased Masahiro Tanaka (mah-sah-HEE'-roh tah-NAH'-kah) with nobody out in the fifth and won for only the second time in eight games, with both victories coming in the series.

— Danny Santana laced a two-run, pinch-hit triple and scored the go-ahead run during a four-run eighth that sent the Rangers past the Athletics, 8-7. Elvis Andrus (AN'-droos) had three hits and two RBIs for Texas.

— David Price tossed three-hit ball and fanned seven over seven innings as the Red Sox blanked the Orioles, 4-0. Xander Bogaerts (BOH'-gahrts) hit a three-run homer and drove in every run to help Price get his first win of the year.

— German (hur-MAHN') Marquez took a no-hitter into the eighth and the Rockies ended an eight-game losing streak by downing the Giants, 4-0. Marquez went the distance on a one-hitter and Nolan Arenado (ar-eh-NAH'-doh) crushed a three-run shot, his first homer of the season.

— Zack Greinke (GREHN'-kee) pitched seven strong innings and helped himself with two hits as the Diamondbacks doubled up the Padres, 8-4 to halt a four-game skid. Pinch-hitter David Peralta (peh-RAHL'-tah) slammed a three-run homer for Arizona, which also received round-trippers from Ketel Marte (keh-TEHL' mahr-TAY') and Christian Walker in ending San Diego's four-game winning streak.

— Ross Stripling was sharp in the Dodgers' 7-1 win over the Brewers, limiting Milwaukee to a run and four hits over eight innings. Joc Pederson and Alex Verdugo homered to help Los Angeles stop its six-game losing streak.

— Marcell Ozuna (oh-ZOO'-nuh) homered twice and Matt Carpenter supplied the tiebreaking blast in the seventh inning to power the Cardinals past the Reds, 9-5 in Monterrey, Mexico. Ozuna had four RBI*s, three with a shot over the right field wall in a four-run first before Cincinnati stormed back to tie the game.

— The Phillies picked up a 3-1 win over the Marlins on Jean Segura's two-run homer in the 14th inning. Cesar Hernandez also got his first homer of the season, and winning pitcher Victor Arano recorded six strikeouts during his two innings of relief.

— Josh Donaldson and Nick Markakis (mahr-KAY'-kihs) homered to back Julio Teheran's six innings of one-run ball as the Braves dumped the Mets, 7-3 to gain a split of the four-game series. It was a second straight losing performance for NL Cy Young Award winner Jacob deGrom (deh-GRAHM'), who has allowed five homers in his last two starts.

— Rookie Jason Martin doubled home the tiebreaking run in the ninth before Felipe Vazquez slipped out of a bases-loaded jam to complete the Pirates' 4-3 win over the Nationals. Josh Bell went 2-for-4, drove in two runs and scored the deciding run as Pittsburgh took a series in Washington for the first time in six years.

— The Cubs and Angels were postponed by snow and rain at Wrigley Field. A makeup date was not immediately announced.

MLB NEWS

Tigers' Moore to have surgery

UNDATED (AP) — Detroit left-hander Matt Moore will undergo surgery this week to repair a torn meniscus in his right knee.

The Tigers said they won't have a definite timetable for Moore's return until after Wednesday's scheduled procedure in Dallas, although Moore said he's hoping for a recovery time of four to six weeks.

Moore hurt the knee on April 6 when he left in the third inning of his start against Kansas City. Since then, he said, he's had two setbacks.

In other MLB news:

—The Braves' pitching staff has taken a couple of hits with starter Sean Newcomb optioned to Triple-A Gwinnett and closer Arodys Vizcaino placed on the injured list. Newcomb couldn't hold a 4-0 lead in the Braves' win Saturday over the New York Mets. Vizcaino was placed on the 10-day injured list with right shoulder inflammation.

— Pittsburgh Pirates right-hander Chris Archer dropped his appeal and began serving a five-game suspension Sunday for setting off a benches-clearing altercation on April 7. He ended his appeal a day after allowing one run in seven innings against Washington, getting a no-decision in Pittsburgh's loss.

COLLEGE BASKETBALL-COACHES

Brannen takes Cincinnati coaching job

UNDATED (AP) — Cincinnati has hired men's basketball coach John Brannen after he led Northern Kentucky to two NCAA Tournament appearances in the last three years.

The Norse went 81-51 in Brannen's four seasons, winning two Horizon League regular-season titles and a pair of conference tournament championships.

Brannen replaces Mick Cronin, who left Cincinnati for the UCLA job.

In other college basketball coaching hires:

— LSU athletic director Joe Alleva says he has decided to reinstate recently suspended coach Will Wade. LSU was having one of the better seasons in program history under the 36-year-old Wade when he was suspended indefinitely. His punishment came on the heels of a Yahoo report about leaked excerpts of an FBI wiretap that captured Wade speaking with a person convicted of funneling illegal payments to the families of college basketball recruits.

— Wofford has promoted associate head coach Jay McAuley to lead the program after longtime coach Mike Young left for Virginia Tech earlier this month. McAuley helped Young lead the Terriers to their most successful Division I season in history by going 30-5, including an 18-0 mark to win the Southern Conference.

INDYCAR-LONG BEACH

Rossi repeats at Long Beach

LONG BEACH, Calif. (AP) — Alexander Rossi conquered the streets of Long Beach for the second consecutive year.

Rossi won the Acura Grand Prix of Long Beach from the pole and had the field covered very early. He was more than 20 seconds faster than Josef Newgarden in giving Andretti Autosport its 200th victory across all series.

WOMEN'S HOCKEY-WORLD CHAMPIONSHIPS

US beats Finland in shootout

ESPOO, Finland (AP) — Alex Rigsby stopped four of five shots in the shootout and the United States beat Finland 2-1 to win its fifth consecutive gold medal at the women's world championship.

The victory followed a questionable goaltender interference review that wiped out what would have been an overtime goal for the Finns.
In world and national news…
ST. PAUL, Minn. (AP) — President Donald Trump is using Tax Day on Monday to visit Minnesota, a state he nearly won in 2016 and would like to flip in 2020.
But questions remain about how much Trump is benefiting politically from the federal tax overhaul, his signature legislative accomplishment.
An NBC/Wall Street Journal poll last week showed that most Americans don't think they even got a tax cut. Just 17% of those polled believed their taxes went down. Tax preparer H&R Block said in a report last week that most Americans are undergoing a "confusing tax experience" this season.
Paul Gazelka, the top Republican in Minnesota's state Senate, said Trump is coming to Minnesota because he realizes the state is "in play."
But U.S. Sen. Amy Klobuchar of Minnesota, one of many Democrats vying to run against Trump, says the president's tax cuts added trillions of dollars to the nation's debt and helped the wealthy more than anyone else.
(AP)  A suspected tornado hit a rural Ohio city, as the storm that pummeled the South made its way to the Northeast.
The Times Gazette reported several homes and businesses were damaged after an apparent tornado struck Shelby, Ohio, Sunday about 4 p.m.
Shelby is about 90 miles (144.83 kilometers) from Cleveland.
The Richland County Emergency Management Agency reported about a half-dozen homes were damaged and at least six people were taken to a hospital to be treated for storm-related injuries.
The National Weather Service has issued tornado watch warnings for parts of Maryland, New York, Pennsylvania and West Virginia. Sunday's warnings come as a severe storm in the South destroyed homes, hospitalized people and caused the deaths of eight people.
WASHINGTON (AP) — Rep. Ilhan Omar says she's faced increased death threats since President Donald Trump spread around a video that purports to show her being dismissive of the 2001 terrorist attacks. "This is endangering lives," she said, accusing Trump of fomenting right-wing extremism. "It has to stop."
Her statement late Sunday followed an announcement by House Speaker Nancy Pelosi that she has taken steps to ensure the safety of the Minnesota Democrat and the speaker's call for Trump to take down the video.
Soon after Pelosi's statement, the video disappeared as a pinned tweet at the top of Trump's Twitter feed, but it was not deleted.
White House press secretary Sarah Sanders defended Trump earlier Sunday, saying he wished no "ill will" upon the first-term lawmaker.
WELLINGTON, New Zealand (AP) — New Zealand's foreign minister has confirmed a New Zealand nurse has been held captive by the Islamic State group in Syria for almost six years, information long kept secret for fear her life might be at risk.
The status of nurse and midwife Louisa Akavi, now 62, is unknown but her employer, the International Committee of the Red Cross, says it has received recent eyewitness reports suggesting she might be alive.
The New York Times on Sunday became the first media organization to name Akavi, ending a more than 5 ½-year news blackout imposed by the New Zealand government and Red Cross with the cooperation of international media.
The collapse of ISIS has raised hopes Akavi and two Syrian drivers kidnapped with her might now be discovered.
NEW YORK (AP) — Mainstream retailers are leaping into the world of products like skin creams and oils that tout such benefits as reducing anxiety and helping you sleep.
The key ingredient is CBD, or cannabidiol, a compound derived from hemp and marijuana that doesn't cause a high.
Retailers are taking advantage of the booming industry even as its legal status and health benefits remain murky. And the flood of products is only testing how federal regulators can police it.
Retail sales of CBD consumer products in 2018 were estimated to reach as much as $2 billion, according to Cowen & Co. By 2025, that figure could hit $16 billion in retail sales, the investment firm predicts.
FRANKFURT, Germany (AP) — German prosecutors have indicted former Volkswagen CEO Martin Winterkorn and four others on charges of fraud and unfair competition, saying he failed to prevent manipulation of engine software that let Volkswagen cars cheat on diesel emission tests.
Prosecutors in Braunschweig said Monday that Winterkorn knew about the deceptive software since 2014.
The prosecutors' statement said that the defendants faced from six months to 10 years imprisonment if convicted, and that bonuses earned due to sales based on the deception could be forfeited.