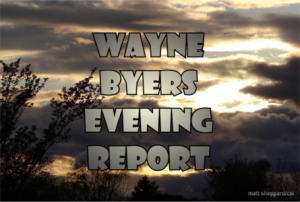 CSi Weather…
.TONIGHT…Mostly clear. Lows in the lower 30s. Southwest winds 5 to 10 mph.
.TUESDAY…Mostly sunny. Highs in the lower 60s. Southwest winds around 5 mph.
.TUESDAY NIGHT…Cloudy. Chance of rain in the evening, then rain likely after midnight. Lows around 40. East winds 5 to 10 mph.
Chance of rain 60 percent in the Jamestown area, 50 percent in the Valley City area.
.WEDNESDAY…Cloudy. Rain showers likely in the morning, then
chance of rain showers in the afternoon. Highs in the upper 40s.
Northeast winds 15 to 20 mph. Chance of showers 70 percent.
.WEDNESDAY NIGHT…Mostly cloudy with a 30 percent chance of rain
showers. Lows in the mid 30s.
.THURSDAY…Mostly sunny. Highs in the mid 50s.
.THURSDAY NIGHT…Mostly clear. Lows in the mid 30s.
.FRIDAY…Sunny. Highs around 60.
.FRIDAY NIGHT…Mostly clear. Lows in the upper 30s.
.SATURDAY…Mostly sunny. Highs in the mid 60s.
.SATURDAY NIGHT…Mostly cloudy. A 20 percent chance of rain
showers and thunderstorms in the evening. Lows in the upper 30s.
.SUNDAY…Partly sunny. Highs in the upper 50s.
Rain overnight Tuesday continuing through Wednesday, slowly
decreasing from west to east.
Wednesday night there is a slight chance of thunderstorms across mainly western and north centralND.
A chance of thunderstorms Thursday.
Precipitation totals for this system are currently anywhere from half an inch to greater than an inch, with the highest amounts in the southern half of the forecast area.
Once that system moves through temperatures warm back to around 60 on Thursday,possibly reaching the low 70s in the west on Friday.
Saturday will be similar before a weak cold front moves through, cooling
temperatures but not currently bringing a strong chance for
precipitation.
Flood updates and water level updates  for the …
Sheyenne River Level Through Valley City
James River level through Jamestown.
Water amounts in the snow pack
The Latest Flood Warnings from The National Weather Service
https://ndresponse.gov/flood-region
Jamestown (CSi)  The Jamestown Choralaires will host The North Dakota Men's Choral Festival, May 11, at 7-p.m., at the University of Jamestown's Reiland Fine Arts Center.
Participating groups will be from Bismarck, Harvey, Minot, and Valley City.
Tickets are Adults $15, Students $5, with tickets available from Choralaires members, Country Garden Floral, The Dakota Store, Looysen I Care, and at the door.
BISMARCK, N.D. (AP) — Republican Gov. Doug Burgum made no comment last week when he signed legislation making it a crime for a doctor performing a second-trimester abortion to use instruments such as clamps, scissors and forceps to remove the fetus from the womb.Pressed Monday to expand on his approval, Burgum says simply that he considered both sides before deciding to sign the bill.The bill passed easily in the GOP-led Legislature last month. But Burgum tells The Associated Press that he "read every letter" that came to him on supporting or opposing the bill before deciding to sign it.Abortion-rights groups argue that banning the procedure is unconstitutional because it interferes with private medical decisions.The bill becomes effective if a federal appeals court or the U.S. Supreme Court allows its enforcement. 
BISMARCK, N.D. (AP) — North Dakota voters will get to decide if it should be more difficult for citizens to amend the state constitution.Senators on Monday approved House amendments to a resolution that allows the Legislature to vote on an initiated measure following voters' approval.Votes in both chambers largely fell along party lines, with Democrats dissenting.Any initiated measures would go back to voters for final approval if it fails to win lawmakers' endorsement.Opponents of the resolution argue the move damages residents' participation in the legislative process and is contrary to the will of the people.North Dakota is among about two dozen states with some form of an initiative process. 
BISMARCK, N.D. (AP) — The North Dakota Legislature has passed a measure that makes it illegal to pass a pet off as a service animal.Representatives voted 85-4 on Monday to approve the measure that makes it an infraction for falsely claiming a pet as a service animal to "gain admission to a public place" or obtain housing.An infraction has a maximum fine of $1,000.The Senate approved the bill earlier.Backers of the bill say it is aimed at protecting disabled people who truly rely on service animals. 
BISMARCK, N.D. (AP) — A lawyer and former one-term state representative has been elected by North Dakota Democrats as the party's chairwoman.Thirty-year-old Kylie Oversen of Grand Forks was elected Saturday to the post she has held previously.She replaces Warren Larson, who took over for Oversen during her failed bid for tax commissioner last year.Oversen lost her seat in the Legislature in 2016.North Dakota Democrats hold no statewide offices and only 25 of 141 seats in the Legislature.
OSLO, Minn. (AP) — Spring flooding has turned a northwestern Minnesota community into an island of isolation.
The rising Red River has flooded the two highways leading into and out of Oslo in Marshall County near the North Dakota border.
Roughly half of the town left before the roads flooded, including those with jobs outside the city and those with school-aged children, Minnesota Public Radio News reported. It's unclear how long it'll take the floodwaters to recede.
The city's 330 residents have grown accustomed to the isolation. It marks the fifth time in a decade that flooding has enveloped the community.
Kitty Stromberg, owner of Kitty's Cafe, has stocked up to feed the remaining Oslo residents as well as Minnesota National Guard members who have been dispatched to patrol the city's ring levee.
The levee was recently built up several additional feet to manage a 42-foot (13-meter) flood crest. The Red River crested just less than 38 feet (12 meters) over the weekend.
Stromberg said the flooding and isolation are just parts of living in Oslo.
"I don't love the island thing," she said. "But we have to deal with it."
Stromberg said if the flooding persists, food and supplies arrive by boat.
In world and national news…
PARIS (AP –  FOX NEWS) — Firefighters are battling a massive blaze at the French capital's iconic Notre Dame Cathedral.
Flames and black smoke were seen shooting from the base of the medieval church's spire on Monday.
The peak of the church is undergoing a 6 million-euro ($6.8 million) renovation project.
French media quoted the Paris fire brigade saying the fire is "potentially linked" to the renovation work.
WASHINGTON (AP) — The Justice Department expects to make special counsel Robert Mueller's report on the Russia investigation public on Thursday morning.
Spokeswoman Kerri Kupec said Monday the redacted report will be sent to Congress and made available to the public Thursday.
Mueller officially concluded his investigation late last month and submitted a nearly 400-page report to Attorney General William Barr. Barr provided a four-page letter to Congress that detailed Mueller's "principal conclusions."
Barr said the special counsel didn't find a criminal conspiracy between Russia and Donald Trump's associates during the 2016 presidential campaign.
But Mueller did not reach a definitive conclusion on whether Trump obstructed justice. Instead, Barr said he did not believe the evidence was sufficient to prove that Trump had obstructed justice.
BOSTON (AP) — Actress Lori Loughlin (LAWK'-lin), her fashion designer husband Mossimo Giannulli and other prominent parents are pleading not guilty in the college admissions bribery scam.
Loughlin and Giannulli said in court documents filed Monday they are waiving their right to appear in court for an arraignment and plead not guilty.
The couple and more than a dozen other parents were indicted last week on charges of mail fraud and money laundering conspiracy.
Loughlin and Giannulli are charged with paying $500,000 in bribes to get their daughters admitted to the University of Southern California as crew recruits, even though neither is a rower.
They haven't publicly addressed the allegations against them.
Several other indicted parents have also entered not guilty pleas.
Fellow actress Felicity Huffman and 12 other parents have agreed to plead guilty .
BOSTON (AP) — Two-time winner Joan Benoit Samuelson finished the Boston Marathon in 3 hours, 4 minutes on the 40th anniversary of her first victory.
Samuelson wore bib No. 1979.
She is 61.
NEW YORK (AP) — U.S. measles cases have surged again, and are on pace to set a record for most illnesses in 25 years.
Health officials on Monday said 555 measles cases have been confirmed so far this year, up from 465 as of a week ago.
While 20 states have reported cases, New York has been the epicenter. Nearly two-thirds of all cases have been in New York, and 85% of the latest week's cases came from the state. Most of the New York cases have been unvaccinated people in Orthodox Jewish communities.
The 2019 tally is already the most since 2014, when 667 were reported. The most before that was 963 cases in 1994.
The Centers for Disease Control and Prevention recommends that all children get two doses of measles vaccine.
Jonathan Wolman, who over more than 45 years in journalism served as editor and publisher of The Detroit News and previously worked as a reporter, Washington bureau chief and executive editor at The Associated Press, died Monday in Detroit. He was 68.
His family told the News that Wolman died of complications from pancreatic cancer.
Wolman had been editor and publisher of the News since 2007, during which the paper met financially challenging times but still kept Detroit as one of the few U.S. cities with more than one major daily newspaper.
Wolman had a nearly 31-year career with the AP, starting in 1973 as a reporter in Madison, Wisconsin. He rose to serve as Washington bureau chief, managing editor and executive editor.
WASHINGTON (AP) — The crowded field of 2020 Democratic presidential candidates is showing early signs of money trouble as donors sit on the sidelines to see how the contest unfolds, signaling a drawn-out primary battle lies ahead.
The Democratic campaign comes into greater focus Monday as declared White House hopefuls report their first quarter fundraising totals. Early glimpses provided by nine of the more than a dozen declared candidates show they are raising less money than in previous cycles.
Totals released by those campaigns show Democrats collectively raised about $66 million since January. That's less than the $81 million Democrats raised during the same period in 2007, the last time the party had a wide open primary.
It pales in comparison to the $30 million President Donald Trump raised during the first quarter.