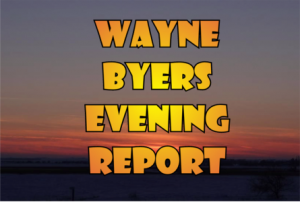 CSi Weather…
.TONIGHT…Rain showers. Lows around 40. Southeast winds around 5 mph shifting to the northeast after midnight. Chance of rain 90 percent.
.WEDNESDAY…Rain. Highs in the upper 40s. Northeast winds around 15 mph.  Chance of rain 90 percent.
.WEDNESDAY NIGHT…Mostly cloudy. A 30 percent chance of rain in
the evening  Lows in the mid 30s. Northwest winds 5 to 10 mph.
.THURSDAY…Partly sunny. Chance of rain showers and slight
chance of thunderstorms in the afternoon. Highs in the mid 50s.
Northwest winds 5 to 10 mph. Chance of precipitation 30 percent.
.THURSDAY NIGHT…Mostly clear. Lows in the mid 30s.
.FRIDAY…Sunny. Highs in the mid 60s.
.FRIDAY NIGHT…Partly cloudy. Lows in the lower 40s.
.SATURDAY…Mostly sunny. Highs in the mid 60s.
.SATURDAY NIGHT…Mostly cloudy. A 20 percent chance of rain
showers in the evening. Lows in the lower 40s.
.SUNDAY…Partly sunny. Highs in the mid 50s.
.SUNDAY NIGHT…Partly cloudy. Lows in the mid 30s.
.MONDAY…Mostly sunny. Highs in the mid 50s.
Rain overnight Tuesday night  continuing through Wednesday, slowly
decreasing from west to east.
Wednesday night there is a slight chance of thunderstorms across mainly western and north central ND.
A chance of thunderstorms Thursday.
Precipitation totals for this system are currently anywhere from half an inch to greater than an inch, with the highest amounts in the southern half of the forecast area.
Once that system moves through temperatures warm back to around 60 on Thursday,possibly reaching the low 70s in the west on Friday.
Saturday will be similar before a weak cold front moves through, cooling
temperatures but not currently bringing a strong chance for
precipitation.
Flood updates and water level updates  for the …
Sheyenne River Level Through Valley City
James River level through Jamestown.
Water amounts in the snow pack
The Latest Flood Warnings from The National Weather Service
https://ndresponse.gov/flood-region
Valley City  (CSi)  The Valley City Commission met Tuesday evening at City Hall.  All members were present.
The Arbor Day Proclamation was read by Mayor Carlsrud.
Arbor Day May 3, 2019.
APPROVAL OF CONSENT AGENDA ITEMS INCLUDED:
A Raffle Permit for Barnes County Wildlife Federation, Disabled American Veterans
Blocking off the Street for Valley City Fire Department on Central Avenue from 4th Street to 5th Street N on May 1, 2019, for a mock traffic crash.
Blocking off Street for Valley City High School Prom on May 4, 2019 on 4th Street NW from Central Avenue to 2nd Avenue
Approved an Electrician and/or Plumber License for Hope Electric; Wrigley Mechanical, Inc.
PUBLIC COMMENTS …No one spoke.
RESOLUTIONS
The City Commission considered….
A Resolution Accepting the Bid and Awarding Contract for:
Paving Improvement District No. 119
Paving Improvement District No. 119b
Sanitary Sewer District No. 64
Storm Sewer Improvement District No. 52
for Water Main Improvement District No. 100
The bid package for all five was rejected and rebid until fall, when it's expected that the bids will be lower.
NEW BUSINESS
The City commission approved transferring Access easement from the NDDOT (Love's development) to create a right of way easement for the city that will support the extension of a south side frontage road along the interstate. City Administrator Schelkoph said the action will create a new city street, accessible to all motorists and Swanberg Construction.
The Valley City Commission had previously approved annexing a tract of land located southeast of I-94 exit 292 in Valley City.
The Loves Corporation was founded in 1964 and is based in Oklahoma City, Oklahoma and plans to open a new travel center and truck stop in Valley City.
Approved was a bid for Electrical Department bucket truck from Terex in the amount of $221,650.00 City Administrator Schelkoph said they city typically uses that type of truck for about 20 years.  The present truck is 15 years old, and will be bid for sale.
Approved was a Permanent Flood Protection Phase IV buyout purchase at 310 2nd Ave SW for $185,000 City Administrator Schelkoph said the purchase was previously  approved in the fund in conjunction with the State Water Commission.  He said Phase IV buyouts bids are expected this year.
Approved was a Permanent Flood Protection Phase IV buyout purchase at 206 4th St SW for $68,000.
Approved  was a Permanent Flood Protection Phase IV buyout purchase at 537 4th St SW for $114,000 City Administrator Schelkoph said the structure inhibits the city mitigating floods.
Approved was an Application for Property Tax Exemption for Improvement to Residential Building at 958 2nd St NW City Assessor Hansen said after demolition, new construction will start on the site, and the owners have applied for the exemption.
Considered was a request from South Central Adult Services for $20,000 to support the transit program Director, Pat Hansen resubmitted the request.
60,000 rides are given each year.
The City Commission, Tuesday, tabled the request, pending additional information, to come before the Finance Committee, and City Commission at a later date.
Approved was a Special Alcohol Beverage Event Permit for American Legion at VCSU Student Union on April 23, 2019 for Development Corporation & Chamber of Commerce Annual Banquet.
CITY ADMINISTRATOR'S REPORT
David Schelkoph said water inflows to Lake Ashtabula are reduced as of Tuesday, adding the Corps of Engineers plans to reduce the release at Baldhill Dam on Wednesday.
Before the City Commission meeting on Tuesday evening, Schelkoph  said, the city has decided on a more beneficial project schedule for Streetscape I.
He said the city has received one more option as to the construction schedule for the Streetscape project.  This proposal would cut in half the work on Central avenue South to North between Main St. and 4th St. and only close half of Central Ave. (no more than two blocks) at a time.  This will mean that the street in front of all business on Central Ave. will be closed only for 5-6 weeks at a time if all goes well.  This is a significant reduction to the 8-10 weeks previously scheduled.  By choosing this plan the work on the Streetscape I project can start in early May with a work stoppage to accommodate Rally in the Valley.  There will be more information coming from the city with the final work schedule in the next few days.
A preconstruction Public Meeting will be held next Tuesday, April 23, and all business on Central Ave. will be invited to hear the details of the construction schedule and scope of work on Central Ave. A Public information meeting will be next Thursday, April 25.
Mayor Carlsrud said the recycling program in Valley City is continuing as usual at this time.
He commended the city street crews on the recent snow removal adding that the alley are currently getting attention.
CITY UPDATES & COMMISSION REPORTS
Citywide Cleanup week in Valley City is May 6-10, 2019.
City Fire Chief Scott Magnuson cautions residents to stay off local bodies of water, while the water levels remain high.
The meeting was shown live on CSi Cable 68 followed by replays.
BISMARCK, N.D. (AP) — North Dakota's Senate doesn't appear to be budging on its opposition of tapping funds from the state's voter-approved oil tax savings account to help offset income taxes.The Senate already has killed the House bill that would use half of the earnings from the Legacy Fund to reduce individual and corporate income taxes.The proposal is now inserted in the Tax Department's budget, where it's embroiled in conference committee negotiations.Democratic Sen. Larry Johnson says there continues to be "little, if any, support" for the proposal in his chamber.Republican Rep. Craig Headland, the bill's primary sponsor, argued that the income tax relief would spur the economy and make North Dakota more competitive with other states that don't have income tax.
BISMARCK, N.D. (AP) — The North Dakota Legislature is reworking a plan to commit public money for a Theodore Roosevelt presidential library in western North Dakota.Republican Majority Leader Rich Wardner introduced legislation Tuesday that will use $50 million from the state treasury and loans from the state-owned Bank of North Dakota to fund operating and maintenance costs of the proposed library in Medora.The funding mechanism is a marked difference from legislation Wardner pitched last week that would use money from the voter-approved oil tax savings account.The money must be matched by $100 million in private funds to build the facility that has been a top priority with Gov. Doug Burgum.Senators will vote on the legislation on Wednesday. If approved, it will go to the House for consideration.
BISMARCK, N.D. (AP) — The Legislature is considering a measure that outlines how North Dakota would respond if the federal government were to designate parts of the state as dumping sites for nuclear waste.
Senators passed a bill with amendments Tuesday that explicitly prohibits nuclear waste dumping. But the bill sets the regulatory framework for disposal and storage of the radioactive waste if the state is forced to accept it by the federal government.
The measure also sets up a state commission to oversee the regulations. The House still must approve the measure.
The bill was inspired after the U.S. Department of Energy proposed to drill an exploratory borehole for nuclear waste near Rugby in 2016.
BISMARCK, N.D. (AP) — The Senate has killed a resolution that would allow lawmakers to return to Bismarck to address last-minute vetoes by a governor.
Senators voted 32-14 against the resolution Tuesday that would allow lawmakers' return without counting against the maximum 80-day limit set by the state Constitution.
The resolution was inspired after lawmakers adjourned their session two years ago after 77 days. After lawmakers left town, Burgum vetoed some legislation, including a $16.1 million appropriation that would have provided each non-oil producing township $10,000.
If lawmakers had passed the resolution, it would have to have gone to voters for approval.
FARGO, N.D. (AP) — The expected average start date for spring fieldwork in North Dakota has been moved back a day after a recent snowstorm.
The Agriculture Department in its weekly crop report says April 28 is now expected to be the date that farmers on average get into the field.
Soil moisture supplies remain in decent shape, with topsoil moisture statewide rated 93% adequate to surplus and subsoil moisture 83% in those categories.
The winter wheat crop and cattle and calf conditions both are rated 90 percent fair to good.
Hay and stock water supplies both are rated mostly adequate.
BISMARCK, N.D. (AP) — Native American voters face poor access to polling sites, discrimination by poll workers and unfair identification requirements, tribal leaders told members of Congress who traveled Tuesday to a reservation in North Dakota where voting rights were a key issue in last year's U.S. Senate race.
A House elections subcommittee's meeting at the Standing Rock reservation was the latest in a series of on-site visits across the country on voting-rights issues. Activists told the panel that obstacles still remain more than five decades after Congress passed the Voting Rights Act, which aimed to eliminate such impediments for minority voters.
"There continues to be barriers — interpersonal and systemic — at our polling locations in our tribal communities and for our Native voters across the state," said activist Prairie Rose Seminole, a member of the Mandan, Hidatsa & Arikara Nation in northwestern North Dakota.
The bulk of the two-hour hearing focused on North Dakota's voter ID requirements, which have led to two federal lawsuits by tribes who allege the rules are discriminatory and suppress the American Indian vote, which leans Democrat in a Republican-dominant state.
The voter ID dispute drew national attention last fall because of a U.S. Senate race in North Dakota that was seen as critical to Republicans' chances to keep control of the Senate. Republican Rep. Kevin Cramer defeated Democratic Sen. Heidi Heitkamp, who was seeking a second term.
In world and national news…
PARIS (AP) — Pope Francis has phoned French President Emmanuel Macron to express his solidarity over the fire at Notre Dame, hours after the Vatican culture minister offered art experts who could possibly advise on reconstruction efforts.
Vatican spokesman Alessandro Gisotti said Francis called Macron Tuesday and tweeted: "During the exchange the Holy Father expressed his solidarity with the French people after the blaze that ravaged the Notre Dame cathedral in Paris."
Earlier Tuesday, Culture Minister Cardinal Gianfranco Ravasi suggested that experts from the Vatican Museum could offer their services as the French begin to rebuild. He stressed though that Notre Dame is owned by the French government and has autonomous sources of funding.
Francis sent an official message of condolences to Paris Archbishop Michel Aupetit, in which he called Notre Dame the "architectural gem of a collective memory."
LONDON (AP) — Notre Dame in Paris is not the first great cathedral to suffer a devastating fire, and it probably won't be the last. In a sense, that is good news.
A global army of experts and craftspeople can be called on for the long, complex process of restoring the gutted medieval landmark.
One big decision will be whether to preserve the 850-year-old cathedral just as it was before the fire, or to take a more creative approach.
Getting materials may also be a challenge. The cathedral roof was made from oak beams cut from centuries-old trees. There may be no country in Europe with big enough trees today.
WASHINGTON (AP) — The Justice Department says it's preparing to release on Thursday a redacted version of the special counsel's report on Russian election interference.
That's not stopping President Donald Trump's criticism of the probe. Trump is repeating his view that the report exonerated him and the investigation should never have happened.
The findings from the nearly two-year probe are expected to be sent to Congress and made available to the public. The redactions are expected to cover grand jury testimony, material related to ongoing investigations and other sensitive information.
The investigation officially ended late last month. A confidential report sent to Attorney General William Barr was followed by a four-page letter to Congress that said the special counsel didn't find a criminal conspiracy between Russia and Trump associates.
WASHINGTON (AP) — A new poll shows most Americans consider schools less safe than they were 20 years ago, and many parents are only moderately confident in schools' ability to stop a gunman.
The poll by The Associated Press-NORC Center for Public Affairs Research comes as the country marks the 20th anniversary of the Columbine High School mass shooting in Colorado.
That attack ushered in an era of school lockdown drills, bolted doors and bulletproof glass. But even with those measures, only about a third of parents say they're extremely or very confident their children are safe in school, or in the school's response to a shooter. About 40 percent are moderately confident.
A majority doesn't fault schools for the shootings. Bullying, access to guns, the internet and video games get more blame.
The AP-NORC poll of 1,063 adults was conducted Mar. 14-18 using a sample drawn from NORC's probability-based AmeriSpeak Panel, which is designed to be representative of the U.S. population. The margin of sampling error for all respondents is plus or minus 4.1 percentage points.
Online:
AP-NORC Center: http://www.apnorc.org/
MINNEAPOLIS (AP) — Testimony in the trial of a former Minneapolis police officer who fatally shot an unarmed woman has raised questions about whether officers were trying to protect one of their own.
The incident commander turned her body camera off when talking to Mohamed Noor after the July 2017 shooting of Justine Ruszczyk Damond. She had called 911 to report a possible rape near her home.
Other officers who arrived at the shooting told Noor to stay quiet.
Prosecutors say they had to convene a grand jury to compel testimony, after many officers refused to provide statements. One legal expert calls these actions troublesome.
The defense has said Noor heard a loud bang on the squad car and feared an ambush. But prosecutors say there's no evidence that deadly force was justified.
LONDON (AP) — When Samsung said this year it would launch a smartphone with a folding screen, the big question was whether the innovation was something people actually wanted or needed.
The South Korean electronics company this week offered the media a hands-on preview ahead of the release in the U.S. this month of the Galaxy Fold.
The first impression is that a folding screen in some circumstances might be a useful innovation — but at a cost of almost $2,000 it won't be a mass market product anytime soon.
The Galaxy Fold is set for release in the U.S. on April 26, priced at $1,980. It goes on sale in some Europe markets on May 3.