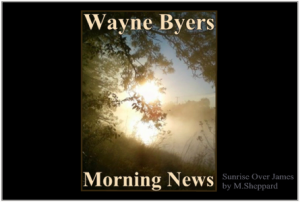 CSi Weather…
REST OF TODAY…Scattered rain showers. Cooler. Highs in the upper 40s. Northeast winds 10 to 15 mph. Chance of rain 50-percent.
.TONIGHT…Cloudy. Numerous rain showers in the evening, then chance of rain showers and slight chance of thunderstorms after midnight. Lows in the upper 30s. North winds 5 to 10 mph. Chance of precipitation 60 percent.
.THURSDAY…Mostly cloudy. Chance of rain showers and slight
chance of thunderstorms in the afternoon. Highs in the mid 50s.
Northwest winds 5 to 10 mph. Chance of precipitation 30 percent.
.THURSDAY NIGHT…Partly cloudy. Lows in the mid 30s. West winds
5 to 10 mph.
.FRIDAY…Mostly sunny. Highs in the lower 60s. Southwest winds
5 to 10 mph increasing to around 15 mph in the afternoon.
.FRIDAY NIGHT…Partly cloudy. Lows in the mid 40s.
.SATURDAY…Partly sunny. A 20 percent chance of rain showers and
thunderstorms in the afternoon. Highs in the lower 60s.
.SATURDAY NIGHT…Partly cloudy. Lows in the upper 30s.
.SUNDAY…Sunny. Highs in the mid 50s.
.SUNDAY NIGHT…Mostly clear. Lows in the lower 30s.
.MONDAY…Sunny. Highs in the upper 50s.
.MONDAY NIGHT…Increasing clouds. Lows in the upper 30s.
.TUESDAY…Partly sunny with a 20 percent chance of rain showers.
Highs in the upper 50s.
Redevelopment of scattered showers and thunderstroms over central
North Dakota during the day Thursday.
On Friday.  a warm and dry end to the work week. Much of the western half of North Dakota could see temperatures soar into the 70s Friday afternoon, with readings well into the 60s to the east.
A cold front is forecast to sweep across the state on Saturday.
Thunderstorms are more likely across
northern parts of the state.
Expect cooler, breezy, and dry conditions for the remainder of the Easter weekend. Temperatures look to slowly warm back up heading into the following week, with a few sporadic chances for light rain.
Flood updates and water level updates  for the …
Sheyenne River Level Through Valley City
James River level through Jamestown.
Water amounts in the snow pack
The Latest Flood Warnings from The National Weather Service
https://ndresponse.gov/flood-region
Jamestown  (CSi)   The Jamestown Rural Fire Department was called to a grass fire near Sydney on Monday just after 5-p.m.
The fire near 4600 81st Avenue, Southeast burned 8-10 acres.
The Rural Fire Department was on  the scene until 7:55 p.m.
Valley City  (CSi)  The Valley City Commission met Tuesday evening at City Hall.
All members were present.
The Arbor Day Proclamation was read by Mayor Carlsrud.  Arbor Day May 3, 2019.
APPROVAL OF CONSENT AGENDA ITEMS INCLUDED:
A Raffle Permit for Barnes County Wildlife Federation, Disabled American Veterans
Blocking off the Street for Valley City Fire Department on Central Avenue from 4th Street to 5th Street N on May 1, 2019, for a mock traffic crash.
Blocking off Street for Valley City High School Prom on May 4, 2019 on 4th Street NW from Central Avenue to 2nd Avenue
Approved an Electrician and/or Plumber License for Hope Electric; Wrigley Mechanical, Inc.
PUBLIC COMMENTS …No one spoke.
RESOLUTIONS
The City Commission considered….
A Resolution Accepting the Bid and Awarding Contract for:
Paving Improvement District No. 119
Paving Improvement District No. 119b
Sanitary Sewer District No. 64
Storm Sewer Improvement District No. 52
for Water Main Improvement District No. 100
The bid package for all five was rejected and rebid until fall, when it's expected that the bids will be lower.
NEW BUSINESS
The City commission approved transferring Access easement from the NDDOT (Love's development) to create a right of way easement for the city that will support the extension of a south side frontage road along the interstate. City Administrator Schelkoph said the action will create a new city street, accessible to all motorists and Swanberg Construction.
The Valley City Commission had previously approved annexing a tract of land located southeast of I-94 exit 292 in Valley City.
The Loves Corporation was founded in 1964 and is based in Oklahoma City, Oklahoma and plans to open a new travel center and truck stop in Valley City.
Approved was a bid for Electrical Department bucket truck from Terex in the amount of $221,650.00 City Administrator Schelkoph said they city typically uses that type of truck for about 20 years.  The present truck is 15 years old, and will be bid for sale.
Approved was a Permanent Flood Protection Phase IV buyout purchase at 310 2nd Ave SW for $185,000 City Administrator Schelkoph said the purchase was previously  approved in the fund in conjunction with the State Water Commission.  He said Phase IV buyouts bids are expected this year.
Approved was a Permanent Flood Protection Phase IV buyout purchase at 206 4th St SW for $68,000.
Approved  was a Permanent Flood Protection Phase IV buyout purchase at 537 4th St SW for $114,000 City Administrator Schelkoph said the structure inhibits the city mitigating floods.
Approved was an Application for Property Tax Exemption for Improvement to Residential Building at 958 2nd St NW City Assessor Hansen said after demolition, new construction will start on the site, and the owners have applied for the exemption.
Considered was a request from South Central Adult Services for $20,000 to support the transit program Director, Pat Hansen resubmitted the request.
60,000 rides are given each year
The City Commission, Tuesday, tabled the request, pending additional information, to come before the Finance Committee, and City Commission at a later date.
Approved was a Special Alcohol Beverage Event Permit for American Legion at VCSU Student Union on April 23, 2019 for Development Corporation & Chamber of Commerce Annual Banquet
CITY ADMINISTRATOR'S REPORT
David Schelkoph said water inflows to Lake Ashtabula are reduced as of Tuesday, adding the Corps of Engineers plans to reduce the release at Baldhill Dam on Wednesday.
Before the City Commission meeting on Tuesday evening, Schelkoph  said, the city has decided on a more beneficial project schedule for Streetscape I.
He said the city has received one more option as to the construction schedule for the Streetscape project.  This proposal would cut in half the work on Central avenue South to North between Main St. and 4th St. and only close half of Central Ave. (no more than two blocks) at a time.  This will mean that the street in front of all business on Central Ave. will be closed only for 5-6 weeks at a time if all goes well.  This is a significant reduction to the 8-10 weeks previously scheduled.  By choosing this plan the work on the Streetscape I project can start in early May with a work stoppage to accommodate Rally in the Valley.  There will be more information coming from the city with the final work schedule in the next few days.
A preconstruction Public Meeting will be held next Tuesday, April 23, and all business on Central Ave. will be invited to hear the details of the construction schedule and scope of work on Central Ave. A Public information meeting will be next Thursday, April 25.
Mayor Carlsrud said the recycling program in Valley City is continuing as usual at this time.
He commended the city street crews on the recent snow removal adding that the alley are currently getting attention.
CITY UPDATES & COMMISSION REPORTS
Citywide Cleanup week in Valley City is May 6-10, 2019.
City Fire Chief Scott Magnuson cautions residents to stay off local bodies of water, while the water levels remain high.
The meeting was shown live on CSi Cable 68 followed by replays.
GRAND FORKS, N.D. (AP) — A huge fire has destroyed a warehouse in Grand Forks.
Firefighters responded to 3G Ventures about 9 p.m. Tuesday.
Acting Battalion Chief Jerod Kurtz tells KFGO the 10-thousand square-foot steel building was fully involved in flames when firefighters arrived and they had to cut through wire security fence to get to attack it. It took firefighters 90 minutes to bring the fire under control.
Firefighters remained on scene throughout the night. There were no injuries and a cause has not been determined.
MANDAN, N.D. (AP) — The co-owner of a North Dakota business where four people including her husband were slain says she and others have no idea why the suspect would target anyone at the company.
Chiropractor Chad Isaak is charged with felony murder in the April 1 deaths of RJR Maintenance and Management co-owner Robert Fakler and three workers in Mandan. Jackie Fakler says the victims were in different areas of the building and were killed within 13 minutes.
Isaak lived on property managed by RJR, but police haven't identified a motive. Fakler said rumors including that RJR was raising Isaak's rent or had ordered him to get rid of his dog are false.
Fakler says RJR officials had few interactions with Isaak. Marketing executive Ben Pace says those interactions "were all very normal."
OMAHA, Neb. (AP) — This spring's massive flooding along the Missouri River unearthed bitter criticism of the federal agency that manages the river while devastating communities and causing more than $3 billion in damage.
The flooding and the U.S. Army Corps of Engineers' actions will be the focus of a U.S. Senate hearing in western Iowa on Wednesday and critics will demand the agency make flood control its top priority. But Congress would have to act to change the Corps' priorities.
U.S. Sen. Chuck Grassley says the current river management policy needs to be fixed.
That sentiment is appealing in flood-damaged Midwestern states, but it may not be as popular with supporters of the Corps' other priorities such as protecting endangered species.
BISMARCK, N.D. (AP) — Native American leaders in North Dakota say actions by state and local officials are impeding tribal voters, decades after the 1965 Voting Rights Act aimed to eliminate barriers for minority voters.
They told members of Congress that concerns include poor access to polling sites and discrimination by poll workers. The House subcommittee is holding hearings around the country on voting rights issues.
The bulk of the hearing dealt with North Dakota's voter ID law requiring a provable street address, which the state says guards against fraud. Tribes say such addresses are hard to come by on reservations.
The dispute has led to two federal lawsuits. It also was an issue in North Dakota's closely contested U.S. Senate race last fall won by Republican Kevin Cramer.
BISMARCK, N.D. (AP) — North Dakota's Senate doesn't appear to be budging on its opposition of tapping funds from the state's voter-approved oil tax savings account to help offset income taxes.
The Senate already has killed the House bill that would use half of the earnings from the Legacy Fund to reduce individual and corporate income taxes.
The proposal is now inserted in the Tax Department's budget, where it's embroiled in conference committee negotiations.
Democratic Sen. Larry Johnson says there continues to be "little, if any, support" for the proposal in his chamber.
Republican Rep. Craig Headland, the bill's primary sponsor, argued that the income tax relief would spur the economy and make North Dakota more competitive with other states that don't have income tax.
BISMARCK, N.D. (AP) — The North Dakota Legislature is reworking a plan to commit public money for a Theodore Roosevelt presidential library in western North Dakota.
Republican Majority Leader Rich Wardner introduced legislation Tuesday that will use $50 million from the state treasury and loans from the state-owned Bank of North Dakota to fund operating and maintenance costs of the proposed library in Medora.
The funding mechanism is a marked difference from legislation Wardner pitched last week that would use money from the voter-approved oil tax savings account.
The money must be matched by $100 million in private funds to build the facility that has been a top priority with Gov. Doug Burgum.
Senators will vote on the legislation on Wednesday. If approved, it will go to the House for consideration.
BISMARCK, N.D. (AP) — The Legislature is considering a measure that outlines how North Dakota would respond if the federal government were to designate parts of the state as dumping sites for nuclear waste.Senators passed a bill with amendments Tuesday that explicitly prohibits nuclear waste dumping. But the bill sets the regulatory framework for disposal and storage of the radioactive waste if the state is forced to accept it by the federal government.The measure also sets up a state commission to oversee the regulations. The House still must approve the measure.The bill was inspired after the U.S. Department of Energy proposed to drill an exploratory borehole for nuclear waste near Rugby in 2016. 
BISMARCK, N.D. (AP) — The Senate has killed a resolution that would allow lawmakers to return to Bismarck to address last-minute vetoes by a governor.Senators voted 32-14 against the resolution Tuesday that would allow lawmakers' return without counting against the maximum 80-day limit set by the state Constitution.The resolution was inspired after lawmakers adjourned their session two years ago after 77 days. After lawmakers left town, Burgum vetoed some legislation, including a $16.1 million appropriation that would have provided each non-oil producing township $10,000.If lawmakers had passed the resolution, it would have to have gone to voters for approval.

FARGO, N.D. (AP) — The expected average start date for spring fieldwork in North Dakota has been moved back a day after a recent snowstorm.The Agriculture Department in its weekly crop report says April 28 is now expected to be the date that farmers on average get into the field.Soil moisture supplies remain in decent shape, with topsoil moisture statewide rated 93% adequate to surplus and subsoil moisture 83% in those categories.The winter wheat crop and cattle and calf conditions both are rated 90 percent fair to good.Hay and stock water supplies both are rated mostly adequate. 
In sports…
Tuesday High School Softball…
Bismarck Century 10 Jamestown 2
Fargo Oak Grove 10 Valley City 6
NHL…Sweep! NHL-best Lightning ousted in record speed by ColumbusCOLUMBUS, Ohio (AP) — The Tampa Bay Lightning ended up on the wrong side of NHL history, getting swept in the first round of the playoffs after one of the best regular seasons ever.The Columbus Blue Jackets capped a stunning sweep of the Presidents Trophy winners with a 7-3 victory Tuesday night. Tampa Bay became the first team in the expansion era, which began in 1967-68, to go winless in the first round of the playoffs after leading the league in points during the regular season.And what a season it was. Tampa Bay tied the NHL record for wins with 62 and amassed 128 points, fourth in NHL history.The Blue Jackets, meanwhile, didn't clinch the second Eastern Conference wild-card spot until the 81st game. But they outplayed the Lightning with a smothering forecheck and stellar goaltending by Sergei Bobrovsky.Columbus advances to play the winner of the Boston-Toronto series, which the Maple Leafs lead 2-1.

In other ice action:

— The New York Islanders' turnaround season is heading to the second round of the playoffs. Jordan Eberle scored for the fourth straight game, Robin Lehner stopped 32 shots and the Islanders finished off Sidney Crosby and the Pittsburgh Penguins with a 3-1 win in Game 4 to pull off a stunning sweep.

NHL-HURRICANES-SVECHNIKOV

Svechnikov in concussion protocol after fight with Ovechkin

UNDATED (AP) — Carolina Hurricanes rookie Andrei Svechnikov is in the concussion protocol after Washington Capitals star Alex Ovechkin (oh-VECH'-kin) punched him, sending his head crashing onto the ice.

Coach Rod Brind'Amour (BRIHN'-dah-mohrz) says he assumes Svechnikov, who was wearing a helmet, will miss Game 4 of the best-of-seven series.

The two Russians fought with 9:01 left in the first period of Carolina's 5-0 victory in Game 3 Monday night. Ovechkin floored Svechnikov with a right hook that left the 19-year-old wobbly and in need of help getting to the dressing room.

In other NHL news:

— Todd McLellan has been hired as the new head coach of the Los Angeles Kings. McLellan replaces Willie Desjardins, who wasn't retained after he replaced John Stevens early in the season and presided over the Kings' slump to the NHL's second-worst record. McLellan is the former head coach of San Jose and Edmonton.

NBA-PLAYOFFS

Leonard scores 37, Lowry has 22 as Raptors rout Magic 111-82

UNDATED (AP) — Kawhi Leonard scored 37 points, Kyle Lowry bounced back from a scoreless playoff opener with 22 and the Toronto Raptors routed the Orlando Magic 111-82 on Tuesday night, evening their Eastern Conference first-round series at one win apiece.

Despite playing in foul trouble for much of the night, Leonard finished with a career playoff-high 15 field goals. He made his first nine attempts from inside the arc before missing a layup. He shot 15 for 22 before leaving to a standing ovation.

Game 3 is Friday night in Orlando.

In other NBA playoff action:

— Jamal Murray shook off a horrid shooting night to score 21 of his 24 points in the fourth quarter and led the Denver Nuggets to a 114-105 win over the San Antonio Spurs. The big comeback tied the series at a game each as the series shifts to San Antonio. DeMar DeRozan led the Spurs with 31 points.

— CJ McCollum had 33 points and Damian Lillard added 29, and the Portland Trail Blazers took a 2-0 lead in their first-round playoff series against the Oklahoma City Thunder with a 114-94 victory. Maurice Harkless added 14 points and nine rebounds for the third-seeded Blazers, who opened a playoff series with two wins for the first time since the 2014 playoffs when they beat Houston in six games.

NBA-WARRIORS-COUSINS INJURY

Warriors center DeMarcus Cousins has torn left quadriceps

OAKLAND, Calif. (AP) — DeMarcus Cousins has a torn left quadriceps muscle that will sideline the Golden State center indefinitely, a devastating injury that the Warriors feared was serious when he went down in the first quarter of their first-round playoff loss to the Clippers.

An MRI exam on Cousins' left leg revealed the tear. The two-time defending NBA champion Warriors said Cousins will begin rehabilitation immediately and updates will be "provided as appropriate."

Coach Steve Kerr said after the Warriors' 135-131 Game 2 loss on Monday night that Cousins would be out for a significant period. It was just his second career postseason game after a nine-year stint.

MLB…

— Teoscar Hernandez hit a two-out single in the seventh inning, delivering the go-ahead hit for the second straight game, as the Toronto Blue Jays beat the Minnesota Twins 6-5 on Tuesday. Justin Smoak had a two-run single, and Aaron Sanchez allowed four runs in six innings to earn the win for Toronto.

ST. PETERSBURG, Fla. (AP) — Tyler Glasnow allowed two runs over seven innings in winning his fourth consecutive start to begin the season, Avisail Garcia drove in three runs, and the Tampa Bay Rays beat the Baltimore Orioles 4-2 on Tuesday night for their seventh victory in eight games.

Glasnow allowed hits to six of the first 13 batters he faced, but the 6-foot-8 right-hander allowed just one hit over his final 4 2/3 innings and ended the outing by retiring 10 in a row.

Baltimore first baseman Chris Davis was in the original lineup but was scratched due to illness.

In other Tuesday MLB action:

— Alex Bregman hit a grand slam, Josh Reddick connected for a two-run homer against his former team, and the Houston Astros beat the Oakland Athletics 9-1 for their majors-best 10th straight win. Bregman's second career grand slam gave Collin McHugh (3-1) all the run support he needed on the way to winning his third straight start. George Springer opened the game with a full-count drive.

— Shane Bieber struck out five and combined with three relievers to hold Seattle to six hits as the Cleveland Indians beat the Mariners 4-2 Tuesday night and stretched their winning streak to three games. The Mariners extended their major league record home-run streak to start the season to 20 games. Seattle now has 42 home runs, yet is mired in a five-game losing streak.

— Joc Pederson hit a two-run homer for the second straight game and the Los Angeles Dodgers beat the Cincinnati Reds 6-1 for their third win in a row. The Dodgers lead the National League with 37 homers, having gone deep in 17 of 19 games.

— Nolan Arenado homered for the third straight game — a two-run shot on his 28th birthday — and Jon Gray pitched seven strong innings for the Colorado Rockies, who beat the San Diego Padres 8-2. It was a two-game sweep and their first three-game winning streak of the season.

— Mike Minor threw a three-hitter for his first career shutout as the Texas Rangers beat the Los Angeles Angels 5-0. Joey Gallo and Asdrubal Cabrera both hit two-run homers. Minor limited Los Angeles to three singles while striking out seven and walking two.

— Christian Yelich welcomed hard-throwing prospect Ryan Helsley to the big leagues with a three-run homer, his eighth against St. Louis this season, to help send the Milwaukee Brewers past the Cardinals 8-4 on Tuesday night.

— Christian Walker homered leading off the ninth inning and the Arizona Diamondbacks rallied against the shaky Atlanta bullpen for a 9-6 victory. The Braves squandered a massive homer by Ronald Acuña Jr. and another strong start by Max Fried.

— Evan Longoria, Brandon Belt and Steven Duggar homered off fastballs from Stephen Strasburg, and the light-hitting San Francisco Giants powered their way to a 7-3 victory over the Washington Nationals. The Giants came in with a grand total of 10 homers through their first 17 games, which ranked 29th of 30 major league clubs.

— Starling Marte hit a two-run homer in the 10th inning to lift the Pittsburgh Pirates to a 5-3 victory over the Detroit Tigers. Jung Ho Kang also went deep for Pittsburgh, which blew a 3-0 lead but recovered to win.

— James Paxton struck out 12 in his first stab at baseball's biggest rivalry, Red Sox ace Chris Sale found his fastball but not better results, and the New York Yankees three-hit Boston 8-0 in the first game this season between the struggling AL East foes.

— Scott Kingery and J.T. Realmuto each had three hits and five RBIs, helping the Philadelphia Phillies cruise to a 14-3 victory over the New York Mets. Kingery and Maikel Franco hit three-run homers and Realmuto had a pair of two-run doubles in a 10-run first inning.

— Jose Quintana gave up six hits in seven innings to lead the Chicago Cubs to a 4-0 victory over the Miami Marlins. Quintana struck out seven and extended his scoreless innings streak to 14. Javier Baez went 3 for 4 and hit his fifth homer. Baez has three hits in each of his last three games.

MLB ALL-STAR GAME-PHILADELPHIA

2026 MLB All-Star Game will be in Philadelphia

UNDATED (AP) — Baseball's 2026 All-Star Game will be played in Philadelphia to mark the 250th anniversary of the Declaration of Independence. Commissioner Rob Manfred made the announcement Tuesday at Independence Hall with a cast of All-Stars past and present behind him.

This will be the first All-Star Game at Citizens Bank Park, which opened in 2004. The 1976 All-Star Game was played at Veterans Stadium to mark the 200th anniversary of the Declaration of Independence, and the 1996 All-Star Game also was played at the Vet, which stood in the same sports complex in South Philadelphia. The 1943 and 1952 games were at Shibe Park.

This year's All-Star Game is July 9 in Cleveland.

In other MLB news:

— The Boston Red Sox have designated former top prospect Blake Swihart for assignment, shaking up their situation at catcher. Catcher Sandy León was promoted from Triple-A Pawtucket to back up Christian Vázquez, and right-hander Erasmo Ramirez also was brought up. León started Tuesday as the Red Sox lost to the Yankees.

— Shohei Ohtani will not go on a rehab assignment before making his season debut with the Los Angeles Angels. General manager Billy Eppler says Ohtani will instead face pitchers in simulated games. The two-way player won't pitch this season while recovering from Tommy John surgery. But he is set to start facing live pitching next week in Southern California.

— The Yankees have placed first baseman Greg Bird on the 10-day injured list with a left plantar fascia tear, giving the team a dozen players on the shelf less than three weeks into the season.. The oft-injured Bird has never played more than 82 games in a season due to ankle issues.

— Major League Baseball is investigating racist messages sent to Chicago Cubs reliever Carl Edwards Jr. on Instagram this month. Theo Epstein, the president of baseball operations for the Cubs, calls the language "reprehensible" and says it "cannot be tolerated in our game or society." Edwards was optioned to Triple-A Iowa after he got off to a tough start this season.

— A woman who spent decades in an unsuccessful crusade to get her uncle and member of the so-called Chicago "Black Sox" reinstated by Major League Baseball has died. Pat Anderson died Sunday of natural causes at a Missouri nursing home. She was 92..

— The Tampa Bay Rays have placed ace left-hander Blake Snell on the 10-day injured list after he broke a toe on his right foot while he was at home Sunday night. The 26-year-old Snell got hurt when he got out of the shower and then attempted to move a large granite item. The reigning AL Cy Young Award winner says it was a "really dumb" move.

— The Braves recalled right-hander Shane Carle from Triple-A Gwinnett after placing reliever Jonny Venters on the 10-day injured list with a right calf strain. Carle began the season in Atlanta but was sent down April 5 after allowing five earned runs in 3 2-3 innings over three appearances out of the bullpen.

NFL-SEAHAWKS-WILSON EXTENSION

New deal with Seahawks makes Wilson highest-paid NFL player

SEATTLE (AP) — Russell Wilson is now the highest paid player in the NFL and will be with the Seattle Seahawks through the 2023 season.

Wilson and the Seahawks agreed to a $140 million, four-year extension Tuesday. Wilson's new deal includes a $65 million signing bonus, a no-trade clause and $107 million in guaranteed money.

The four-year extension puts him at the top of the NFL salary food chain for now. He has the highest yearly average salary at $35 million per season. He has the highest signing bonus ($65 million) and guaranteed money ($107 million) in league history.

In other NFL moves:

— Miami Dolphins two-time Pro Bowl safety Reshad Jones decided to skip the first practice under new coach Brian Flores, who declined to give a reason for the absence of the team's highest-paid player. Attendance was voluntary, and Flores said Jones has been attending team meetings but decided to train elsewhere.

—The Atlanta Falcons have signed offensive lineman John Wetzel to a one-year contract and defensive end Chris Odom to a two-year deal. Wetzel played in 40 games with 24 stars for the Arizona Cardinals over the last three seasons. Odom was playing in the Alliance of American Football until it shut down.

— Detroit Lions quarterback Matthew Stafford did not join his teammates at voluntary workouts. Stafford's wife announced earlier this month she plans to have surgery to remove a brain tumor. She posted on Instagram two days later, thanking everyone for an outpouring of support.

— Jacksonville Jaguars coach Doug Marrone has no plans to punish running back Leonard Fournette following his arrest for driving with a suspended license. Marrone says Fournette made a mistake and that "a law was broken." But he adds that the team would have no further discipline for the fourth overall pick in the 2017 NFL draft.

— Cornerback Alterraun Verner is signing a one-day contract with the Tennessee Titans to retire with the team that employed him for the first four seasons of his NFL career. Verner played for the Titans from 2010-13. Verner also played for the Tampa Bay Buccaneers and Miami Dolphins.
In world and national news…
PARIS (AP) — The French prime minister has announced an international architects' competition to rebuild the spire of Notre Dame Cathedral.
Edouard Philippe is speaking following a special Cabinet meeting Wednesday held by French President Emmanuel Macron, focusing on the reconstruction of the cathedral.
Philippe said the competition aims at "giving Notre Dame a spire adapted to technologies and challenges of our times."
He said authorities have no estimate yet of the total cost of the renovation work. Macron said Tuesday he wants the cathedral to be rebuilt in five years.
Philippe said: "This is obviously a huge challenge, a historic responsibility."
LITTLETON, Colo. (AP) — Schools in the Denver area are on heightened alert after authorities say a woman who is "infatuated" with the 1999 shooting at Columbine High School made threats just days before the 20th anniversary of the attack that killed 13 people.
Authorities are looking for 18-year-old Sol Pais after undisclosed threats prompted Columbine and more than 20 other schools outside Denver to lock their doors for nearly three hours Tuesday afternoon.
All schools in the Denver area were urged to tighten security, and some canceled evening activities or moved them inside.
Investigators say Pais traveled to Colorado from Miami on Monday night and bought a shotgun and ammunition. Police who might come into contact with her were told to detain her and evaluate her mental health.
LITTLETON, Colo. (AP) — Twenty years after Columbine, the effects of the trauma and turmoil experienced by law enforcement authorities who respond to school shootings are still largely unknown.
Experts say agencies are reluctant to let researchers interview officers and dredge up potentially painful memories.
Many officers also view seeking psychiatric help as a sign of weakness, particularly in elite units like SWAT. And they see their own mental health as secondary when civilians are affected by school shootings and other grave loss.
But attitudes are changing. A group of global law enforcement administrators is working on uniform guidelines for psychological care for SWAT teams and other officers who respond to "critical incidents."
And four states, including Colorado, recently passed laws to extend workers' compensation for mental health to police and other first responders.
WASHINGTON (AP) — From Ben Affleck and Susan Sarandon to Anna Wintour and Willie Nelson, celebrities lined up to give money to their favorite Democratic presidential candidates.
Fundraising reports made public this week show 2020 contenders including Vermont Sen. Bernie Sanders, California Sen. Kamala Harris, South Bend, Indiana, Mayor Pete Buttigieg (BOO'-tuh-juhj) and former Texas Rep. Beto O'Rourke raised money from stars.
Candidates in the crowded field of more than a dozen contenders have aggressively courted key figures in music, television, publishing and film. They are among the party's most reliable sources of campaign cash.
Although many donors remain on the sidelines, the reports offer a glimpse of who is drawing attention from the entertainment industry in the early stages of the race.