CSi Weather…
.TONIGHT…Mostly cloudy. Scattered rain showers in the evening.
Lows in the upper 30s. Northwest winds 5 to 10 mph. Chance of showers 30 percent in the Jamestown area, 50 percent in the Valley City area.
.THURSDAY…Mostly cloudy. Chance of rain showers and slight
chance of thunderstorms in the afternoon. Highs in the mid 50s.
Northwest winds 5 to 10 mph. Chance of precipitation 30 percent.
.THURSDAY NIGHT…Mostly clear. Lows in the mid 30s. Northwest
winds 5 to 10 mph shifting to the west after midnight.
.FRIDAY…Mostly sunny. Highs in the mid 60s. Southwest winds
5 to 10 mph increasing to south 15 to 20 mph in the afternoon.
.FRIDAY NIGHT…Partly cloudy.   A 20 percent chance of rain
showers after midnight in the Valley City area. Lows in the mid 40s. South winds 10 to 15 mph. Gusts up to 30 mph in the evening.
.SATURDAY…Partly sunny. Highs in the lower 60s.
.SATURDAY NIGHT…Partly cloudy. Lows in the upper 30s.
.SUNDAY…Sunny. Highs in the upper 50s.
.SUNDAY NIGHT…Partly cloudy. Lows in the lower 30s.
.MONDAY…Mostly sunny. Highs in the upper 50s.
.MONDAY NIGHT…Increasing clouds. Lows in the upper 30s.
.TUESDAY…Partly sunny. Highs in the lower 60s.
.TUESDAY NIGHT…Decreasing clouds. Lows in the upper 30s.
.WEDNESDAY…Mostly sunny. Highs in the lower 60s.
Redevelopment of scattered showers and thunderstroms over central
North Dakota during the day Thursday.
On Friday.  a warm and dry end to the work week. Much of the western half of North Dakota could see temperatures soar into the 70s Friday
afternoon, with readings well into the 60s to the east.
Thursday through Tuesday
High temperatures in the lower 70s, gusty westerly winds between
15 and 30 mph, and minimum relative humdities between 15 and 20
percent, could result in critical fire weather conditions
southwest and south central.
A cold front is forecast to sweep across the state on Saturday.
Thunderstorms are more likely across northern parts of the state.
Expect cooler, breezy, and dry conditions for the remainder of the Easter weekend. Temperatures look to slowly warm back up heading into the following week, with a few sporadic chances for light rain.
Flood updates and water level updates  for the …
Sheyenne River Level Through Valley City
James River level through Jamestown.
Water amounts in the snow pack
The Latest Flood Warnings from The National Weather Service
https://ndresponse.gov/flood-region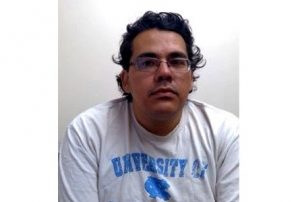 Jamestown  (CSi)  Jamestown Police warns the public of a High Risk Sex Offender living in Jamestown.
Travis Shane Morin resides at 438 2nd Street, Southwest, No. 3, Jamestown, ND
He presently has no vehicle.
He is a 34 year old American Indian male, five feet ten inches tall, weighing 240 pounds with brown eyes and brown hair.
He has been assigned a High Risk Assessment by the North Dakota Risk Level Committee of the North Dakota Attorney General's Office.
Offense: Possession of Material, Sex Conduct by a minor, as Morin possessed 13 still images of child pornography and video on his cell phone, and 124 images of child pornography video on his lap top computer.
Conviction Date: June 2015 in Ward County, ND District Court.
Disposition: Five years, 44 days credit, concurrent with Count Two.
Offense:  Promoting  Minor, Obscene Sexual Performance, recording himself and a male child masturbating.
Conviction: June, 2015, in Ward County, ND, District Court.
Disposition: 10 years, first serve five years, balance suspended, 44 days credit, five years supervised probation, concurrent with Count One.
Morin is currently on probation with North Dakota Parole and Probation.
Morin is not wanted by police at this time and has served the sentence imposed by the court.
This notification is meant for public safety and not to increase fear in the community, nor should this information be used to threaten, assault, or intimidate the offender.
Any attempts to harass, intimidate or threaten these offenders, their families, landlords, or employers will be turned over for prosecution.
Printed handouts of the demographics of Travis Shane Morin are available at the Jamestown Police Department.
More information on registered sex offenders is available at the North Dakota Attorney General's web site: www.sexoffender.nd.gov
Jamestown (CSi) Jamestown Public Works informs motorists that beginning today (Thursday, April 18, 2019)  traffic will be restricted to one lane west and one lane east on 25th St SW from Hwy 281 west to 8th Ave SW until work is completed.
Motorist should use extreme caution in this area.
Jamestown  (CSi)  The Jamestown City Fire Department was called about 9;27 a.m., Wednesday to smoke coming from a utility pole, located between Legacy Center and Lincoln Elementary School.
Otter Tail Power Company was also called to the scene.
Lt. Sheldon Mohr says, a crack in the "bell" at the top of pole had a crack in it that allowed rain water inside, and caused smoke to occurred when the water came in contact with the hot wires inside.
He says the pole was slightly burned at the top.
No other structural damage.
No power outage occurred.
Four City Fire Units and 20 Firefighters  were on standby at the scene, until 9:42-a.m.
Jamestown  (CSi)  At the North Dakota Travel Industry Conference in Minot, Wednesday, Jamestown Tourism accepted the Trailblazer Award for Tourism Innovation.Jamestown Tourism Executive Director Searle Swedlund says the award was accepted on behalf of the community of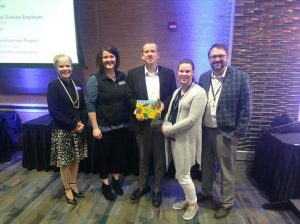 Jamestown,  crediting the late Mary Faith Young, who set the groundwork for the Talking Trails in Jamestown.
North Dakota Tourism states, the Trailblazer Award acknowledges the spirit of perseverance and creativity in developing unique North Dakota offerings and is given to an attraction, event, person, group, company or organization that has been innovative in improving visitor experiences in North Dakota.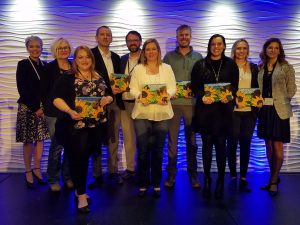 Swedlund says when Tourism started the Talking Trails in September of 2016, their expectations didn't include  it's  eventual growth, today.
More than  70 recordings and creative signage, have evolved and more than 7,000 people have listened to a story.
Swedlund says the Talking Trails in Jamestown will continue to grow saying that  that they're "never really done."
Jamestown  (CSi)  The grand opening of the JRMC, Cancer Center is on Thursday, June 13.  The event is from 12 noon, to 1-p.m.
The event is free and open to the public.
The event includes:
Light appetizers
Speeches from dignitaries
Hope rock painting
Tours of the cancer center
To learn more about the JRMC Cancer Center, call (701) 952-1050 or visit www.jrmcnd.com/cancer.
Jamestown (CSi) Jamestown Public Works informs motorists that beginning Thursday, April 18, 2019 traffic will be restricted to one lane west and one lane east on 25th St SW from Hwy 281 west to 8th Ave SW until work is completed.
Motorist should use extreme caution in this area.
Jamestown  (JRMC)   — 'Lettuce' fight cancer together. Jamestown Regional Medical Center's Auxiliary is holding a fun event to fight cancer.
The salad luncheon is set for Wednesday, May 1, from 11 a.m. to 1 p.m. at Temple Baptist Church. Attendees will be able to choose from a variety of salads.
JRMC Volunteer Coordinator Mary Engels said the salad luncheon is a favorite of the JRMC Auxiliary.
She says, "It is great to see the wonderful support from the community. This event brings freshness to the mix of events that the Auxiliary holds. All of the proceeds will benefit the JRMC Cancer Center. Last year's event raised over $1,000."
The cost to attend the luncheon is $10 per person. Tickets will be made available at the door.
Auxiliary member, Cindy Grimm adds, the event is a great opportunity to connect with friends and meet new connections all while eating delicious food and supporting a great cause.
She says, "The auxiliary and I have been working to create a few extra special surprises for the luncheon, since it is being held on May Day.".
The JRMC Auxiliary consists of more than 40 volunteers and meets the first Monday of each month. If interested in volunteer opportunities, call (701) 952-4809 or e-mail volunteer@jrmcnd.com.
About Jamestown Regional Medical Center
Jamestown Regional Medical Center is located at 2422 20th St. SW, Jamestown, N.D. and serves approximately 55,000 people in nine counties. In 2018, it was named a "Top 100 Critical Access Hospital" as well as a "Best Places to Work in Healthcare."  For more information, visit www.jrmcnd.com or call 701-952-1050.
BISMARCK, N.D. (AP) — North Dakota's Health Department says four illnesses in the state have been tied to a salmonella outbreak linked to frozen, raw ground tuna.
The federal Centers for Disease Control and Prevention says the tuna from Louisiana-based Jensen Tuna has sickened 13 people in seven states since early January. Two people have been hospitalized. No deaths have been reported.
The company has recalled the tuna that was imported from Vietnam. It had been sold to distributors in Connecticut, Illinois, Iowa, Minnesota, New York, North Dakota and Washington.
The tuna was sold for use in finished food dishes sold by restaurants and food retailers and was unlikely to be sold directly to consumers in grocery stores.
Most people infected with salmonella develop diarrhea, fever and stomach cramps. The illness can last up to a week.
MINOT, N.D. (AP) — The chief of the U.S Army Corps of Engineers has signed off on a Souris River flood protection project in northern North Dakota.The Corps says in a release that Lt. Gen. Todd Semonite signed the final report Tuesday during a gathering of public officials in Minot. He is recommending that Congress authorize the project.The plan includes a diversion channel along Maple Street parallel to the BNSF Railroad Tracks and a corresponding 1,200-foot long earthen levee, along with other flood control structures. Construction would happen in several phases.A June 2011 Souris River flood caused by heavy spring snowmelt and rains damaged or destroyed thousands of buildings in Minot and prompted the evacuation of more than 11,000 people. It caused an estimated $1 billion in damage in the region. 
BISMARCK, N.D. (AP) — North Dakota's Republican-led Senate has approved a GOP bill that develops rules to comply with a voter-approved constitutional amendment aimed at ethics reform.But the initiative's sponsors — and some Democrats — say the House measure passed Wednesday by Senators 39-8 does not reflect what voters wanted when they approved reform in the midterm election.That amendment would restrict lobbying and create an independent ethics commission, among other things.Democratic Sen. Tim Mathern says the House measure may actually create more loopholes for lobbyists and gift-giving.Mathern is the primary sponsor of a competing ethics bill that passed the unanimously in the Senate. That bill is awaiting action in the House. 
Update…
BISMARCK, N.D. (AP) — North Dakota's Legislature has passed a bill that prohibits nuclear waste dumping in the state.The bill passed by the House Wednesday and the Senate a day earlier also sets the regulatory framework for disposal and storage of the radioactive waste if the state is forced to accept it by the federal government.The measure also sets up a state commission to oversee the regulations. It now goes to Gov. Doug Burgum.The bill was inspired after the U.S. Department of Energy proposed to drill an exploratory borehole for nuclear waste near Rugby in 2016.
Update…
BISMARCK, N.D. (AP) — The North Dakota Legislature has passed legislation that would waive burial fees for a veteran's spouse and dependents at the state Veterans Cemetery south of Mandan.
The House passed the legislation Wednesday that sets aside $175,000 in the next two-year budget cycle to fund the burials. The legislation would become effective in March 2020.
Belcourt Democratic Sen. Richard Marcellais pushed the legislation that waives the $550 fee for spouses and dependents. Veterans may be buried there at no cost.
That original bill was killed by the House but was reconsidered and passed 69-21.
The Senate gave unanimous support to the bill in February.
The measure now goes to Gov. Doug Burgum.
BISMARCK, N.D. (AP) — North Dakota's Senate has passed legislation to commit public money for a Theodore Roosevelt presidential library in western North Dakota.
Senators voted 34-13 after a more than hour-long debate to use $50 million from the state treasury and loans from the state-owned Bank of North Dakota to help fund operating and maintenance costs of the proposed library in Medora.
The money must be matched by $100 million in private funds to build the facility. The legislation says $10 million from the private funds would be use to digitize presidential documents at nearby Dickinson State University. The project has been a top priority of Gov. Doug Burgum.
The measure now goes to the House, where the prospects of its passage may be dimmer than in the Senate.
In world and national news…
LITTLETON, Colo. (AP) — Colorado Gov. Jared Polis says that he and all of the state's parents are "hugging their children a little tighter" after a young Florida woman obsessed with the 1999 Columbine High School attack was found dead.
Polis says that "the potential threat is over" after authorities announced Wednesday that 18-year-old Sol Pais had been found by the FBI with an apparent self-inflicted gunshot wound.
Authorities say Pais flew to Colorado and bought a shotgun and ammunition ahead of Saturday's 20th anniversary of the Columbine High School massacre.
They initially said she "made threats to commit an act of violence in the Denver metropolitan area."
Polis says in a statement: "Today, parents across Colorado —including me— are hugging their children a little tighter."
He adds: "Together we thank law enforcement for their swift and diligent actions over the past 24 hours to keep Coloradans safe, and we will continue to be vigilant against threats to our community."
LIMA, Peru (AP) — Doctors say former Peruvian President Alan García died from a "massive cerebral hemorrhage from a gunshot and cardiorespiratory arrest."
A statement released by the José Casimiro Ulloa Hospital in the capital of Lima on Wednesday says Garcia died about three hours after arriving at the hospital for the bullet wound.
He was hospitalized for an "uncontrollable hemorrhage at the base of the skull" at 6:45 a.m. local time and entered surgery about thirty minutes later.
Garcia was pronounced dead at 10:05 a.m.
Authorities arrived at García's home early Wednesday to detain him in connection with a corruption probe, whereupon they say he shut himself in a bedroom and the sound of gunfire was heard.
Garcia's lawyer said he was distressed over the accusations. His client maintained his innocence.
PARIS (AP) — The Paris prosecutor's office says the investigation into the Notre Dame Cathedral fire has not produced any indication so far of a criminal act. The probe is still in its early stages.
The office on Wednesday said investigators had been able to access some parts of the building to begin their on-site work.
Meanwhile, "about 10" more people have been questioned by police, bringing the total to about 40.
WASHINGTON (AP) — A new poll finds Americans aren't ready to clear President Donald Trump in the Russia investigation. Slightly more want Congress to keep investigating than to set aside its probes after the special counsel's report. And about 6 in 10 believe the president obstructed justice.
The poll by The Associated Press-NORC Center for Public Affairs Research comes after Attorney General William Barr in late March released his letter saying special counsel Robert Mueller found no criminal conspiracy between the Trump campaign and Russia but didn't make a judgment on obstruction.
The survey indicates Americans are mostly unhappy with the amount of information that's been released so far. They'll get more Thursday when a redacted version of the nearly 400-page report is expected to be released.
WASHINGTON (AP) — The U.S. says it's imposing sanctions on the Central Bank of Venezuela. The Trump administration says the bank has been instrumental in propping up the government of Venezuelan President Nicolas Maduro.
President Donald Trump's national security adviser John Bolton says the move is aimed at restricting U.S. transactions with the bank and cutting off the bank's access to U.S. currency.
Bolton says the action is meant to be a warning to others, including Russia, against deploying military assets to Venezuela to help Maduro stay in power.
The Kremlin has rejected U.S. calls for Moscow to withdraw its military specialists from Venezuela. Russia says they are there to honor obligations under previous arms contracts. Bolton says Russia has conducted several military flights to Venezuela carrying 35 tons of unknown cargo and 100 military personnel.