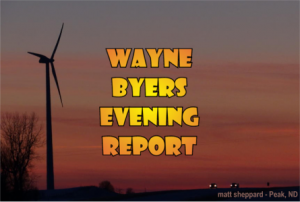 CSi Weather…
FRIDAY NIGHT…Mostly clear. Lows in the mid 40s. South winds 10 to 15 mph. Gusts up to 30 mph in the evening.
SATURDAY…Mostly sunny. Highs 70 to 75. Southwest winds around
10 mph shifting to the northwest in the afternoon.
.SATURDAY NIGHT…Mostly cloudy. A 30 percent chance of rain
showers and thunderstorms in the evening in the Jamestown area, 20 percent chance in the Valley City area. Lows 40 to 45. North
winds 10 to 20 mph.
.SUNDAY…Partly sunny. A 20 percent chance of rain showers in
the morning. Highs 55 to 60.
.SUNDAY NIGHT…Partly cloudy. Lows in the upper 30s.
.MONDAY…Mostly sunny. Highs around 60.
.MONDAY NIGHT…Partly cloudy. Lows in the mid 30s.
.TUESDAY…Mostly sunny. Highs in the lower 60s.
.TUESDAY NIGHT…Partly cloudy. Lows in the lower 40s.
.WEDNESDAY…Mostly sunny. Highs in the mid 60s.
.WEDNESDAY NIGHT…Partly cloudy. Lows in the mid 40s.
.THURSDAY…Mostly sunny. A 20 percent chance of rain showers in
the morning. Highs in the upper 60s.
Warming  over the southeast half of the state on Saturday.
This additional warming could producea few thunderstorms over the
southern James River Valley Saturday evening. More general shower
activity brushing the southwest Saturday night
Cooler conditions are expected on Sundat that will bring some shower activity
to the southern tier counties during the day Sunday.
Mainly dry conditions are expected through mid week with slowly moderating temperatures into the 70s by Wednesday.
A cold front may bring some showers by Thursday, with slightly
cooler temperatures.
Flood updates and water level updates  for the …
Sheyenne River Level Through Valley City
James River level through Jamestown.
Water amounts in the snow pack
The Latest Flood Warnings from The National Weather Service
https://ndresponse.gov/flood-region
Omaha NE  (USACE)  – A draft environmental assessment (EA) for a Dam Safety Modification Study on Pipestem Dam, located four miles northwest of Jamestown in Stutsman County, North Dakota, is currently available for public review.
Read More at: https://www.nwo.usace.army.mil/Media/News-Releases/Article/1819028/draft-environmental-assessment-for-the-pipestem-dam-safety-modification-study-i/
Get in touch with the Omaha District Public Affairs office by:
Calling – (402) 995-2417 – omaha.usace-pa@usace.army.mil
U.S. Army Corps of Engineers – Omaha District Mailing address: 1616 Capital Ave, Ste. 946, Omaha, NE 68102
U.S. Army Corps of Engineers – Omaha District Mailing address: 1616 Capital Ave, Ste. 946, Omaha, NE 68102
Web – www.nwo.usace.army.mil, Facebook- www.facebook.com/OmahaUSACE, Twitter – www.twitter.com/OmahaUSACE, YouTube – www.youtube.com/OmahaUSACE, Flickr – www.flickr.com/OmahaUSACE, DVIDS – www.dvidshub.net/unit/OmahaUSACE
Jamestown  (CSi)  The  Annual Easter Egg Hunt, sponsored by the Elks #995 & Parks & Recreation Department,   Saturday, April 20, at McElroy Park, starting at 11-a.m.
Easter Candy for ALL kids  (Bring your own container)
Two age divisions, preschool and grades 1-4.  Four bikes will be given away.  Parents are not allowed to hunt with children.
For more information, call the Parks and Recreation office at 252-3982.
More photos by Matt Sheppard for The Replay Channel Online at Facebook.  Like, Tag, & Share your favorites.
*2 age divisions, pre-school & grades1-4
More photos by Matt Sheppard for The Replay Channel Online at Facebook.  Like, Tag, & Share your favorites
Jamestown  (CSi)  Plans are set, as the Jamestown Arts Center, invites the community to the Hansen Arts Park in Downtown Jamestown for events, activities and the popular Arts Market on Thursday evenings, from June through August this summer. (Not on the 4th of July.)
On Friday's Wayne Byers Show on CSi Cable 2, Arts Center, Director, Mindi Schmitz said, in conjunction with several performing artists, on stage, every Thursday is infused with arts-based activities with Thursday's including hands-on arts activities or demonstrations for adults and children.
The finest musicians from around North Dakota, join some of Jamestown's best known and loved musical artists, as the backbone of the market.
Each month features an arts-based focus based on the Arts Center's current exhibitions.
Vendors will provide unique products, such as hand-knit items, goats milk soap, essential oil products and other artisan goods.  No reselling is allowed at the market.
Anyone interested in becoming a vendor during the Arts Market can call the Jamestown Arts Center, at 701-251-2496.
Mindi added that every effort is made to assure that vendors are not competing with local businesses.
She said,  the Arts Market is a collaborative vision to build the community, and all of the organizations involved in the planning and running of the Downtown Arts Market are committed to shaping an enduring series that will become a community tradition, and a major source of pride for Jamestown, and attracting additional tourists to Jamestown, and is supported by grant funding from Jamestown Tourism.
Jamestown (CSi)  The 26th Annual Auction, Fundraiser for the National Buffalo Museum in Jamestown will be Wednesday June 12, 2019, starting at 5-p.m., at the Jamestown Civic Center.
For ticket information, visit:  buffalomuseum.com
Valley City  (CSi)  Valley City School District Superintendent, Josh Johnson reports that total enrollment in the school district, dropped this school year.
He pointed out that in  February to March this year  the school district enrollment was down eight students, dropping  below the 11-hundred student enrollment mark  this school year.
The Valley City Public School District's high point in  enrollment over the past 10 years was 1,137 in 2011.
A majority of the school districts funding share in North Dakota is based on the school funding formula.
Bismarck (NDHP)  The North Dakota Highway Patrol reports, that at about 8:50-a.m. Friday, a  pursuit at the I-94 westbound Exit 153 off ramp caused a crash and led to charges against one person
A NDHP Trooper attempted to stop the 2003 Hyundai SUV, driven by 22 year old   Raven Harrison, of Mandan  for speeding at the end of the construction zone westbound on Expressway/ I-94 west of Mandan. The vehicle fled from the Trooper and the Trooper pursued the vehicle onto I-94 with speeds reaching 90 MPH. The vehicle entered the next construction zone site and exited at mile post 153 off ramp. At the bottom of the off ramp the Hyundai side swiped a GMC, SUV driven by 43  year old Beth Landenberger, of Bismarck.
Harrison was charged with fleeing a peace officer with other charges pending.
A one year old male, passenger was riding in an unsecured car seat.
Landenberger, received a  possibly injury.   Seatbelt worn, airbags not deployed.  No charges issued.
Agencies Involved: NDHP, Mandan PD, Morton County Sheriff
BISMARCK, N.D. (AP) — North Dakota Republican House speaker Lawrence Klemin believes last-minute legislation to commit public money for a Theodore Roosevelt presidential library in western North Dakota may be unconstitutional.
Klemin's worries forced House and Senate negotiators to move the legislation Friday as an amendment in the budget for the governor's office.
Senators voted this week to use $50 million from the state treasury and loans from the state-owned Bank of North Dakota to help fund operating and maintenance costs of the proposed library in Medora that has been a top priority with Gov. Doug Burgum.
That legislation was introduced as so-called hog-house amendment that erased an existing bill and rewrote it. Klemin says the library funding was not germane to the original bill and likely would not have withstood a court challenge.
PIERRE, S.D. (AP) — South Dakota's governor and attorney general are asking a federal judge to throw out a lawsuit challenging a new law that aims to prevent disruptive demonstrations against the Keystone XL pipeline if it's built.
The law allows officials to pursue money from demonstrators who engage in "riot boosting," which is defined in part as encouraging violence during a riot.
The American Civil Liberties Union and American Indian tribes say it will stifle free speech. The state disputes that.
Deputy Attorney General Richard Williams in a court filing says the state denies that "any objectively reasonable fear of prosecution for protected speech" will arise under the law.
The $8 billion pipeline project is tied up in the courts, as president Donald Trump tries to push it through but environmental groups resist.
BISMARCK, N.D. (AP) — A Fargo contractor has been banned from doing business in North Dakota for at least five years or until he makes restitution to the homeowners he cheated.
The state attorney general's consumer protection division has been investigating Timothy Rosene and his business, Studs to Rugs, since October 2017 after receiving multiple complaints from homeowners who said Rosene had taken large advance deposits from them, then abruptly closed his business without providing refunds.
The AG sued Rosene for violations of the consumer fraud law. A settlement agreement approved this week in Cass County District Court requires Rosene to pay restitution of nearly $122,000. The court's judgment also includes $12,250 in penalties and fees and bans Rosene from working as a contractor for five years, or until he makes full restitution.
MANDAN, N.D. (AP) — A small property management company in North Dakota where four people were slain in the early morning hours of April 1 is slowly returning to normal thanks to tight bonds among workers and community support.
Memories of the "coffee club" help too. RJR Maintenance and Management co-owner Jackie Fakler says the four victims at the Mandan business would get to work early just so they could sit with mugs in hand and chat.
Fakler's husband, Robert, was among those killed, as well as married workers Bill and Lois Cobb, and Adam Fuehrer. An RJR renter from Washburn is charged with killing them, but a motive isn't known.
Fakler says: "This is not something you just bounce back from."
BISMARCK, N.D. (AP) — The North Dakota Legislature has passed a water budget bill that includes funding for flood control projects in Fargo and Minot.
The bill that passed the House on Friday and the Senate a day earlier contains $82.5 million for the ongoing Mouse River flood control project in Minot and a long-term commitment of $750 million for a project to divert the Red River to protect flood-prone Fargo and nearby Moorhead, Minnesota.
Funding approved for the Red River diversion project was $120 million short of the amount sought by the Fargo-Moorhead Diversion Authority and Gov. Doug Burgum.
The cost for the flood protection project in Minot is about $1 billion. The Red River project is pegged at about $2.75 billion.
Both projects rely on substantial federal funding.
BISMARCK, N.D. (AP) — Gov. Doug Burgum has signed a complex energy bill dealing with empty pockets in underground rock formations, though property rights advocates are likely to keep fighting.
The cavity or voids are known as "pore" spaces. They belong to the surface owner, not the mineral owner.
The Bismarck Tribune reports that certain landowners will no longer get compensated for the injection of oilfield wastewater into their pore spaces. Landowners also are barred from making claims that oilfield wastewater injected into a disposal well on adjacent land is migrating into their pore space.
Burgum says the bill clarifies legal issues related to underground injection, which should boost the state's energy industry.
Opponents say it's an unconstitutional taking of private property rights and that it will lead to lawsuits or a referral to voters.
BISMARCK, N.D. (AP) — An outbreak of deadly bacterial pneumonia that has plagued western North Dakota's bighorn sheep population since 2014 is showing signs of waning.But it might still be a few years before the herd is out of the woods.Game and Fish Department biologists counted 283 bighorns in a recent survey, up 7 percent from the previous year's count.Big game biologist Brett Wiedmann says that reflects lessening effects of the disease. He says annual survival rates of adult bighorns are similar to those prior to the die-off, and lamb survival also is improving.But Wiedmann cautions the next few years will be important in determining if the pathogens persist and cause a long-term population decline.Bighorn hunting is popular in North Dakota, with thousands of people applying for only a handful of licenses annually.
In sports…
Jamestown  (CSi) Hillcrest Golf Course in Jamestown will open its back nine holes on Tuesday, April 23, at 1 p.m.
The Hillcrest Proshop will be open Monday from 8 a.m. to 5 p.m., and starting Wednesday, April 24, will operate between 8 a.m. and 8 p.m. Call the Proshop for questions Monday at 252-4320.
In world and national news…