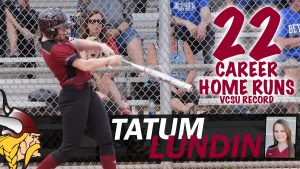 FOREST CITY, IOWA   (VCSU.com) – Tatum Lundin broke the VCSU career home run record Friday, and the Valley City State softball team swept a North Star doubleheader at Waldorf University.
Lundin went deep in the second inning of game one, giving the Vikings a 3-0 lead en route to a 7-2 victory. In game two, Emilee Wilson pitched a one-hitter and the Vikings won 8-0 in five innings.
Lundin's home run was the 22nd of her career, breaking the VCSU career record of 21 previously held by Kelli Unrein and Cejay Hilhorst.
With the pair of victories Friday, Valley City State improves to 36-3 overall and continues to lead the NSAA standings with a 16-2 conference record. Friday's doubleheader was the first road trip for VCSU in more than three weeks after enjoying an extended home stand in Valley City.
Up next: The Vikings and Warriors rematch Saturday afternoon for a 1 p.m. doubleheader in Forest City.
VCSU 7, Waldorf University 2
Valley City State racked up 14 hits in the opener, setting the tone early with a run in the top of the first and Lundin's home run in the second inning.
VCSU tacked on single runs in the fifth and sixth innings, and then opened up a 7-0 lead with two more runs in the top of the seventh inning. Waldorf would score its only runs of the game in the bottom of the seventh.
Voni Culp had three of VCSU's 14 hits and scored three runs. Riley Perryman and Lundin each had two hits and drove in two runs, and Autumn Perry was 2-for-4 with a run scored.
Emily Smith started and pitched 6 2/3 total innings for the win. Smith gave up just five hits and did not allow a run. She walked one and struck out four.
VCSU 8, Waldorf 0 (5 innings)
The Viking offense kept rolling in game two, putting up four runs in the third inning and four more in the fifth en route to the 8-0 victory.
Emilee Wilson was dominant in the circle, giving up just one hit and striking out seven over her five innings of work.
Emily Smith went 3-for-3 at the plate with two runs and two RBIs. Joelle Aiello and Voni Culp each had two hits and scored two runs. Marissa Hawkins was 2-for-3 with a run and a team-high three RBIs.