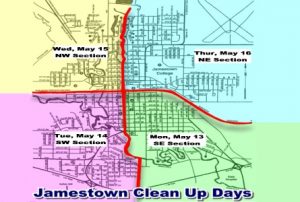 Jamestown  (CSi) Jamestown's Citywide Cleanup the week is May 13 through May 16, 2019.
During that week residents are asked to place unwanted and discarded items on the roadway as close to the curb or shoulder, as possible, to be picked up by city crews at no charge.
The items must be out by 7-a.m., the day of your cleanup. Crews will not return for any items.
Items accepted for Citywide Clean Up pick up include, small branches, less than four feet in length and less than two inches wide, and tied in bundles.
Basic household items, small scale building and remodeling debris, wood, lumber, and non-creosoted landscaping timbers, carpeting.
Items not accepted include large quantities of clothing, linens, regular garbage, stoves dishwashers, washing machines, dryers, items containing freon.
Also NOT ACCEPTED, electronics, including no T.Vs, antifreeze,  oil, lead acid batteries. Paint, lawnmowers, snowblowers, propane tanks, automotive products, paint, lawn mowers, gas cans, and bio-medical waste.
Take non accepted items to  Gerdau Ameristeel, West End Hide & Fur,
Other items can be disposed of in regular garbage, recycling.
Take such items as tires, and automotive oil, to the city baler/landfill.  There may be a disposal charge for some items.  Photo identification showing proof of residency is required.
The Citywide Clean Up Week pick up schedule:
Monday, May 13th – Southeast section
Tuesday, May 14th – Southwest section
Wednesday, May 15th – Northwest section
Thursday, May 16th – Northeast section
Flyers outlining Citywide Cleanup, including the map, available at City Hall.
Any questions, by contacting Jamestown City Hall at 701-252-5900.
.