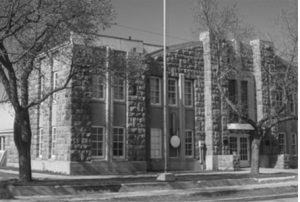 This day in history, May 11, 1911 – Gilbert Horton (Architect) arrives in Jamestown . . . .  from the 125th Anniversary Calendar of Jamestown History and The State Historical Society of North Dakota.
Mr Horton designs and supervises construction over 600 structures during 67 years as an architect.
When Gilbert Horton died he left behind not only his firm but also hundreds of buildings, many of which are still in use.  Kent Horton is still active in the firm.  An abbreviated listing of structures designed by Gilbert R. Horton would include:  Jamestown Hospital; Mandan High School; McElroy Park Hippodrome in Jamestown, in which Horton used his wood laminated, bolted arch; Medina Village Hall and Community Building, an example of his work using hard granite field stone; the Motion Picture Theatre in Cavalier; Rogers School Auditorium, the first structure incorporating hollow brick; and the Stutsman County Courthouse Addition in Jamestown.