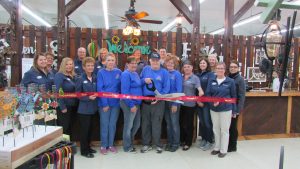 (Chamber)   The Ambassadors and Young Professionals held a ribbon cutting ceremony for Flower Power to celebrate the opening of their new location in Jamestown.
This business is located at 1100 5th Ave SE in Jamestown.  Flower Power would like to thank Duane Clark, Anthony Clark, and Nick Haaksenson for helping them accomplish their goals. Manager, Leroy Kirschenmann would like to invite you to stop by Flower Power's new location to check it out.
Businesses qualify for a ribbon-cutting ceremony if they open, move, remodel, are under new ownership or change their name.  For more information, contact Emily Bivens by emailing: director@jamestownchamber.com or call the chamber at 701-252-4830.