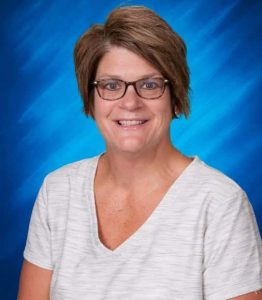 Valley City  (VCPS)   Valley City Public Schools, has announced the Teacher of the Year.
May 6, 2019
Valley City Public Schools is proud to announce the selection of Mrs. Rhonda Nudell as the 2019 Teacher of the
Year. During a special ceremony held Monday  afternoon at Washington Elementary, Mrs. Nudell was honored with
the Teacher of the Year award in front of her students, colleagues, and family.
Mrs. Rhonda Nudell has been a strong educational leader and advocate for student learning. She is a difference
maker for her students and cares deeply for each and every one of her students. Her positive attitude, hard work,
and willingness to try new teaching strategies to improve student learning goes above and beyond. Her desire to
help her colleagues grow and improve is truly a special gift that has continuously been recognized by her
colleagues at Valley City Public Schools. According to Washington Elementary Principal Chad Lueck, "Mrs.
Nudell has continued to transform her classroom to meet the needs of students learning in the 21st Century. She
has been able to engage and improve student learning while using creative teaching strategies to make learning
fun for her students. She has become one of the leaders of the new BridgED Technology Plan in the school
district".
Mrs. Rhonda Nudell has been teaching at Valley City Public Schools for the past 11 years and overall has 27
years in education. Rhonda becomes the 40th educator since 1982 to be named the VCPS Teacher of the Year.
Rhonda and her husband Ron have 2 children, Riggs and Rylee. Mrs. Nudell will receive her award as the
Valley City Public Schools Teacher of the Year on Wednesday, May 8th at 5:00pm in the Hi-Liner Activity Center
during the 2019 VCPS Celebration of Achievement and Excellence Program.