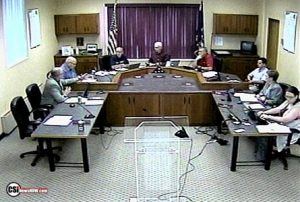 Valley City  (CSi)  The Valley City Commission met in Regular Session Tuesday evening at City Hall.  Commissioner Erickson was not present.
APPROVAL OF CONSENT AGENDA
Approved Monthly Reports from the Fire Chief, Building Inspector, Auditor, Municipal Judge and Public Works Accountant.
Approved Monthly Bills for the City and Public Works in the Amount of $2,862,367.57
Approved Mechanical Contractor License for 7 C's Heating & Cooling, LLC
Approved Application to Block off Street for Bridge City Cruisers on June 15, 2019 for 100 block of East Main; 1st, 2nd, 3rd, and 4th blocks of Central Avenue N, 2nd Street NE to Taco John's, 2nd Street NW to Wells Fargo drive in
Approved Parade Application for Bridge City Cruisers on June 15, 2019 on Central Avenue N
PUBLIC COMMENTS No One Spoke
Attorney General's "A Citizen's Guide to North Dakota Open Records & Open Meetings Laws" *A member of the public does not have the right to speak to the governing body at an open meeting. The public is only entitled to see and hear what happens at a meeting, and to record or broadcast those observations.
No personal attacks to persons present or not
No inflammatory language used during time that you have the platform
5 minute maximum or as directed by the chair
Thank you for participating in City Government.
RESOLLUTION
The City Commission approved a Resolution creating Water Main Improvement District No. 101 for 2020 5th Avenue NW Reconstruction Project.
Approved was a Resolution creating Sanitary Sewer Improvement District No. 65 for 2020 5th Avenue NW Reconstruction Project
Approve Resolution No. 2202, a Resolution creating Storm Sewer Improvement District No. 53 for 2020 5th Avenue NW Reconstruction Project  
Considered was a decision document for 5th Avenue NW Reconstruction Project (NDDOT Project No. SU-2-990(059). Two Public Input meetings have been held.  Based on comments some of the previous items were amended. A motion was made to concurred with the previously approved recommendation… 34 foot wide streets and parking on both sides of the street.
With the vote, Commissioners Magnuson and Bishop voted opposed, creating a 4-4 tie, with Commissioner Erickson absent and the motion to approve failed.  Commissioner Maguson said affected residents questioned how they would access their property during construction, adding there are too many unknowns in the project.
After further discussion a motion was made to reconsider the vote, and was then passed unanimously.
Following that the Commissioners voted unanimously to approve the previous vote.
A Declaration of Necessity is still pending that will allow a period of public protest.
City Commissioners approved a Conditional Use Permit for Hochhalter Photography at 114 3rd Street SE. City Attorney Martineck said the property will not allowed to be used for residential purposes.
The City Commission approved the 2019 Sidewalk Replacement bid from Mike's Construction & Repair in the amount of $67,838.00.
Approved was an Application for Property Tax Exemption for Improvements to Residential Building at 304 5th Avenue NE.  City Assessor Hansen   said an addition will be attached to the home, which is well maintained.
The City Commission approved an Application for Property Tax Exemption for Improvements to Residential Building at 560 4th Street NW.  City Assessor Hansen an addition to the structure will add to to value.
Approved was the 2019-2020 Gaming Site Authorization Renewal for Valley City Eagles Aerie 2192 Fraternal Order of Eagles at Eagles; Captain's Pub; The Labor Club; My Bar Valley City LLC; Hi-Line Hospitality, LLC dba City Lights; Main Street Off Sale LLC dba Tavern 94. The applications were reviewed by City Auditor Richter who said there were no significant changes.
CITY ADMINISTRATOR'S REPORT
David Schelkoph asks the public for their patients in the street work, as the Main Street construction is now underway. He said the street will be open for this June's Rally in the Valley.
CITY UPDATES & COMMISSION REPORTS
City Attorney Martineck said The Planning & Zoning regular meeting dates each month will be changed to better coincide with City Commission meetings.  He added a committee will be formed to determined if the city should establish social media sites to inform the public of city business.
Dave Anderson pointed out with this being Citywide Cleanup Weekend Valley City, residents are reminded the week is a good time to clean up blighted properties.   Following cleanup week the city will be viewed for properties in violation of the Ordinance.
Commissioner Powell said downtown businesses have had a positive attitude concerning the StreetScape project, which was added to by Commissioner Maguson.  He also asked the public for continued patients with the street projects concerning detours.
Mayor Carlsrud also commented on property owners to clean up their properties.
The meeting was shown live on CSi Cable 68 followed by replays.